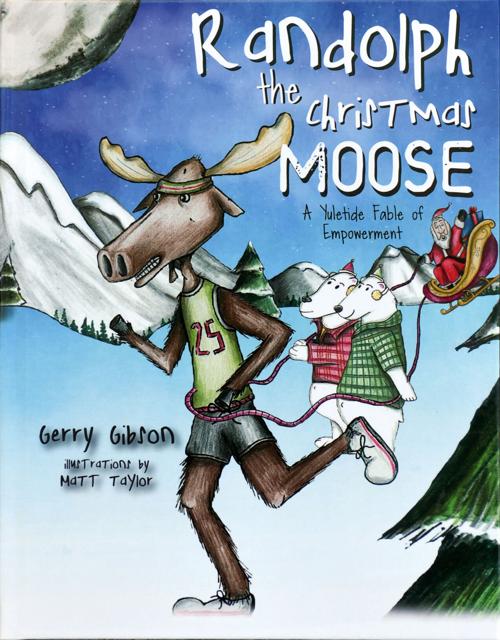 "Weird" is a word that children's author and filmmaker Gerry Gibson uses as a term of endearment when he talks about himself and his stories.
"Weird is sort of my affectionate term for being different and unique and just kind of embracing it," Gibson said. "I think a lot of people would see that as a negative word, and I don't."
Recently, Gibson released his first children's book titled "Randolph the Christmas Moose: A Yuletide Fable of Empowerment" (Loving Healing Press). It is a story about acceptance, self-confidence and standing up for what you believe in, as readers follow Randolph the Moose's journey to join the reindeer in Santa's flight school.
Gibson grew up in Winston-Salem. He has a bachelor's degree in English from UNC-Greensboro and a bachelor's degree in filmmaking from the University of North Carolina School of the Arts. He has worked as an English teacher and soccer coach at West Stokes High School. Matt Taylor of Winston-Salem, the illustrator of his new book, was one of his students and soccer players while he was at West Stokes.
Gibson is the video marketing director for Go-Forth Pest Control, based in Greensboro. He is also a volunteer content creator for The Toffee Blues — Everton Fan Channel, based in Liverpool, England; and a volunteer soccer coach for NC Fusion.
One day, Gibson would like to write another Randolph story, but for now, he is working on a book titled "Puddle Shark" inspired by his 5-year-old son.
"We were walking through the parking lot at my office last year, and he pointed to a really big puddle in the parking lot and he went, 'Hey, dad, there's a shark in there,'" Gibson said.
"I was like, 'That's a great idea.'"
Q: How would you describe your art?
Answer: My work is typically pseudo-autobiographical. For example, I've never been a moose, but I've been an outsider obsessed with acceptance. I've allowed the opinions of others to determine my worth, and I don't think I'm alone in that. I take experiences from my life and make them much more fun and interesting than they were the first time around.
But I tend to come from a very whimsical, goofy, playful place. It's who I am. Perhaps it's from a lack of self-confidence, but I don't take myself seriously. Since I've been writing children's stories, I've come to understand how very silly Gerry Gibson actually is. And I'm much more comfortable in my own skin since that realization.
Lastly, I don't write traditional stories. Something will be weird and unexpected about every one. I enjoy challenging readers' expectations, turning classic stories and conventions on their end. In short, I'm "weird." It's a word I use a lot, and never in a negative way. It's always with a familiar, endearing tone. So with every story, I'm basically saying, "Come to me, my fellow weirdos. Let's share this together!" You know Gonzo from the Muppets? Gonzo is my audience. So ... to sum up: Pseudo-autobiographical, whimsical, and weird.
Q: How have you evolved as an artist?
Answer: Although there were cool ideas in my earlier work, the execution and structure lacked. I wanted to break the rules before I learned them, and as I developed, I gained a better understanding about how rule-breaking functioned and how it could be implemented in more satisfying ways.
Q: Who has influenced your art?
Answer: Concerning the craft, I've had friends and professors that have helped me develop as an artist. But the biggest influences of my stories have to be my family. Growing up in a house with other humans, they will certainly have an impact on you. My parents and siblings not only helped shape "what I'm like", but also "what I like." My wife is a wonderful sounding board for ideas and content. I also develop stories with my two sons, whose creative and curious minds constantly prod me toward sillier solutions. As far as children's writers that inspire me: Roald Dahl and Shel Silverstein.
Q: What is your biggest challenge?
Answer: Time. Undoubtedly time is the ultimate restriction. As a father, a coach, a podcast/YouTube host and a filmmaker, finding hours in the day to focus on writing can be tricky. I have to schedule writing sessions in my calendar, and I take those moments seriously. It often helps to have writing time at local coffee shops rather than at home, so it's almost like having a meeting with myself. It becomes an "event" rather than a whim.
The distant second-place challenge is marketing my work. I often struggle with that due to guilt over self-promotion.
Q: What does art do for you?
Answer: Connection. I'm an artist to connect with other humans. That's the point. For some, art might be escapism, but for me it's the opposite. I read books so I can connect emotionally. Same with films, same with other artistic forms. When I'm able to connect to a story, it's a wonderful thing! If others connect with it as well, we can gather and discuss the experience, which further connects us. Those are amazing moments in life. It goes the other way as well. I write a story about my human experiences that I think other humans might understand. And the hope is that some folks out there share those experiences and feelings with me, and that brings us together. That's what art is to me: An outstretched hand.
Q: Any advice for other artists?
Answer: First, find the time to create, no matter how hectic your life is. If you're unhappy with your lack of self-expression, you must absolutely find a way. You don't have a choice in the matter. Second, absorb. Be a sponge. I've met writers that don't read, and to me that is madness!
Fran Daniel writes about artists — visual, musical, literary and more. Send your story ideas to fdaniel@wsjournal.com or call 336-727-7366.