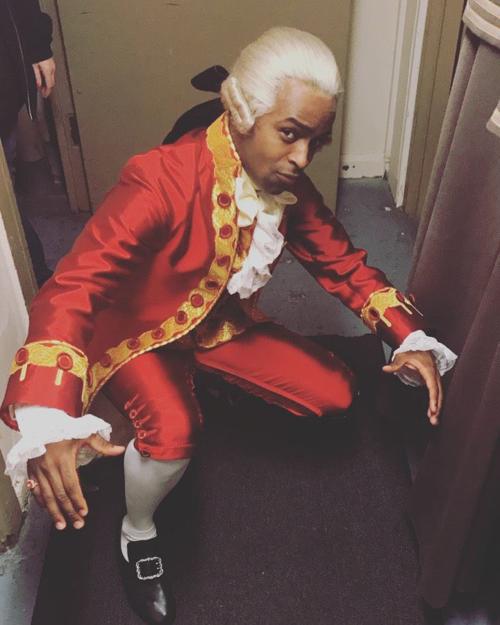 Jimmie "JJ" Jeter, a Broadway cast member of "Hamilton," will be one of several performers during Authoring Action's annual tasting event and fundraiser on Nov. 19.
In its 11th year, the 2020 Taste of the South event is called "Taste of the South at Home."
Due to the novel coronavirus pandemic, the event will offer a drive-thru so that participants can pick up their tastings in the parking lot of Bib's Downtown from 4 p.m. to 6:30 p.m. at 675 W. 5th St. then enjoy them at home.
A virtual online entertainment program will start at 7 p.m. and will be available for viewing throughout the evening.
Authoring Action is a nonprofit, arts and education organization based in Winston-Salem that focuses on using creative writing and performance art to engage and train young people "to author their lives, rather than be victims of their circumstances."
Lynn Rhoades is co-founder and executive director and Nathan Ross Freeman is co-founder and artistic director of Authoring Action.
"Authoring Action develops teen authors to create original, written works to impact and change the world," Rhoades said.
The organization stated that through partnerships "with professional artists, writers and mentors, teens learn to take ownership of their educational success and become agents for community building, social courage and change, as well as positive messages to their peers."
The entertainment
During the virtual program, people will be able to learn about Authoring Action's "Just Us" juvenile justice program and watch spoken word and musical performances by the organization's Alumni Renaissance Authors, including Jeter; Tony Jenkins, an actor, playwright and director in New York; and Dionna Daniel, an artistic associate at Pasadena Playhouse in California, as well as an actor, vocalist, playwright and poet.
In addition, there will be a live Fund the Need appeal for the Just Us Program, a writing and film program that works with teens both at-risk of being and already involved in the judicial system.
Authoring Action stated that the Juvenile Crime Prevention Council of Forsyth County provides 70% of the money for Just Us, and a 30% match is supported by the community, through the Fund the Need appeal.
"We are thrilled to feature Authoring Action alumni — Renaissance Authors — Jimmie 'JJ' Jeter, Tony Jenkins and Dionna Daniel for the Taste of the South at Home online program," Rhoades said. "Ticket holders will have the opportunity to not only enjoy original works and featured insights from "Hamilton," but also support Authoring Action programs through making online donations and participating in a silent auction. Community support is crucial to the work that continues to develop teen authors."
Prior to COVID-19, Jeter played six different parts, including Hamilton on Broadway in the musical "Hamilton." It was recently announced that he will be a member of the Hamilton Australia 2021 cast. He will be a standby for Hamilton, Burr, Lafayette/Jefferson and Laurens/Philip.
At 26, Jeter has been associated with Authoring Action in some way since he was 13, including as a student, guest artist, staff member and musical director. Most recently, he was a music supervisor for Authoring Action's 2020 summer films.
He said his early years with Authoring Action helped him in various ways such as tapping into songwriting.
Now, he is happy to be a part of the organization's fundraiser to put other young people in a position that helped him thrive as an artist, he said.
"Obviously later in my life, I began to create artistically in different types of spaces," Jeter said. "If another kid can have that opportunity and I can be helpful, I try my best to make myself available for that. I definitely think this fundraiser is worthwhile."
Jenkins is currently writing a couple of plays in New York. He has worked on staff on and off at Authoring Action over the past 10 years, including as a mentor, a writing teacher, head of presentation and development and music director. This summer, he participated virtually and in-person on the Emanate Ensemble film.
Jenkins said that Authoring action gave him the tools to create a life that he would not have imagined before.
"It helped me develop my voice as an artist," Jenkins said. "It helped me learn how to trust a creative life, and it's one of the reasons I believe why I moved away and I'm doing the things that I do, because I learned how to build a way forward and carve out a particular kind of life that I hadn't seen before."
He also said he has seen the broader impact that Authoring Action's work has on people from youth to adults.
"It's such a human experience-based thing – telling authentic, personal stories and speaking to issues through the specific lens of your individual experience in this world, your ideas about the world and your vision for the future."
The tastings
Southern Cuisine tastings will be provided by various downtown Winston-Salem restaurants. This year's tasting line-up includes Bib's Downtown, 6th & Vine Wine Bar and Restaurant, Finnigan's Wake Irish Pub & Kitchen, Jeffrey Adams, Lavender & Honey Kitchen, The Porch Kitchen and Cantina, Simply Soul Restaurant, Village Tavern Coupon, Young Cardinal Cafe and Co., and Y'all Sauce Company.
"I've watched the wonderful work of Authoring Action for years," Kathleen Barnes, owner of 6th & Vine Wine Bar and Restaurant, said in a press release. "I'm also an art history professor by day and restaurant owner by night. I believe the arts can be used to teach and inspire teens to learn about themselves and other cultures."
Robert Moreau of Bib's Downtown said that part of the restaurant's local community spirit is a commitment to participate in events around it.
"Winston-Salem is the City of Arts & Innovation, and Authoring Action embodies that spirit by teaching teens to harness the power of creative writing and performance to become agents of change in our community," Moreau said. 
Stay up-to-date on what's happening
Receive the latest in local entertainment news in your inbox weekly!