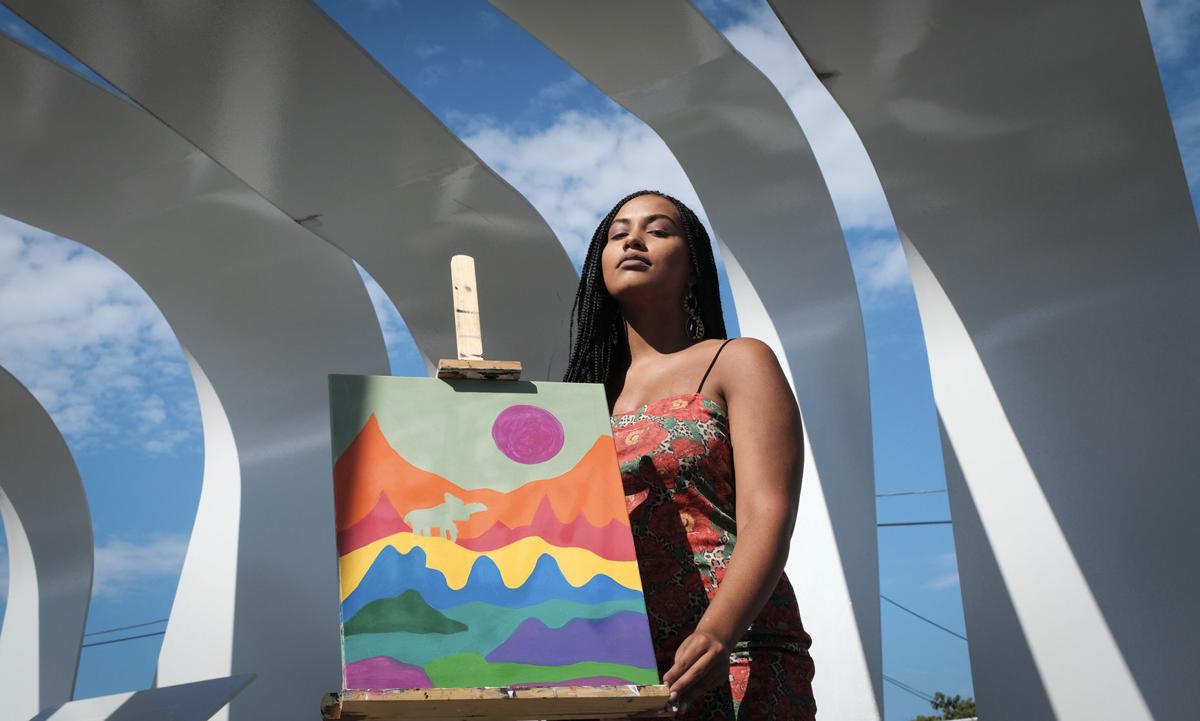 Her high school years "never clicked," visual artist and entrepreneur Mahala Sahara Preudhomme said.
"I was never studious," Preudhomme said. "I just wasn't a good student."
But she comes from an educated and well-traveled family.
"That was No. 1 to my mom," she said. "You must have an education, and that meant a master's degree."
In 2014, Preudhomme graduated from West Forsyth High School in Winston-Salem then attended Forsyth Technical Community College.
While leaving the college after one year of studying for an associate in arts degree, Preudhomme discovered her groove.
"I always had art supplies so I just started drawing in my free time," she said.
She shared her art work on social media and was encouraged by the positive feedback that people posted. Eventually, she was selling her artwork on social media full time and learning how to do her own marketing and branding.
"Art changed my life," Preudhomme said.
She is basically a self-taught artist.
Over the past three years, she has lived in Los Angeles, California, Houston, Texas, and traveled throughout the United States.
Before returning to Winston-Salem in early 2019, she drew inspiration to pursue a career as an artist from those travels.
"When I moved around a lot, I also partnered with a sip and paint company, where I was teaching sip and paint classes all over the United States. ... I like to say that was like a huge learning curve in who I became," she said.
Preudhomme typically does acrylic paintings on canvas but also likes to use Copic and Prisma markers for some of her creations.
"Ideally, I would love long-term just to be doing portraits," she said. "However, I'll do anything."
She uses a lot of bright colors in her paintings, attributing them to her travels to Central America and the Caribbean. Her mother is from Saint Lucia and her father is from Saint John in the Caribbean.
At 24, Preudhomme has turned her love for art into mentoring other local artists who want to start their own business the way she did.
She is also the owner of Sahara Head Wraps, which sells head wraps.
"These head wraps are Afrocentric, Black-women-empowering head wraps. ... I designed this company intentionally to be able to hire women of color models and photographers," Preudhomme said.
Q: How would you describe your art?
Answer: I would describe my art as vibrant, bold, Afrocentric, and women empowering! I use bright colors to represent my Caribbean heritage and bold lines to create depth in my work. Typically I paint with acrylic paint on canvas, but I also love using markers. As much as I love painting and drawing all types of things, I deeply enjoy creating portraits. Something about capturing people's facial expressions has always been a passion of mine. I hope to one day have a solo exhibition showcasing strictly headshot (closeup) paintings of women I admire, such as other creatives, mothers, sisters, mentors and everyday heroes.
Q: How have you evolved as an artist?
Answer: Over the past five years I have evolved as an artist while discovering and becoming "ME!" At the age of 20, shortly after starting my art career I moved to Los Angeles, Houston, and back to Winston-Salem. I had opportunities to travel to a majority of the 50 states and to multiple countries throughout the Caribbean, Central and South America. Each year, I have learned and grown tremendously through my travels. The more I traveled the more open-minded I became. Traveling made me learn to adjust to new environments. You learn a lot about yourself being in situations that aren't always comfortable or are completely new to you. The more I've learned about myself, the more comfortable with "me" I become, the more my art translates, because I am being authentically and unapologetically myself.
Q: Who has influenced your art?
Answer: My art is greatly influenced by my emotions. My partners, my family and my friends all deeply contribute to my emotions. I use these emotions of love, anger, fear, pride and freedom to paint each piece of work.
Q: What is your biggest challenge?
Answer: My biggest challenge is staying in a creative space and still managing my orders as a business woman. Creating versus providing customer service, packaging orders, marketing and branding are two completely different vibes. Learning how to have a healthy balance is something I work on each and every day.
Q: What does art do for you?
Answer: Art gives me something to be proud of, something to share, and most importantly motivates me to create the future I want. I was a straight C, D, F student with no goals or dreams growing up. The second I picked up a paintbrush, let's just say, people now think I was a straight A student.
Q: Any advice for other artists?
Answer: Only put out art that makes you smile.
Fran Daniel writes about artists — visual, musical, literary and more — weekly in relish. Send your story ideas to fdaniel@wsjournal.com or call 336-727-7366.