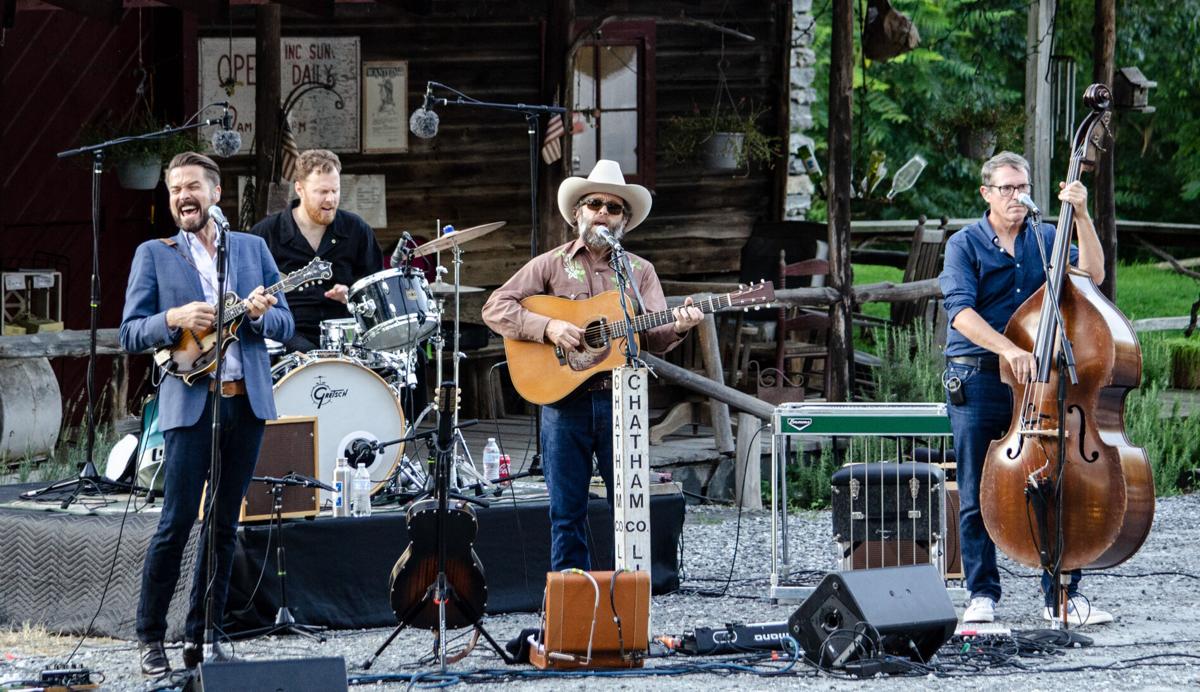 Live concert
Bluegrass group Chatham County Line will perform June 11 outside The Ramkat at 170 W. Ninth St., Winston-Salem, as part of the Summer Music Shindihg concert series.
This is a general admission, standing show. Guests can bring blankets.
Pottery sale
Sawtooth School for Visual Arts will present the Not Quite Perfect Pottery sale from 5 to 7:30 p.m. June 17 at Winston Square Park, 310 N. Marshall St., Winston-Salem.
Some artists are perfectionists. When their work doesn't turn out exactly how they planned, they start all over again. Many of the rejected but practically perfect pottery pieces get donated to the sale.
Admission is free. Proceeds from pottery sales help pay for equipment and supplies for the Sawtooth's ceramics studio. Sawtooth's ceramics faculty members offer classes in wheel-throwing, hand-building, glazing, design and clay sculpture for adults, teens and children of all skill levels.
Sculpture exhibit
SECCA, 750 Marguerite Drive, Winston-Salem, will open a new exhibit, "Hanging Tree Guitars" by N.C.-based artist, guitar marker and one-time blues musician Freeman Vines.
Vines creates guitars using found objects, including wood from a tree where a man was lynched. In addition to Vines' sculptures, the exhibit will feature tintype photographs by Timothy Duffy.
An opening reception will be from 5 to 8 p.m. June 10 at the gallery. Vines will be in attendance. Music will be performed by The Glorifying Vines Sisters and Mike Lightnin' Wells.
Story slam
The Willingham Story Slam @ Muse Winston-Salem will have a Story Slam at 7 p.m. June 17 at 226 S. Liberty St., Winston-Salem.
The featured storyteller is Lynn Felder. She is a recovering journalist who is in the sometimes-paintful, often-exhilarating process of redefining herself. She writes about art, entertainment, yoga and life on her blog Artzenstuff.com.
The emcee will be Larry Barron, aka LB the Poet.
Storytellers of all skill levels are welcome to share five-minute true stories on the theme "Mountains to Climb: Rivers to Cross," which shared the trials and tribulations, struggles and successes of life. Eight to 10 storytellers will be chosen at random to share their tales.
Admission is free, but donations are accepted.



Woodie Anderson's "Tooth and Nail: Fragments," a solo show, will be on display through June 26 at Artworks Gallery, 564 N. Trade St., Winston-Salem.
Working with original drawings and text, found images, historical snippets and the fever-dreams of an exhausted soul, Anderson continues her "Tooth and Nail" series exploring the tenacity of the human spirit. This exhibit features screen prints on paper and reclaimed fabrics, watercolor s and mixed media.
A pop-up gift shop featuring Anderson's hand-printed tea towels, note cards, HankiePankie Art Hankies and patches will be open. The exhibit is free and open to the public.
June gallery hours are 11 a.m.-5 p.m. Thursday, Friday and Saturday and 1-4 p.m. Sunday.
Gullah exhibit
A new exhibit will be featured this summer at Delta Art Center, 2611 New Walkertown Road, Winston-Salem, featuring the work of Diane Britton Dunham.
The exhibit is titled "Culture Keeper: The Gullah Art of Diane Britton Dunham."
Gallery hours are 2-5 p.m. Tuesday and Friday, 3-6 p.m. Wednesday and Thursday or by appointment.
New play
The Arts Council of Winston-Salem & Forsyth County and Triad Cultural Arts will present "Our Time: A Conversation in Black and White," a new play by Lynn Felder, at Reynolds Place Theatre at the Milton Rhodes Center for the Arts, 251 N. Spruce St., Winston-Salem.
Performances will be at 7:30 p.m. June 11 and 2-7:30 p.m. June 12.
Solomon Caldwell, a 2020 graduate of UNC School of the Arts School of Music, is the music director.
A multimedia, workshop production is a three-character one-act play set in Winston-Salem after a Black Lives Matter rally and a Sons of the Confederacy protest of the removal of a Confederate monument. Two men, one Black and one white, are reluctantly drawn into conversation by an Old Hippie as they all wait for their rides to take them home.
A talkback with the cast, crew and audience will be after each performance.
COVID-19 protocols, as laid out by the N.C. Governor's Office and the CDC, will be followed: masks, distancing and hand washing.