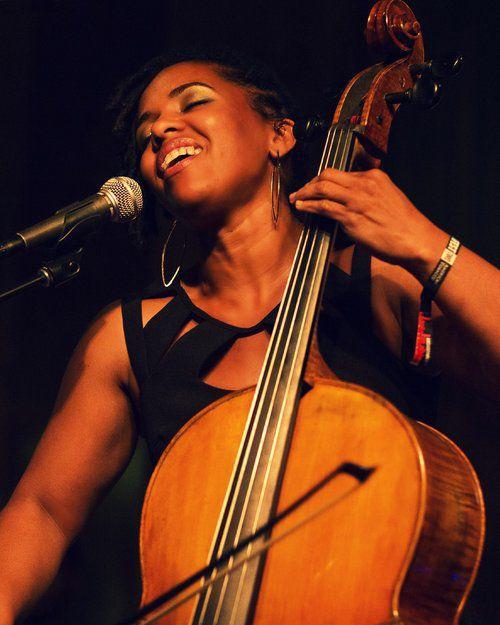 Vote launch party planned online
Joe Troop, a Winston-Salem native, and Shana Tucker will host performances by The Hamiltones, Tatiana Hargreaves and Reed Stutz, Los Guanajatenses, Shirlette Ammons, Alexis Raeana Jones, and Javier Montano 6:30-7:30 p.m. today at www.VoteNC.org/party.
The VoteNC.org digital Launch Party is presented by Down Home NC, Equality NC, Mijente, Poder NC, and RuralOrganizing.org to launch a voter turnout campaign in the battleground state of North Carolina.
The online event will be a musical representation of the diverse communities of North Carolina.
Grammy-nominated multi-instrumentalist and singer-songwriter Troop (frontman of "latingrass" Che Apalache) will perform original bilingual material about queer equality, immigrant justice and the power of rural communities. He will be joined by powerhouse fiddler Tatiana Hargreaves and bluegrass singer Reed Stutz, two young stars of the Appalachian string band scene.
With respect for lyrical storytelling, cellist/singer-songwriter Tucker delivers a unique voice through her self-described genre of ChamberSoul. Shana's performance of "America the Beautiful" and "We Shall Overcome" provided a soundtrack to the recent removal of the Confederate statue on the grounds of the North Carolina Capitol building.
Three events planned at Bookmarks
7 p.m. July 13: "Tombstone: The Earp Brothers, Doc Holliday, and the Vendetta Ride from Hell" author Tom Clavin will talk about his new book, which focuses on the true story of the Earp brothers and the famous Battle at the OK Corral. Use the code WILDWEST at checkout to receive a discount on the book sale. Winston-Salem author Charlie Lovett will interview Clavin who is a New York Times bestselling author of many books on history, mostly concentrated in the American west. To register, email info@bookmarksnc.org.
7 p.m. July 14: In a Cooking Through Quarantine, author Kerry Winfrey will share some of her favorite recipes for pies and discuss her new book, "Not Like the Movies." Register by emailing info@bookmarksnc.org.
7 p.m. July 15: Sarah Henning will discuss her new young adult novel, "The Princess Will Save You."
Appalachian Summer Festival online
An Appalachian Summer Festival will continue this week with livestreamed and specially pre-recorded concerts, live chats with artists, film screenings, and virtual tours.
All events are free and will be streamed on the website and the festival's YouTube and Facebook channels. Film screenings require pre-registration. Some events will be archived for later viewing; others are only available for the scheduled date and time. Full descriptions about each event and how to access them are at www.appsummer online.org.
2 p.m. today: Canadian Brass, Broyhill Chamber Series Sneak Peek
2 p.m. July 13: Behind the Scenes at the Turchin Center for Visual Arts
7 p.m. July 14: "Portrait of a Lady on Fire," Weicholz Global Film Series
2 p.m. July 15: "Matrilinear" with Elizabeth M. Claffey, Exhibition Showcase Series
7 p.m. July 16: Kraut Creek Ramblers and Liam Purcell & Cane Mill Road, Live from Rosen Concert Hall
7 p.m. July 17: "My Life in the Theatre" with Jackie Alexander, N.C. Black Repertory Co. artistic director, Center Stage
7 p.m. July 18: Introducing Sarah Jones and friends (who live in her head), In the Spotlight.
RiverRun events head to Marketplace drive-in
RiverRun International Film Festival will present two selections originally slated for the 2020 festival at the Marketplace Drive-In, 2095 Peters Creek Parkway, Winston-Salem. Gates open at 7:30 p.m. with screenings beginning at 8:45.
July 16: Described as "absurdly shocking and hilarious," the 10 Late Night Shorts range from nuns on the run to zombies in power suits. Due to some mature content these films are recommended for adult audiences.
July 21: "Navigating Thru" (presented by Great Outdoor Provision Co.) Every year thousands of people attempt a thru-hike of the Appalachian Trail. Only one in four will be successful and just a quarter of those are women. This documentary follows women attempting a 2016 hike and discovering what it takes to become "the 25% of the 25%."
OUT at the Movies presents 'The Birdcage'
Southeastern Center for Contemporary Art and OUT at the Movies will present "The Birdcage" July 18 at 750 Marguerite Drive.
Gates open at 7:30 p.m., and the film begins at dusk.
The 1996 blockbuster, starring Robin Williams and Nathan Lane, tells the story of a gay cabaret owner and drag queen companion who agree to put up a false straight front so that their son can introduce them to his fiancée's right-wing moralistic parents.
Seating on the grass will be in designated areas for individuals and groups of up to three. Areas will be separated by at least six feet. Tickets are $10 for individual areas, $20 for group areas at www.outatthemovies.org beginning on June 22.
There will be a cash bar — audience members may bring their own food and non-alcoholic beverages. Dogs on a leash at all times are allowed.
Battle of the Community Theatre Stars continues
After 10 weeks of Saturday night episodes, the Battle of the Community Theatre Stars, a statewide trivia competition, will enter its semifinal rounds at 7 p.m. July 11, 18 and 25 on participating theaters' Facebook pages.
The three winners of the semifinal rounds will continue to the championship round at 7 p.m. Aug. 1. The winning theater for each of the semifinal rounds will receive $100, and the overall championship theater will be awarded $300. Weekly winning contestants also receive prizes.
Contestants for the semifinals will be Seph Schonekas (Winston-Salem Theatre Alliance), Bill Davis (Community Theatre of Greensboro), Sarah Jenkins (Spirit Gum Theatre Co.), Brandon Lloyd Hicks (Little Theatre of Winston-Salem), Charlie Kluttz (Yadkin Arts Council), Gregg Vogelsmeier (Little Theatre), Dan Beckmann (Spring Theatre), Corey Mitchell (Theatre Charlotte), Bradshaw Call (Asheville Community Theatre), and Triad actor Tim Matson, who won the first game representing "Team Hermit."
Lynn Felder
To have your event included in Sunday Arts, send information in the body of an email to relisheditor@wsjournal.com 10 days before publication. Tell us who is doing what when (time and date) and where (street address), and cost. Give a brief description of your event and a phone number and website, if pertinent.