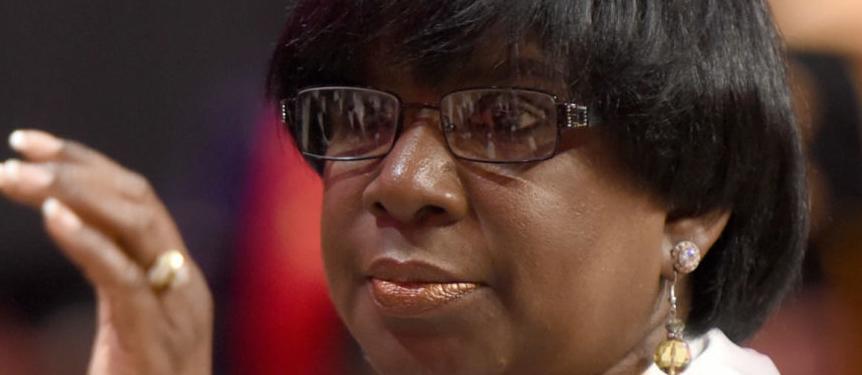 Beyoncé's "Black Is King" is a stunningly beautiful, mind-expanding romp through time and space, history and fantasy, anchored by a strong sense of heritage and ancestry — the conjunction of past, present and future — and, yes, the circle of life.
It debuted July 31 on Disney+ to much ado and fanfare, to be followed by much analysis, controversy and excitement on social media.
"Black Is King" was directed, written and executive produced by Beyoncé and serves as a visual companion to the 2019 album "The Lion King: The Gift," a tie-in album curated by Beyoncé for the 2019 "The Lion King." Queen Bey narrates, and plucks some lines directly from "The Lion King."
D'Walla Simmons-Burke, director of Choral and Vocal Studies at Winston-Salem State University, said "Black Is King" is full of powerful conscious and unconscious messages with correlations to other films and art forms.
"Some of the first things that caught my attention were references to childhood, nursery rhymes and games played by young people," Simmons-Burke said. "Beyoncé on a tall ladder with long hair suggests the story of Rapunzel but with an Afrocentric look and dreads.
"Later, we see girls with girls, and girls with women doing the patty-cake hand gestures. It also happens at the end of 'The Color Purple,' and it refers to reunions and returning to childhood."
Like "The Lion King," "Black Is King" roughly follows the narrative of the archetypal hero's journey: A young person (or lion) becomes alienated from their community, and is called to adventure. In the journey to individuation and personal wholeness, they encounter obstacles and helpers, curses and blessings.
They discover who they truly are, and finally return, with their personal gifts and powers fully grown to take their rightful place in the community.
Early in "Black Is King," the question comes, "Who are you?" challenging the hero to fulfill their potential, Beyoncé answers it with the song, "Already," implying that they are already a king; they just don't know it yet.
It's a thrilling song, musically and visually, featuring Shatta Wale, a Ghanaian singer-songwriter, and Major Lazer, a Jamaican-American trio.
"My Power" brings on the full force of the fierce feminine with its driving rhythms and dazzling dancing. It features Busiswa, a South African singer; Moonchild Sanelly, a South African singer and dancer with fabulous blue hair; and Tierra Whack, an American singer-songwriter.
"It reminds me of 'Black Panther,'" Simmons-Burke said. A quartet of formidable dancers seems like a bodyguard, as Beyoncé sings, "They'll never take my power, my power, my power."
"It's like they are saying: If you want her, you've got to go through me," Simmons-Burke said. "They stood for the women in our families — the aunties, mothers, grandmothers, and women who we bring in to be our mothers.
"This touched me more powerfully than anything else. I lost my mother at an early age, and my college professors didn't ask permission, they just took on the role of mother to me.
"Many of my students call me — not professor or Maestra — but Mama Burke. They know I am going to handle them the way their mothers would have. Someone did it for me, so I do it for them.
"This is the way that I give back. The song was a confirmation that maybe I'm doing it right."
There's a seemingly endless supply of guest artists. The wonderful Pharrell Williams and Salatiel, a Cameroonian record producer and performer, contribute to the gorgeous "Water." Jay-Z takes the lead in "Mood 4 Eva," which includes sly references to Eddie Murphy's "Coming to America," and reminds us, if we needed it, of what a creative power couple Bey and Jay are.
As amazing as the guests are, Beyoncé simply rules over all. In a dizzying array of regalia worthy of her stature, Queen Bey embodies all of the film's themes: Spirituality, physicality, the earth and seasons, and bodies of water: rivers and oceans.
"I liked all the innuendos of affirmation — in the music and in the visuals," Simmons-Burke said. "'Ashé Ashé' — words that convey power, command and authority — are repeatedly either spoken or sung.
"In one song, the words say, 'We were beautiful even before people knew what beautiful was.' It's how your mother or grandmother would always affirm you."
"Brown Skin Girl," a song released last year, brings us into the present moment and the Black Lives Matter movement.
"I grew up in the '60s during civil rights — fortunately and unfortunately," Simmons-Burke said. "I experienced the meanness from friends — and people who I thought were friends, being teased about the darkness of my skin and being called 'little black Sambo.' It wasn't until college that my Blackness was affirmed.
"To hear in the song, 'Your skin, it shines, and it tells your story," it's what I try to do in my research — show that everybody has a story.
"In this time of social unrest, we've got to be sure that our black and brown-skinned children feel good about themselves. Because of the lockdown, they are seeing and hearing all the news and asking Mom, 'Why was he shot?
"We've got to fight this death by skin color and the assumption is that you are guilty by skin complexion."
Toward the end of the film, Beyonce, with a men's chorus and then a mixed chorus, and an a cappella chorus, sing the multi-layered "Spirit": "Rise up to the light in the sky, yeah/Watch the light lift your heart up/Burn your flame through the night."
"This is the introduction to rites of passage," Simmons-Burke said. "The film is dedicated to her son, Sir Carter. It is dedicated to the Black boy, becoming the Black man, who is the Black king." Hence, the title.
Watch it for the beauty, for the energy, for the music, for the pure pulsating life of it. Let it wake you, if you're ready to be woke. Let it take you into new worlds and expand your capacity for wonder.
Let it remind you that we are all connected in the great circle of life. It may be a cliche, but it's no joke.