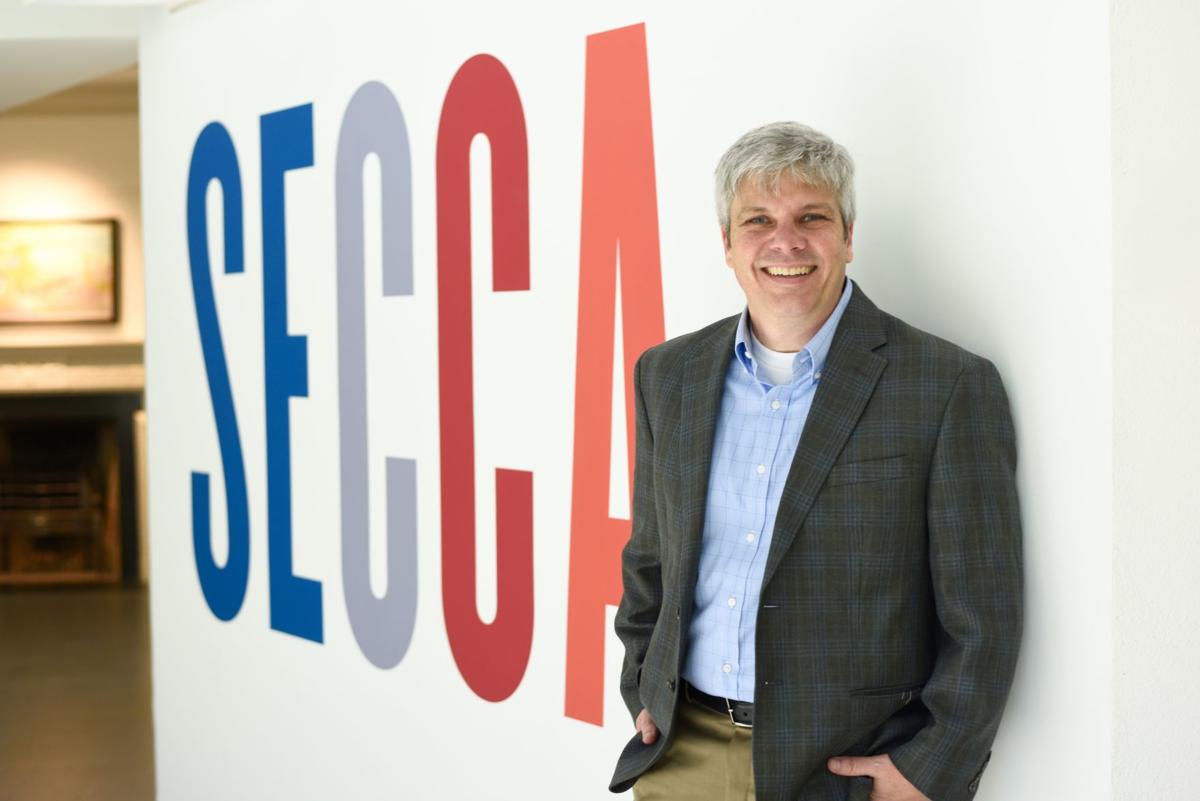 William J. "Bill" Carpenter, an educator with an English degree, is the new executive director of the Southeastern Center for Contemporary Art in Winston-Salem. He will start work on June 3.
"As a teacher and administrator in higher education, I've seen firsthand that engagement with the arts can change lives for the better by helping us invent new ways of seeing ourselves and our world," he said.
Carpenter, 46, comes to SECCA from High Point University, where he was most recently professor of English and director of the Honors Scholars Program.
"In the Honors curriculum, we have a class called Aesthetic Inquiry: Building and Being. It's being taught by an architect to help students understand their own sense of beauty and aesthetics," he said. "In course evaluations with students what I heard is they are so accustomed to seeing the world one way, and these courses helped them evaluate who they are."
Carpenter grew up in New Jersey and went to undergraduate school at the College of New Jersey. He has a doctorate degree in English from the University of Kansas.
"I was a literature major, so when I found modern poetry and the work of Wallace Stevens, I was amazed at how thinking about how language helped me understand our cultures and our communities in a different way," he said. "Art can help us understand the world that is being built up around us."
Another course, Art, Protest and Propaganda, gets students to think about the function of art and how one can focus the desire for change into creating a piece of art and showing that to the world, he said: "It's about developing agency, really."
He and his wife, Stephanie, currently live in Winston-Salem. They have two rescue dogs. For fun, he runs and watches movies. His favorite is "The Big Lebowski." The Guggenheim in New York is his favorite Museum.
"I really wanted to be part of the Winston community," he said. "I've been living here for several years. I wanted to play a role in bringing something important to the community.
"And I was looking for a challenge, looking for a way to use my skills in teaching and curriculum design out of academy context."
Carpenter was one of two candidates — from a field of 16 — presented to the full SECCA board of directors by officials from the N.C. Museum of Art. In 2007, SECCA became part of the N.C. Museum of Art system under the purview of the N.C. Department of Cultural Resources. Before that, it had been a private, nonprofit organization.
Katherine White, associate director of the N.C. Museum of Art, was part of the group that screened and interviewed candidates, as was Eldridge "Redge" Hanes, of Winston-Salem, representing the James G. Hanes Memorial Fund that helps support SECCA.
"Bill is very dynamic. He can captivate an audience," White said. "And there is strong knowledge and content in what he has to say. His vision of aligning SECCA to a stronger educational vision resonated with all of us. Being able to take contemporary art and ideas to public-school students and university students in Winston-Salem and Forsyth County and also have SECCA be the western arm of educational outreach of the N.C. Museum of Art.
"N.C. Museum of Art and SECCA have a mission to serve N.C. citizens. He has ideas about what that will look like and how to expand SECCA in that way."
Jennifer Woodward, president of the board of SECCA, was also involved in the early part of the hiring process.
"We are very excited to welcome Bill to SECCA," said Jennifer Woodward, SECCA board chair. "He will bring new energy to the museum and help SECCA fulfill its vision of engaging the community in a lifelong learning experience with the arts."
Carpenter said that a welcoming environment and open conversations are the way to engage people in contemporary art.
"I'm a fan, not a scholar," he said. "When I go to a museum, I am drawn to the contemporary art wing. I like it because it demands more interpretation, and I like to face interpretive problems.
"You've got to make the space inviting and not intimidating and help people put language to their reactions. Everything that you say should be an opening for a continuing conversation.
"We can indicate that contemporary art is an invitation to conversation. A gallery or museum has some responsibility to ask questions openly and publicly, so the public can feel free to participate."
Carpenter said that he wants to rebrand SECCA "in some ways" as an educational resource for teachers, students and the community.
"I'd like to figure out how we can help teachers not only teach about contemporary art but also use it to teach other subjects like English and math," he said. "We can have visiting scholars, visiting artists, residencies, themed events.
"We can talk about how art can help us re-frame crises and find solutions. My dream would be to have all the public schools come through, to have service-learning relationships.
"I was working in the (SECCA) garden on Saturday, and I was thinking that so many of the local universities have horticulture programs. It would be great to have students help us with landscaping and landscaping maintenance."
Carpenter is succeeding Gordon Peterson, a retired advertising executive, who served 2015-2018.