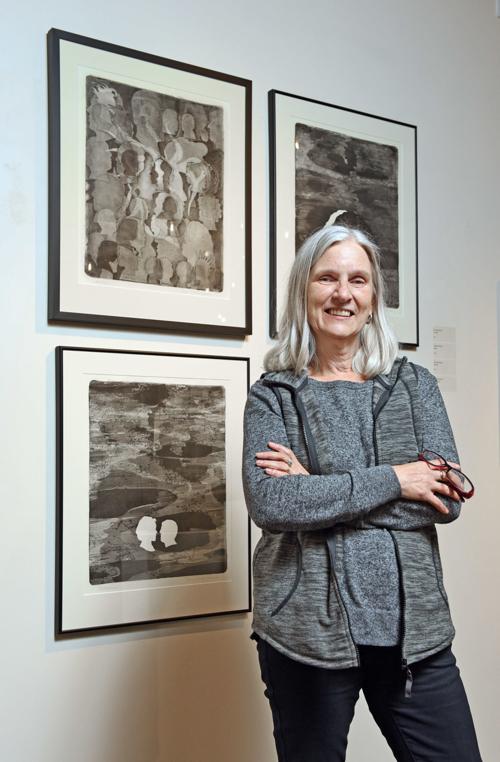 Terri Dowell-Dennis grew up, turning the mountains into her playground, in Boone.
"We were big sledders," Dowell-Dennis recently recalled. "We'd go to a hill off the parkway."
Her parents also exposed her to art, making sure that art museums were incorporated into family trips and signing her up for art classes as they became available.
"Since I was a little girl I've known I was going to be an artist," she said.
She blossomed under the tutelage of Shelton Wilder, a longtime art teacher at Watauga High School. She studied art education at Appalachian State University and sculpture at Clemson University.
Dowell-Dennis works as an associate curator of education at Weatherspoon Art Museum in Greensboro. Some of her work is part of the Winter Show at Green Hill Center for North Carolina Art, also in Greensboro, and at Sawtooth School for Visual Art, Winston-Salem.
Q: How would you describe your art?
Answer: My artwork is both two- and three-dimensional and often incorporates recognizable objects or materials that carry particular meanings. I work most often with printmaking and drawing techniques, textiles, and collage — sometimes combining these methods of making.
Q: How have you evolved as an artist?
Answer: Since childhood I've made things and identified myself as an artist. As an undergraduate and graduate student, I found that I especially loved materials and working three-dimensionally. My MFA is in sculpture from Clemson University. But, when I moved to Winston-Salem it was to take a job as a museum educator. With less access to space, time and specialized equipment, my art practice gradually shifted to approaches that were less space and time consuming.
Q: Who has influenced your art?
Answer: My strongest influences are found in Appalachian folk forms, objects and practices associated with domesticity, the study of religions, and family stories and ancestry. As a maker, I embrace the dialogue that happens between intention and chance. I associate this with my interest in religion and spiritual practices and perhaps also with the groundbreaking work of the artist John Cage.
Q: What is your biggest challenge?
Answer: My biggest challenge is that I'm interested in so many things. All my interests eventually feed into the artwork I do, but it can be a slow process.
Q: What does art do for you?
Answer: The making of art helps me understand myself and engages me in a creative dialogue with ideas and materials. I can't feel grounded if this practice is missing from my life for any length of time. I love art history, craft and contemporary art. I have worked in museum education for almost 30 years and love experiencing what happens as people slow down, look closely and think about what works of art have to say.
Q: Any advice for other artists?
Answer: My undergraduate sculpture professor at Appalachian State University gave me a piece of advice that has always stayed with me: "Look to the things you love for inspiration — not to the work other artists are making."
Lisa O'Donnell writes about artists — visual, musical, literary and more — weekly in relish. Send your story ideas to lodonnell@wsjournal.com or call 336-727-7420.