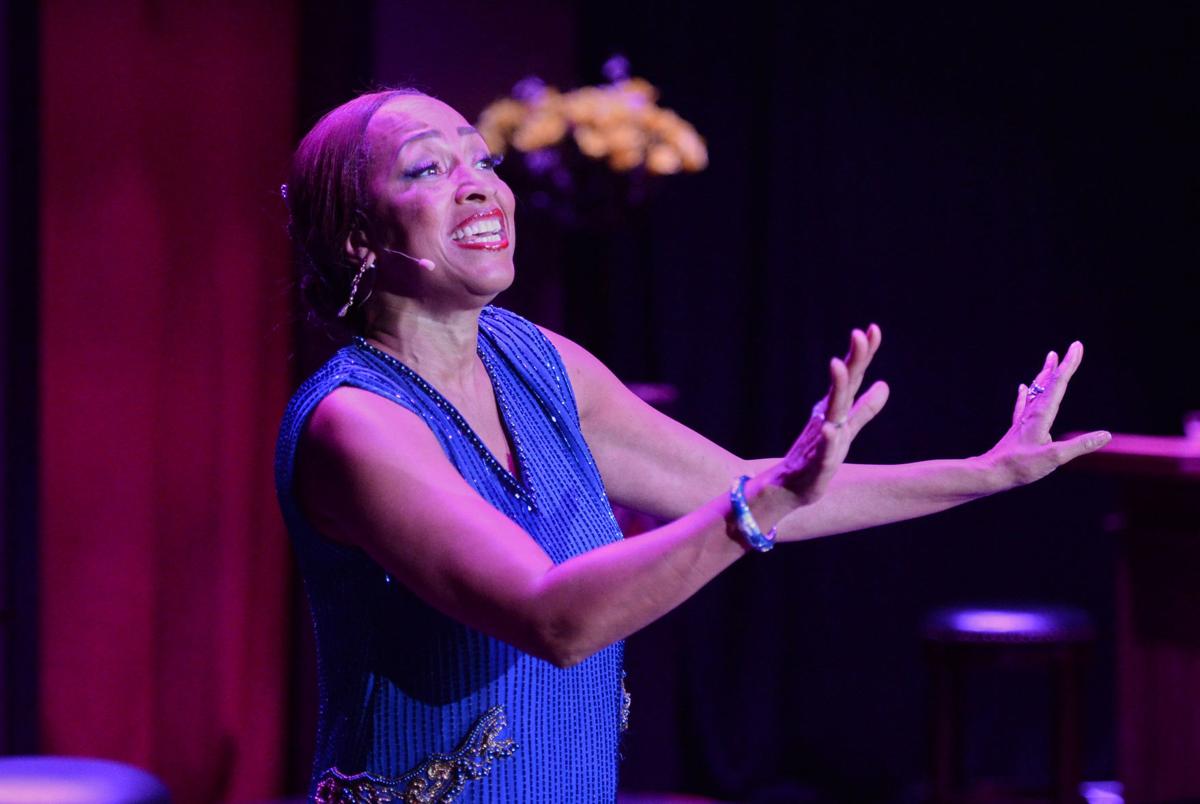 The story of Ada "Bricktop" Smith is the story of the first half of 20th-century America — both here and abroad.
That eloquent and entertaining tale is onstage in Reynolds Place at the Milton Rhodes Center for the Arts in the form of "Bricktop: Legend of the Jazz Age," starring the effervescent Gabrielle Lee. It is the first-ever production to be presented in the newly renovated space. For the new theater, it was a baptism by joy on Wednesday night.
Born in West Virginia and reared in Chicago, Bricktop honed her skills as a singer, dancer and "personality" in the speakeasies of Portland, Ore.; Vancouver, British Columbia.; and other regional cabarets.
In New York, she ascended to stardom in The Exclusive, only to expatriate to Paris as many Americans did in the 1920s. For African Americans, Europe was a chance to rise unhampered by prejudice and Jim Crow laws.
For some others, it was a chance to drink freely during Prohibition.
Either way, it was a perfect storm for Bricktop's success. An exuberant talent and a gracious hostess, she invited Americans and Parisians into her place, Chez Bricktop, and they came.
Cole Porter wrote songs for her, most notably "Miss Otis Regrets" that was inspired by a story Bricktop told Porter about a lynching that she had seen in the U.S.
The literary set came. She kicked John Steinbeck out for cursing, and he won his way back into her graces with a taxi full of yellow roses. F. Scott and Zelda Fitzgerald were frequent patrons, as was Ernest Hemingway.
She taught the Duke of Windsor, Mrs. Simpson and their guests how to dance the Charleston and the Black Bottom.
She mentored Duke Ellington, Mabel Mercer and Josephine Baker, and worked with Langston Hughes when he was still a busboy. Django Reinhardt and Stephane Grappelli wrote a tune for her called "Brick Top."
In short, from the mid-1920s until WWII broke out in France, Bricktop was the toast of Paris, after that: Mexico City and Rome. She retired from the saloon business in 1961 at 67.
It's such a wonderful story — not without its sorrows, of course — that I want to tell it all, but better you should just go see it.
Lee is completely charming in the role of Bricktop, selling every song, and seeming to unhinge all her joints in her dances as she shakes it loose on the tiny stage and goes through the audience stealing every woman's man.
She does a hilarious impression of the comedienne Sophie Tucker on "Nobody Loves a Fat Girl," and an especially poignant delivery of "The Last Time I Saw Paris."
Expect to hear such juicy standards as "Hot Time in the Old Town Tonight," "I Ain't Got Nobody," "Jazz Baby," "They'll Be Some Changes Made" and "St. Louis Blues."
Lee is backed up by a mighty tight band led ably by Kermit Medsker, who also arranged the music. The musicians were Birch Graves, saxophone; Billy Ayers, drums; and Jay Frye, stand-up bass and tuba. Medsker also plays piano.
All around me, people were saying, "I didn't know anything about Bricktop." If that's you, and it was me, then you need to see this show.
Bricktop deserves to be remembered, celebrated and relished.