The Downtown Winston-Salem Partnership has announced more dates for The Streatery, which closes select downtown blocks to traffic and allows restaurants to set up tables in the street.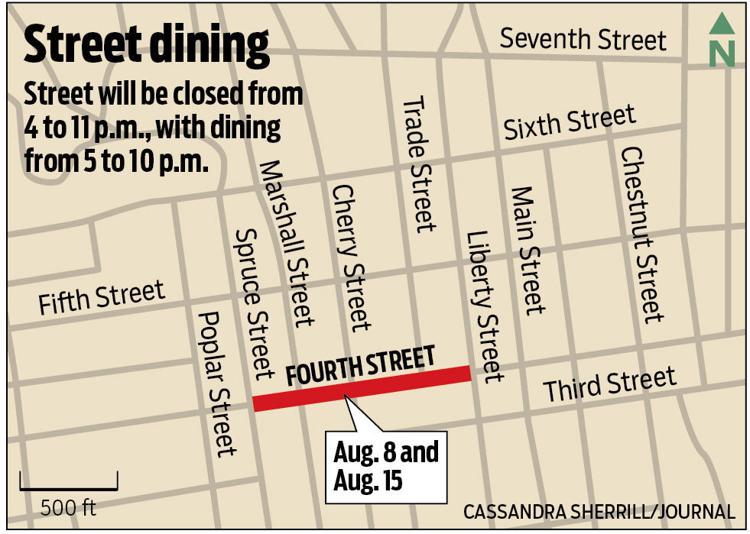 After a successful trial run July 25, when Fourth Street was closed from Marshall to Trade streets, the group has scheduled more dates in August with approval from the city.
On Saturday (Aug. 8) and on Aug. 15, Fourth Street again will be closed from 4 to 11 p.m., with restaurants serving from 5 to 10 p.m. But this time, the event will add two more blocks. So outdoor tables can stretch from Spruce to Liberty streets.
"All the restaurants seemed really happy with the first night, so we want to keep it going as long as it's relevant," said Jason Thiel, the executive director of the downtown partnership.
The idea came about as a way to help restaurants hurt by the statewide COVID-19 restrictions imposed by Gov. Roy Cooper.
The partnership will pay for security and setup. The city of Winston-Salem is helping, too, with traffic cones and some staffing, Thiel said.
Individual restaurants must file for permits to participate, as well as meet appropriate insurance requirements.
The partnership also is talking with businesses on Trade Street about the possibility of closing that street from Fifth Street to Martin Luther King Jr. Drive the night of Aug. 14 or 21.
Adam Andrews, a co-owner of Jeffrey Adams, one of the restaurants that participated in the trial run on Fourth, said he is excited to do more street dining. "We're in survival mode. We need all the help we can get," he said.
Andrews said that, with 20 extra seats in the street July 25, he doubled his sales from the Saturday night before. "We had a great turnout. I wish we could do it every Friday and Saturday," Andrews said.
Will Kingery, a co-owner of King's Crab Shack on Fourth, also reported a big turnout July 25. He said that The Streatery is a good thing not only for individual businesses, but also for the city as a whole. "I was proud of Winston," Kingery said. "It wasn't just about more revenue, but showing we're innovative, we're all in this together and we can still go out and stay safe."
Thiel said that, while The Streatery on Fourth will continue to focus on restaurants, the possible Trade Street closing has the opportunity to involve other businesses. "On Trade you have a lot more retail businesses that are open, places like Mast General Store, so that could provide a different mix."
Thiel said he plans to look into raising private money to sustain The Streatery if it proves popular.
He said that as long as restaurants are in favor it, the downtown partnership will support more dates. "The track record will decide if it's still relevant. But we can go through August and into September. I think it will just get better."
---
PHOTOS: The Streatery on Fourth Street
Stay up-to-date on what's happening
Receive the latest in local entertainment news in your inbox weekly!