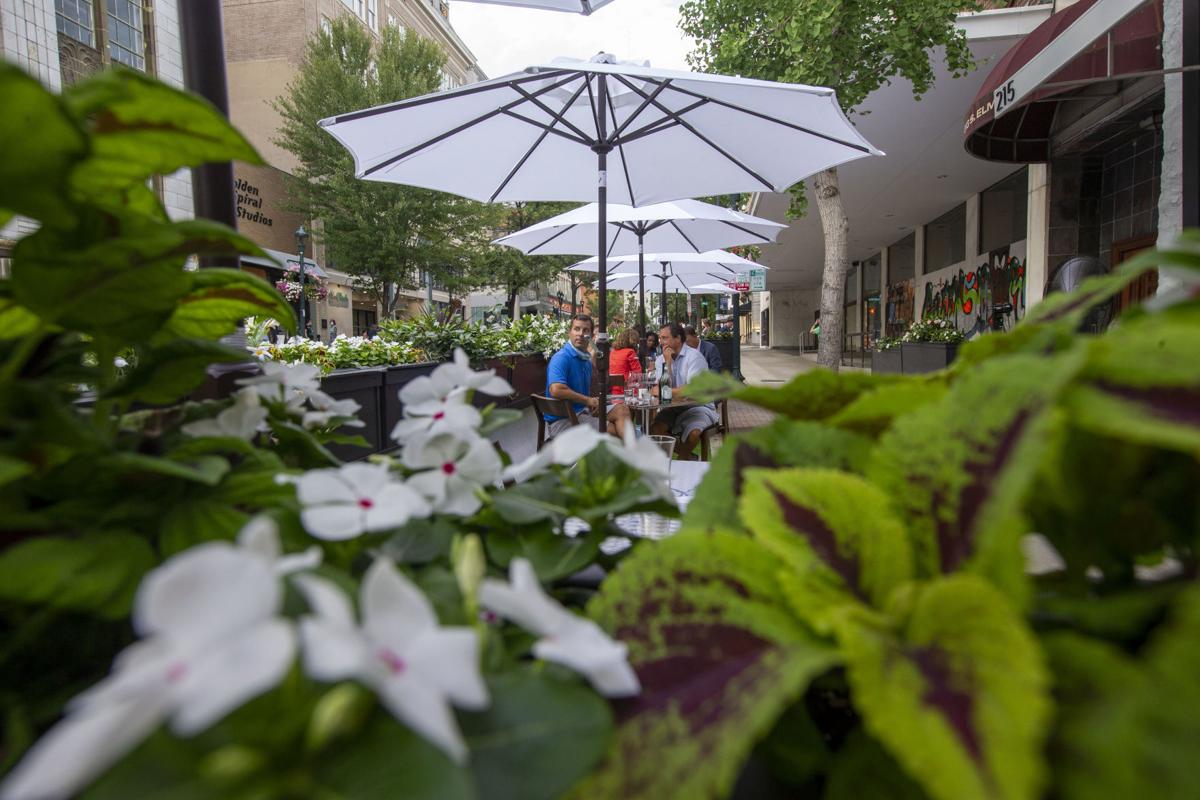 GREENSBORO — Downtown restaurateurs and retailers hit the streets Friday night to take back their city.
It was called Open Streets.
But it wasn't an event. That might imply a festival. And since Gov. Roy Cooper prohibits outdoor gatherings of more than 25 people in an effort to curb the spread of the coronavirus, a festival would be a no-no.
So instead, Downtown Greensboro Inc., a nonprofit advocate of center-city businesses, and Creative Greensboro, the city's office of arts and culture, worked with officials to close portions of South Elm Street to create a wide pedestrian boulevard filled with shops and restaurants.
Some restaurateurs like Jake Ngo, owner of the wine bar White and Wood, took advantage of the opportunity to extend dining onto the sidewalk — and even into streetside parking spaces.
Ngo calls it a "parklet."
"Parklets are big in big cities," Ngo said.
Under the state's current restrictions, restaurants are limited to 50% indoor seating capacity. For Ngo, that meant going from 19 tables to just eight.
So on Friday, Ngo decked out his portion of the barricaded area with custom-made planters that enclosed tables with umbrellas. The area seated about 20.
"We built the parklet to accommodate the guests we lost inside," Ngo said.
The pop-up pedestrian area is part of a trend taking place in other cities. Winston-Salem's trial run of The Streatery in late July was so successful that there will be more this month.
Vonne Keobouala, the owner of Lao Restaurant of Greensboro, took advantage of the barricaded space in front of her business, but in a much more economical way with just enough tables to seat six.
"Without a patio, it's really rough for us. But hopefully this will help us out," Keobouala said.
Down the street, Design Archives Emporium owner Kit Rodenbough was pleased to see the street in front of her consignment shop closed to traffic. She said it reminded her of a street she visited once in Barcelona.
"If we could do something like that, it would set us apart from other places," Rodenbough said.
Tenekia and Bryant Tucker had just come from shopping at Design Archives and were headed to get a bite to eat.
"We're just trying to support our local businesses," Tenekia Tucker said. "This is lovely. I like the idea."
Tucker knows the challenges the pandemic has brought to business owners. She and her husband Bryant moved here from Atlanta so she could start a catering company. She said she'd already had two wedding receptions canceled.
"We need to pick up Greensboro," she said. "That's why we're out supporting each other."
Kathryn Hashemi, owner of the eclectic boutique Just Be, said business was improving, partially with the help of three loans. Hashemi said she hasn't given a lot of thought on what she lost while her shop was closed during the pandemic.
"It's not something I really wanted to sit down and calculate," Hashemi said.
On Friday, Hashemi brought in mobile-coffee service Home Grounds to set up outside her shop.
Open Streets will be held again today from noon to 9 p.m. — and possibly in the future.
Rodenbough hopes today won't be the last time.
"I think that could give us such an edge to get people down here every weekend," she said.