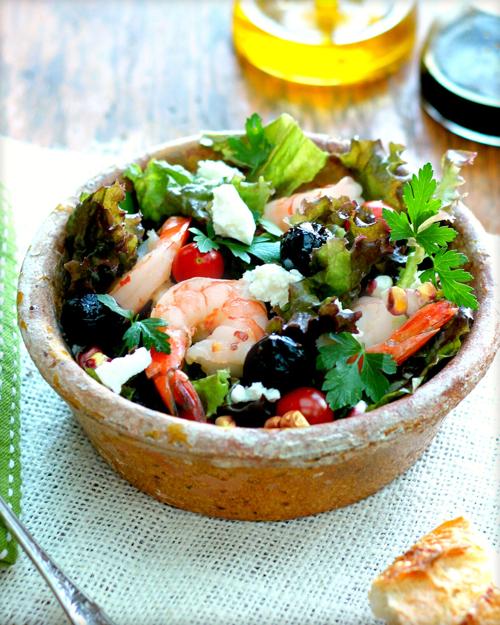 While simplicity often reigns when making salads, a little attention to how you put them together can make a difference - and not just in presentation, but also in flavor. There's certainly nothing wrong with combining all of your salad fixings in a bowl and giving them a good toss. Some salads demand a good jumble, such as cheesy Caesar salads or simple green salads. However, if you have a special standout ingredient that you don't want to submerge in a bowl of greens, or if you prefer a lighter hand in dressing the salad without wilting tender leaves, then layering is the way to go.
When layering a salad, you can ensure that it's evenly dressed. Simply drizzle the base ingredients, such as your greens or crudites, with just enough dressing to lightly kiss the leaves and disperse with a gentle toss. You will add more dressing once the salad is composed. Layer the remaining ingredients on top and coat with a final light drizzle, and your salad is ready to go. And remember to go lightly when dressing your salad. You can always add more (or pass it once served), but you can't remove it.
When proteins are one of your star ingredients, be sure to season them first -- don't rely on the dressing alone to be the flavor agent for pieces of chicken, meat, fish or tofu. Layering also allows you to build in flavor with aromatics, such as snippets of fresh herbs, nuts and seeds, and finely grated citrus zest. Add a little to each layer to flavor and perfume the salad and ensure they're present in every bite.
This salad has summer written all over it. Shrimp, feta and olives are the star ingredients, mingling with sweet corn, juicy tomatoes and plenty of garden greens. It's beautiful when presented in a large serving bowl or arranged in individual serving bowls.
Lynda Balslev is the co-author of "Almonds: Recipes, History, Culture" (Gibbs Smith, 2014). Contact her at TasteFood, c/o Andrews McMeel Syndication, 1130 Walnut St., Kansas City, MO 64106, or send email to tastefood@tastefoodblog.com. Or visit the TasteFood blog at tastefoodblog.com.
Stay up-to-date on what's happening
Receive the latest in local entertainment news in your inbox weekly!