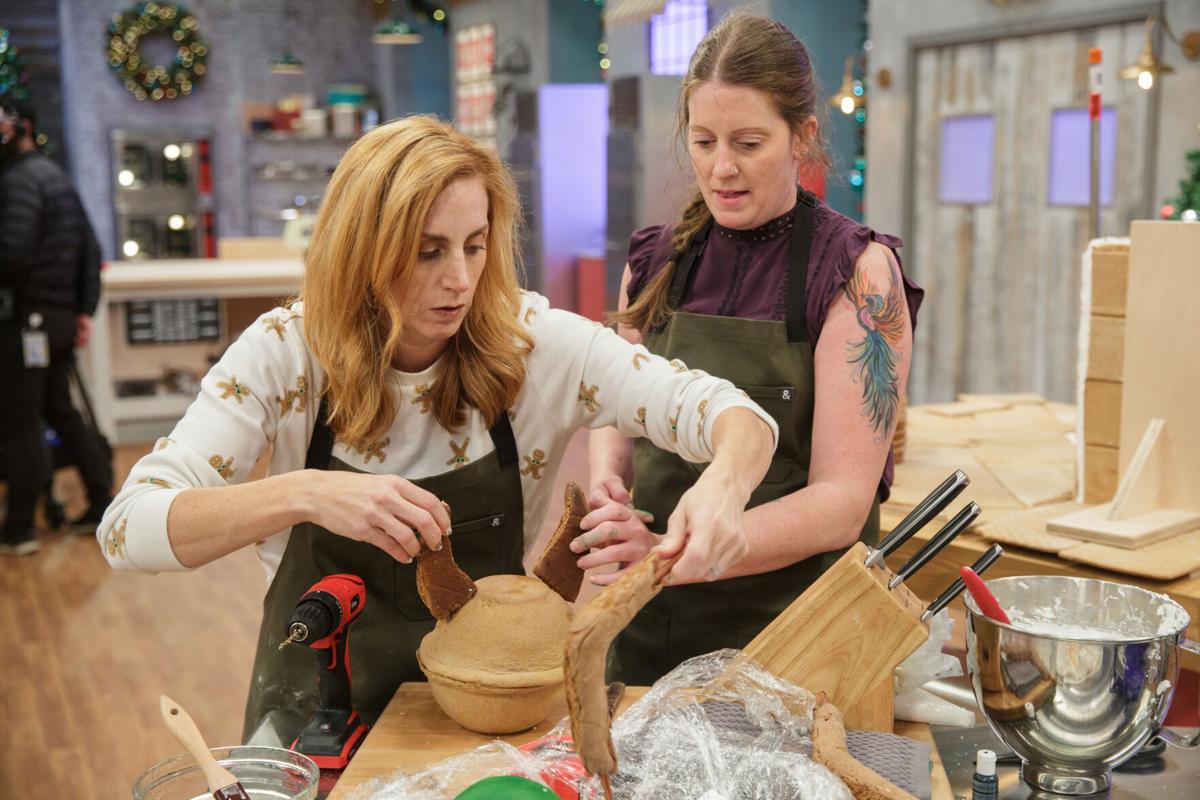 Local bakery owner Stacey Milner and her friend and gingerbread artist Lindsay Deibler will appear on the Food Network's "Holiday Baking Championship: Gingerbread Showdown" at 9 p.m. Nov. 22.
The five-episode show is a spinoff of the "Holiday Baking Championship" that another Winston-Salem resident, Jennifer Hood, appeared on this month.
In "Gingerbread Showdown," each standalone episode features three two-person teams competing to build the best themed gingerbread creation for the chance to win $10,00 worth of prizes.
In Episode 3, Deibler and Milner are presented with the "Have Yourself a Scary Little Christmas" theme. Deibler is challenged to incorporate a monster in her gingerbread design. For Milner, the challenge is the use of caramel in her baking of an "oozy" dessert.
The show features host Jesse Palmer and judges Nacho Aguirre, Kardea Brown and Breegan Jane.
Deibler and Milner are longtime friends who had dreamed about one day getting on the Food Network.
"We met through our kids on a playground years ago," Deibler said.
Since then, Milner, a former pastry chef in restaurants in Charleston as well as Milner's American Southern in Winston-Salem, opened her own bakery, Baked Just So. She opened her first location in Robinhood Village in Winston-Salem in 2017 and opened a second location in Lewisville in 2021.
Deibler is an interior designer who owns her own business, Lindsay Deibler Interiors. But she has been baking cakes on the side for a long time. She developed a passion for gingerbread in just the past few years. She has entered the National Gingerbread House Competition in Asheville for four years. Last year, she won a $2,500 gift card in a gingerbread competition sponsored by Bailey's Fine Jewelry in Raleigh — and will be making a special gingerbread house this year that the store will use in its holiday jewelry display.
After winning that competition, Deibler asked her friend if she could display her gingerbread house at Baked Just So. "I just felt like people should see it," Deibler said. "When I saw that," Milner said, "I said, 'This girl is outrageous.'"
Deibler has a website, gingergingbreadlady.com, and Instagram account where people can see some of her creations. "It's Ginger Gingerbread Lady because I'm a redhead," she said.
It was the Instagram account that got the attention of people who produce the Food Network show. After initial interviews, Deibler learned that the show was looking for a team — a gingerbread artist and a baker. When Deibler was given the chance to choose her teammate, she didn't hesitate to pick Milner. "She literally called me and said, 'The Food Network is going to call you right now.' There was no time to process it," Milner said.
In other words, Milner had no time to say no — not that she would. "I had never baked a gingerbread house in my life," Milner said with a laugh, "but it was the experience of a lifetime. I would do it again in a heartbeat. It was so much fun."
"I'm very happy I had Stacey," Deibler said. "We laughed a lot."
"And maybe cried a little," Milner said.
(336) 727-7394
@mhastingswsj