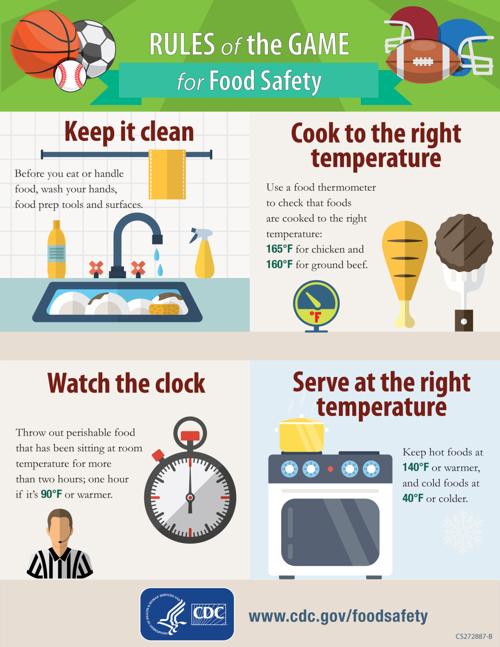 September is National Food Safety Education Month, and, though we thankfully do not have to worry about spreading the coronavirus through food, it does help to practice food safety for general health.
The Centers for Disease Control has said that the likelihood of getting COVID-19 is very low from food you cook or from food cooked or handled by others. The CDC has found no evidence that food or food packaging is linked to spreading the coronavirus.
But foodborne illness remains a problem regardless of the COVID-19 pandemic.
The CDC has reported that contaminated food is responsible for making 48 million Americans sick every year. That's one in six people, and it results in 128,000 hospitalizations and 3,000 deaths.
Those at higher risk include seniors, young children, pregnant women and those with compromised immune systems. 
The last thing anyone needs these days is to get food poisoning, especially when it's nearly always preventable.
Much of the perennial food-safety advice is similar to COVID-19 advice. In other words, wash hands and everything you use — and do it thoroughly and often.
Here are some specific tips:
Wash hands before and after you cook, and anytime you touch raw meat, poultry or seafood.
Store raw meat, poultry and seafood separately. Watch out for such contamination as liquid from thawing seafood or meat that drips onto other foods in the fridge.
Use a separate cutting board for raw meat, poultry or seafood, or thoroughly wash cutting boards between uses. For example, cross contamination will occur if you slice raw chicken on a cutting board and then chop vegetables on the same cutting board without washing or disinfecting.
Invest in a food thermometer to make sure foods are cooked to the proper temperature to kill germs. The U.S. Department of Agriculture's website has a lot of detailed information on proper cooking temperatures at www.fsis.usda.gov.
Keep hot foods hot, at least 140 degrees, and cold foods cold, at 40 degrees or below.
Refrigerate perishable foods, including leftovers, within 2 hours. The 2-hour rule applies to anything perishable that is left at room temperature, including milk, mayonnaise and cooked and raw meats. The rule switches to just 1 hour if the temperature is above 90 degrees — say, if you are on a picnic.
In addition to information on the USDA's site, the CDC also has a wealth of information about foodborne illness at www.cdc.gov/foodsafety.
(336) 727-7394
@mhastingswsj
Stay up-to-date on what's happening
Receive the latest in local entertainment news in your inbox weekly!