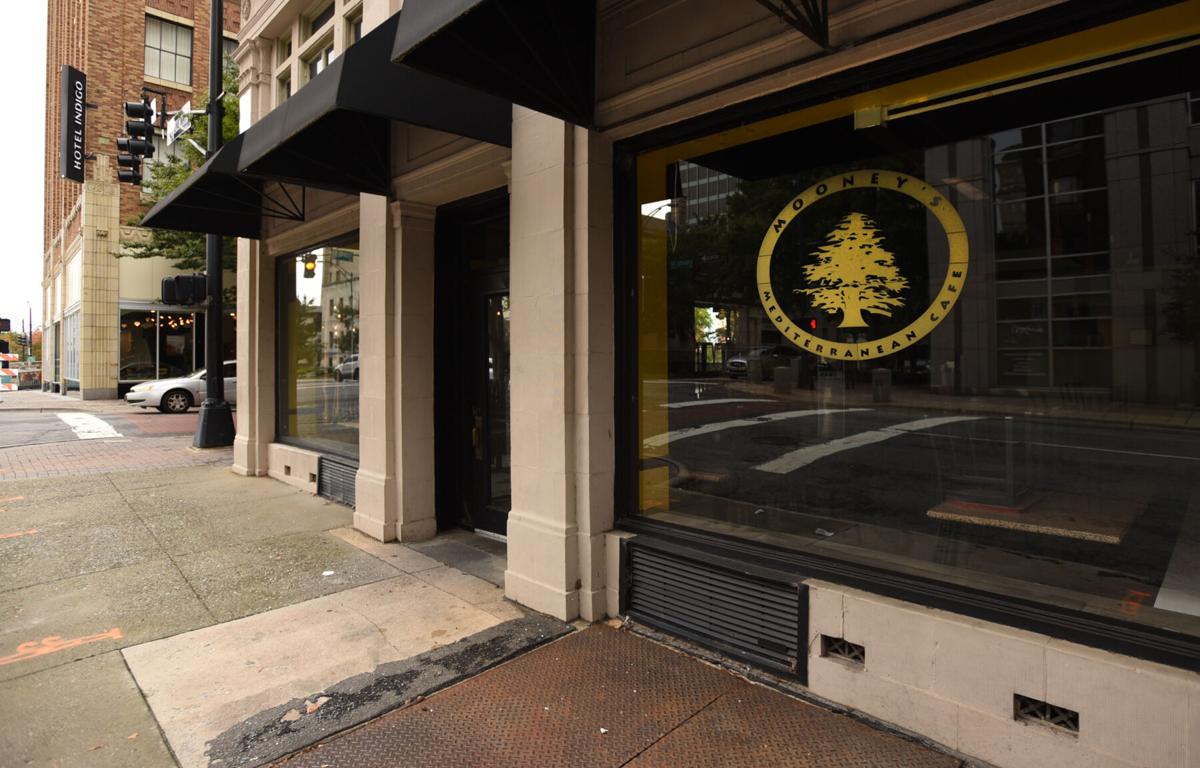 Mooney's Mediterranean Café, a staple among downtown restaurants since 2009, has decided to close for good.
Mooney's, at 101 W. Fourth St., has been closed since the coronavirus pandemic began in March, but owner Ameen "Mooney" David had entertained hopes of reopening until recently.
David said that several factors contributed to his decision to close permanently.
"This has been something I've loved doing. I feel so lucky that I was able to do it, but the restaurant never made the money we expected it to, even in the best of days," he said.
David said that his space in the building at the corner of Liberty and Fourth streets needed some costly repairs. "When we turned off the hood (kitchen fans) in March, it turns out we had a gas leak. And the AC needed repair. We just had a lot of mechanical issues because of this old building."
David had started work on some repairs and renovations this spring, but as the pandemic wore on, he became more and more concerned.
"I still don't feel that it's safe to open. Part of that is because of my own health issues that put me in a high-risk category (for COVID-19)," he said.
David, 51, has been battling colon cancer since 2017. Last year, he had surgery to remove a nodule on his lung after the cancer metastasized. And earlier this year, he received chemotherapy. His doctors say there currently is no evidence of cancer in his body, but the ordeal has put limits on his participation in the restaurant.
Though David called his restaurant a Mediterranean café, it was known for authentic Middle Eastern dishes such as shawarma, tawook, and falafel. He also offered fun Americanized twists on dishes, such as a falafel burger and grilled cheese pita.
David is Lebanese-American, and many of the restaurant's recipes came from the Lebanese mother of his wife, Nadine.
"To make the food good enough so I would eat it, we never had high profit margins," David said.
Mooney's also became a magnet for vegetarians because, especially in the early years, it was one of the few restaurants in town that had a vegetarian-friendly menu.
David said that the pandemic hurt Mooney's because the restaurant relied so heavily on the downtown lunch crowd — a crowd that disappeared overnight in March and still hasn't returned to pre-pandemic levels because so many people work from home. "We thought we would be reopening after one month, then two months. But because we've always depended on the lunch crowd, if we reopened, who would we reopen for?"
David said he is looking for a restaurateur to take over the remainder of his lease.
He also said he is taking classes to become a real-estate agent, but he will miss the staff and customers. He said he is grateful for the support that Winston-Salem has shown Mooney's over the years.
"It's been fun. And it's been so flattering to have had the customer base we established," David said. "I realized not too long into it I wasn't going to get the financial rewards. But the people we got associated with were such wonderful people — our customers and staff both."
336-727-7394
@mhastingswsj
Stay up-to-date on what's happening
Receive the latest in local entertainment news in your inbox weekly!