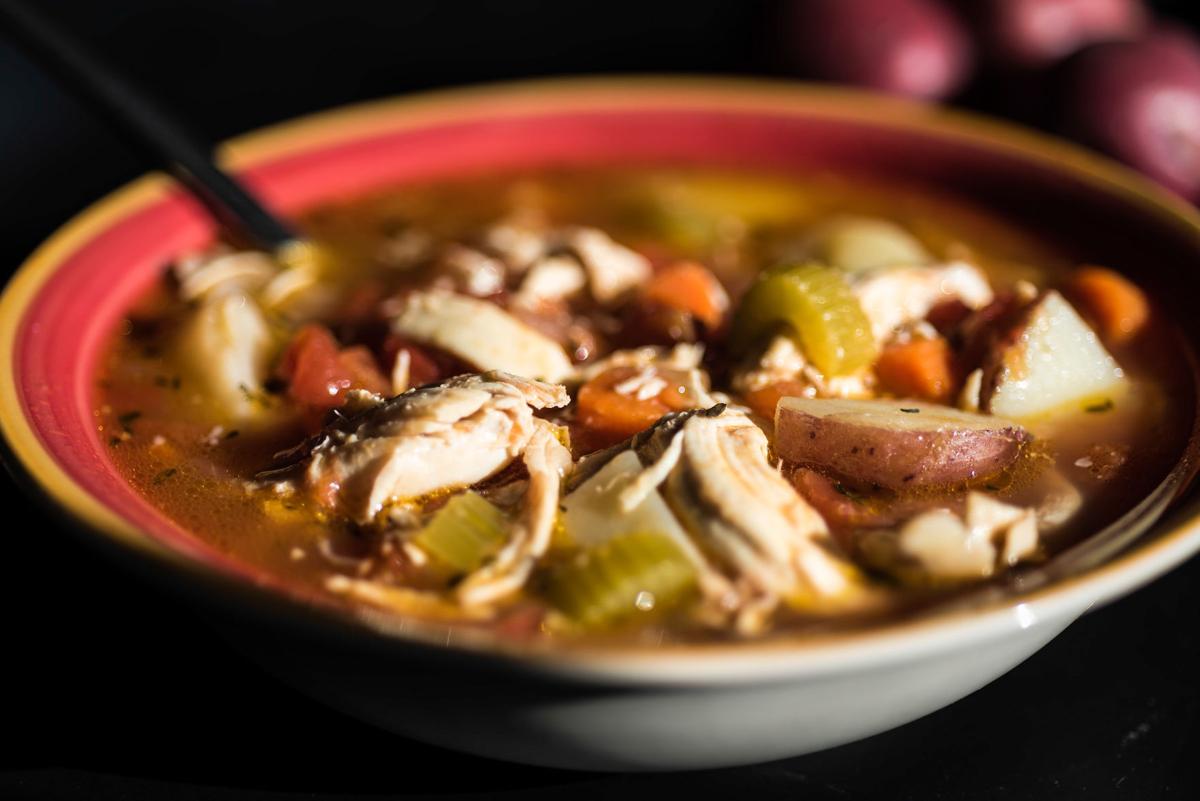 This recipe for chicken stew is both economical and versatile. In short, it gets you a lot of satisfying meal out of one chicken and some vegetables.
I simmer the chicken first to make my own broth. I prefer using a whole chicken — it's cheaper — but bone-in breasts or thighs can be used if one prefers to have only white or dark meat.
My method takes a couple of different turns depending on how rich a broth I want. Cooking the chicken just till the meat is done — about an hour — will produce a light broth. If I want to cheat, I can up the flavor by starting the chicken in broth instead of water. I also can make the broth more flavorful by additional cooking. I simply remove the chicken, pull off the meat and return the skin and bones to the pot for additional simmering. Another hour will make a world of difference, but even an extra 30 minutes of cooking will add more flavor.
When I skim the extra fat from the broth, I usually save a little bit for sautéing onion and other vegetables for whatever kind of stew I'm making.
Another nice thing about this method: It usually produces leftover broth that can be saved for another recipe. If you are making soup, you might use all the broth. But for a stew, you'll have extra. One to two quarts of broth in the final step is usually about right to accompany the meat from one whole chicken, though the amount of liquid may vary somewhat depending on how many other ingredients are in the soup, such as carrots, tomatoes, potatoes and rice.
Stews can be thickened or not. They can be thickened with flour or cornstarch, but some will naturally thicken due to the addition of such starchy ingredients as rice or potatoes.
The recipes below show you just a few ways to use this method.
This is a basic recipe for meat-and-potatoes folks who don't want a lot of spices or other flavors, but check out the suggested variations below.
Send requests or recipes to Recipe Swap, c/o Michael Hastings, Food Editor, Winston-Salem Journal, 418 N. Marshall St., Winston-Salem, NC 27101; or email to mhastings@wsjournal.com. Please include name, address and a daytime telephone number. Previously published recipes are available at www.journalnow.com.