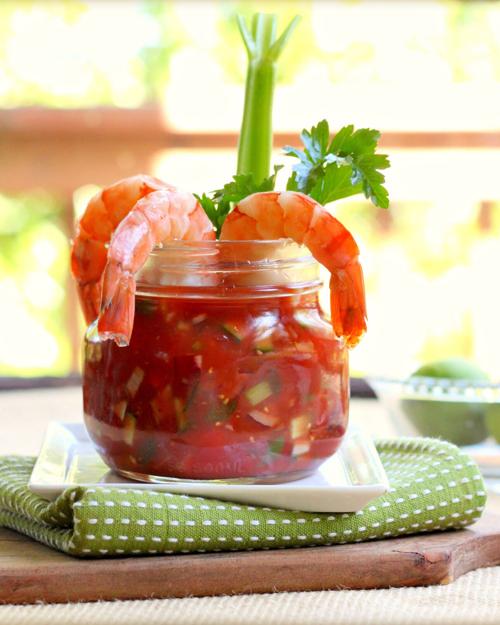 When summer brings warm days, I keep our meals light and garden-fresh with a minimum of cooking. Cold soups, abundant salads, tapas and antipasti are elevated to dinner course level, providing simple and refreshing nourishment, while greedily taking advantage of the farmers market bounty.
The trick to eating this fresh is to provide enough substance to call these dishes a main course - and for this, I often turn to shrimp. Shrimp are versatile and packed with protein, iron and omega-3 fatty acids, adding the necessary nutritional oomph to top off a light meal. They require mere minutes to cook in a pan or on the grill, which is ideal for busy schedules and keeping the heat out of the kitchen. They can also be poached ahead of time and served chilled, such as in this gazpacho soup.
Gazpacho is a cold tomato soup of Spanish origin that is traditionally blended with an arm's-length list of vegetables. Despite the abundance of produce, gazpacho is unfailingly filling and satisfying - even for meat eaters - and a perfect antidote to a warm day. This version takes inspiration from a shrimp cocktail, with the tomato-juice base infused with cocktail-sauce ingredients, such as horseradish, lemon and Worcestershire sauce. Freshly poached and chilled shrimp are draped over the rim of the glass to top this soup off and provide protein. You can serve this as a main course or divvy it up between small glasses for a light appetizer. I can't think of a better way to slurp my vegetables.
Lynda Balslev is the co-author of "Almonds: Recipes, History, Culture" (Gibbs Smith, 2014). Contact her at TasteFood, c/o Andrews McMeel Syndication, 1130 Walnut St., Kansas City, MO 64106, or send email to tastefood@tastefoodblog.com. Or visit the TasteFood blog at tastefoodblog.com.