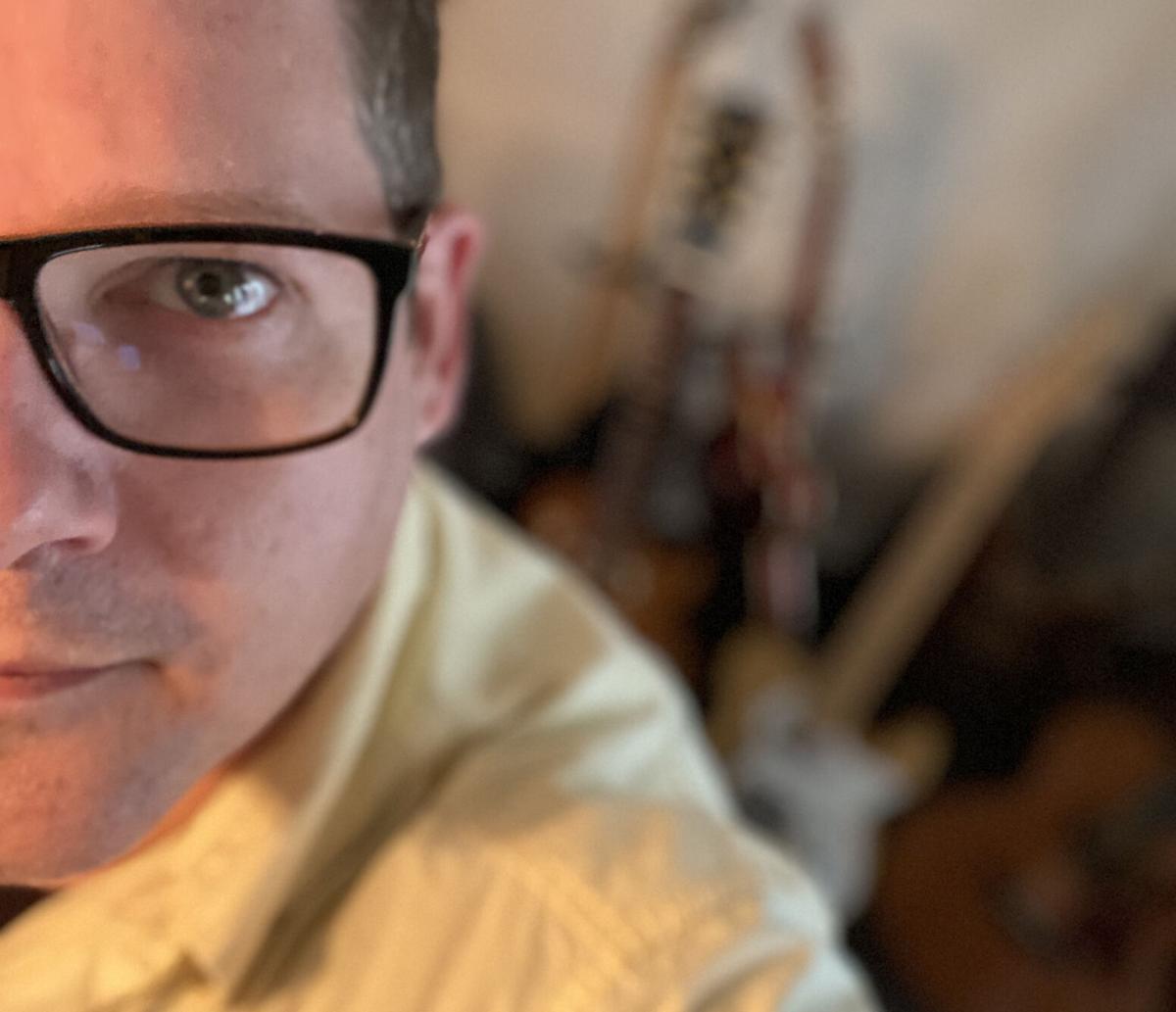 Jason Kraack was keeping busy as a music director and performer in Greensboro's theater world when the coronavirus pandemic hit last spring. Like so many people in similar professions, he watched as the performing arts went into forced hibernation for an indefinite spell.
He decided to make lemonade from lemons by using the pause to record his first album of original songs. Titled "Turn Around," it is a beguiling collection of intimately personal songs that showcase his well-trained voice and proficiency as a keyboardist and multi-instrumentalist.
To write and record a full album from scratch, he knew he'd have to isolate himself from his wife, Lindsey, and kids, Eden and Nate, for a while. So with the family's blessing he decamped to Florida, where he worked for six weeks at a guest cottage on his parents' property in Ruskin (near Tampa).
He admits that the separation was "torture" but adds, "I can't argue with what it produced. I'm really proud of what I made."
"Turn Around" reflects Kraack's musical-theater training along with his love of pop singer/pianists Billy Joel and Elton John, and his fluency in contemporary technology (i.e. electronic percussion and laptop recording).
Kraack credits his parents' broad taste in music for shaping his unfettered overview.
"When I grew up, we had a record player with 30 or so albums underneath it," says Kraack, speaking by phone from home in Greensboro. "It was the Fifth Dimension next to Barbra Streisand, Sammy Davis Jr., Neil Diamond, Billy Joel, Dolly Parton and Crystal Gayle."
"There was no separation between pop, rock and country. It was just music. And that was a throughline for me."
Add to all that a love of musical theater that began in childhood — Kraack's mother was a theater teacher, and he attended every rehearsal and performance — and you have in "Turn Around" an album that is as entertaining as it is hard to pin down.
Some might call it "indie electronica."
"I learned that indie electronica is a thing after I wrote some stuff that could be described that way," says Kraack. "It's about combining elements of different styles into an electronic field."
As for the songs' poppy slant, Kraack concedes, "I'm a 44-year-old man, so there's no delusion I'm going to be selling this to teenagers, but it's just the way it had to happen. It was organic, and I didn't force it."
Indeed, Kraack's "ah-ha!" moment — the one that opened a wellspring of creativity from which the entire album flowed — couldn't have been more organic.
He had recently arrived in Florida and set up his home studio but couldn't connect with the muse.
"I was angry," he recalls. "I couldn't do anything, feel anything, hear anything."
Frustrated, he went out driving on a rainy day. When the rain let up, he pulled into a parking lot, pointing his car at the "grayest, drabbest" part of the sky.
"I got out of the car and was cursing my luck and my choices," he continues. "But when I turned around, the sky was just brilliant, ignited with the sunset. And I heard the chorus to that song — "The sky was so bright" — right there in my head, and I also heard this funky little bass line."
He made a beeline home and knocked the song out in an hour. "Turn Around" became the title track and lodestar for the rest of the album, which he finished within the allotted six weeks.
"Turn Around" was released on Dec. 27, the Kraacks' wedding anniversary, for a very good reason. "I don't know how I got my wife to allow me to leave," he says, "but I can't thank her enough for saying yes to this project."
The family settled in Greensboro when Lindsey was offered a job teaching theater at Weaver Academy, where she has worked since 2009. Before that, they lived in New York City, where she earned her master's degree in directing at Brooklyn College while Jason worked in theater.
Jason's background includes a year spent in the national touring company of "Les Misérables" and a national tour with the Missouri Children's Theater Company. He's also worked at Disney World, and both he and Lindsey taught at an arts school in Florida. In fact, they were returning to that school after deciding they didn't want to raise kids in New York when Lindsey received the timely offer from Weaver.
Since landing in Greensboro, Jason has earned undergraduate and master's degrees in drama at UNCG and music-directed numerous theater projects at Triad Stage, UNCG, N.C. A&T and Guilford and Greensboro colleges.
Kraack looks forward to performing material from "Turn Around" with a band sometime soon.
"I have some guys I play with here in Greensboro — musicians from my orchestra pits, actually — and we like playing together," he says. "So we'll do the music as soon as it's safe to go out and play."