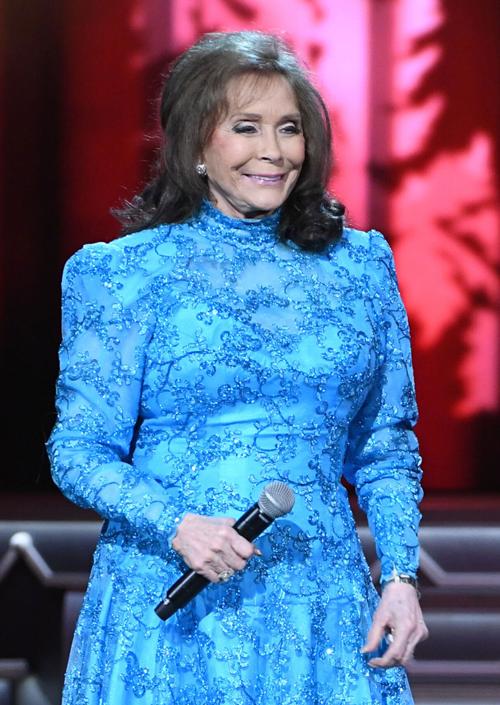 Loretta Lynn is back. Looking like the coal-dusted queen she is on the cover of her latest, "Still Woman Enough." Clad in a custom-designed gown based on the one she wore on the original "Coal Miner's Daughter" album cover back in 1971, Lynn's Appalachian twang hits you upside the head like a slap from a coal shovel.
The 88-year-old Lynn, born April 14, 1932, in Butcher Hollow, Ky., still has that blast-furnace delivery she's had since she first stepped on a stage. She's got some famous friends including Tanya Tucker, Margo Price, Carrie Underwood and Reba McEntire helping out. That's nice, and it helps widen the market, but she doesn't need them to prop up this outing. Her delivery and power is enough to carry this vehicle by herself.
She's backed by a stellar studio band including mandolinist/guitarist/songwriter Shawn Camp (Garth Brooks, Blake Shelton, George Strait), John Hartford's son Jamie, and Earl Scruggs' son Randy, on electric guitars, punching up her old hits with new verve and power, pulling some old country chestnuts out of the ashes and blowing the embers back to glowing life. She powers through her hits like it's the first time debuting them before an audience, imbuing them with enough zing and zap to knock you right out of your seat.
Although the Carter Family's' 1928 rendition of "Keep On the Sunny Side" is the gold standard, Lynn owns it on this outing, Camp's mandolin tinkling like angelic wings fluttering around Lynn's plaintive vocal.
Hank Williams' "I Saw The Light" is a no frills throw down. Lynn just stands there and belts it out, decorating it with just a tad of vibrato. It's plain, honest and boy does it get the point across. This is a great honky-tonk version flavored by Tony Harrell's rattly juke-joint piano and Robbie Turner's greasy steel accents.
The title cut features a celestial choir with which you couldn't afford to tour. With Reba McEntire, Carrie Underwood and Lynn sharing lead vocals, the ticket prices would be astronomical. But on the record, the new composition is affordable, a kick-ass womanly anthem you can sing along to while you slap the old man upside the head when he comes home a-drinkin' with lovin' on his mind.
Lynn rubs elbows with Margo Price on "One's On The Way," but it's no contest, this one is still all Lynn. Her plain-spoken, no-nonsense delivery fills up the crowded household so completely with maternity business that there's hardly any room left for a visitor.
Tanya Tucker steps right up on "You Ain't Woman Enough," throwing around enough sass to intimidate a lesser woman. But this is Lo-retty you're a'dealing with, and it's definitely her song.
"Honky Tonk Girl" still packs the same wallop it had when Lynn debuted it in 1960. It's a phenomenal performance. Her voice shows no sign of aging, and she doesn't back off a step, blasting away full force all the way through.
Although it sounds like it could be a chapter from her tumultuous relationship with her husband, Doolittle, Lynn wrote the song after a neighbor started frequenting a club Lynn was playing, sitting alone in a booth crying. The woman confessed that her husband had left her and her seven children for a younger woman. After sharing a crying jag with the woman, Lynn went home and wrote the song.
"Everybody had a pop record out," Lynn told me in a 2001 interview. "And I kinda scooted underneath everybody with a little rock/country record called 'Hony-Tonk Girl.' I cut in Los Angeles, and it was terrible. It sounded like a jam session 'cause I played guitar on it," she said laughing. "Well, it does, but what else could I do? It hit the top five and that got me on Decca records though."
"Coal Miner's Daughter" was recorded in 1971, revived once again in 1980 by the movie starring Sissy Spacek.
"She liked to killed me," Lynn said of the prep she and Spacek did for nearly a year before filming. "I would do two shows a night. Then we'd go to the motel room and we'd hang the music on the lampshades with clothespins. I'd be in front of her with my guitar, and she would follow. And I would be singing, and we'd do that until 3 or 4 in the mornin'."
Her latest reincarnation here is even more powerful. Presented as a recitation, with just Matt Combs' sparse banjo as accompaniment, Lynn breaks your heart then puts it back together again as she relives her hardscrabble upbringing.
Lynn's strong presence is an inspiration to other artists as well. She's been a mentor to Wynonna Judd, encouraging her to keep on with her work.
"I've been talking to Loretta Lynn. She says, 'Your voice, you're one of the only few left,'" Judd says. "She's reflecting on her life, and it gave me permission to start to seek out some of her songs, go back in time and celebrate classic country. I listen to Loretta and I thought, 'My God, this woman is important.'" Judd plans to honor Lynn and other country music legends with her next album of all-country classics.
But this one is all Lynn's show, and it's a classic. Many aging country stars have tried to revive their careers propped up by younger guest stars and fancy studio tools. But Loretta Lynn is still the real deal, able to do it in real time, delivering the goods, dusty diamonds direct from the coal mines of Butcher Hollow.