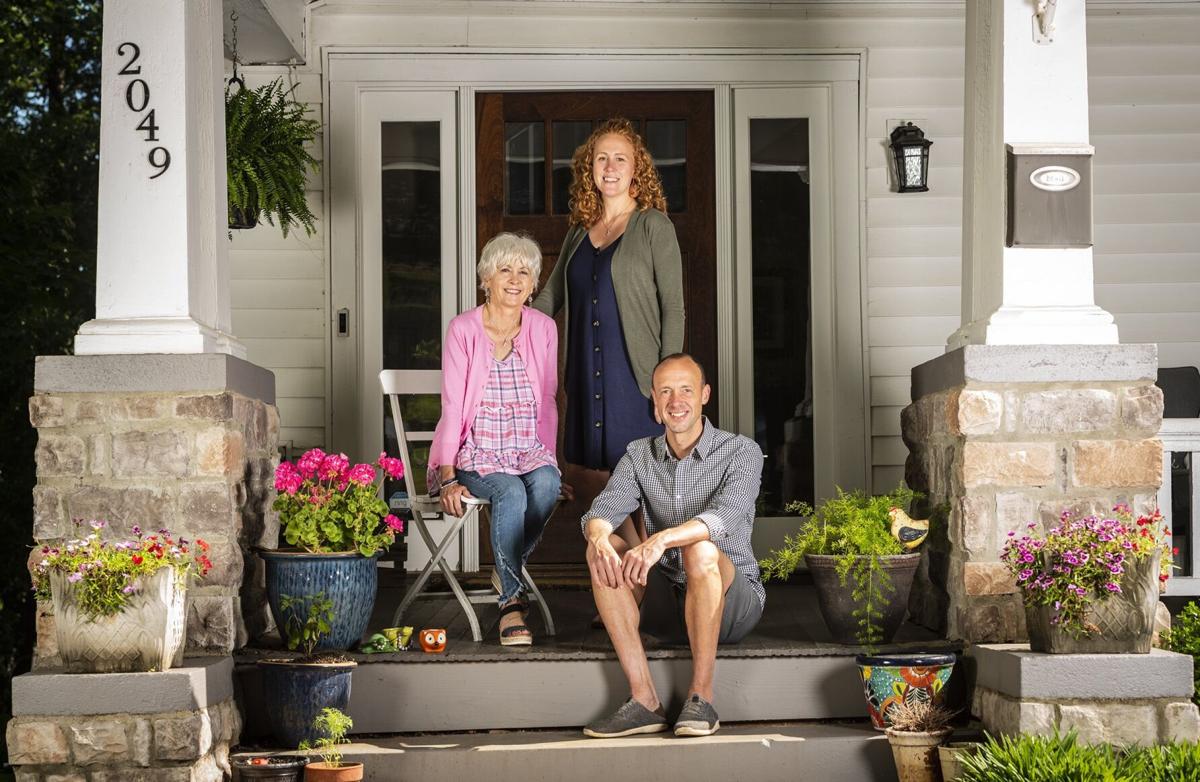 Beth Frack's favorite part of Mother's Day is getting to take a photo with her grandchildren in a children's jeep at her home in Mocksville.
The tradition to take the photo in the jeep started in 2018 when there were just four grandchildren, but in 2019 they opted to sit in a children's airplane. Now, she has five grandchildren.
"Last year, we got back in the jeep," Beth said. "We laughed so much because everybody was bigger and we could hardly fit, so I'm looking forward to Sunday to see how we are going to fit another baby. Everybody else is bigger and longer."
She added, "I might be standing behind the jeep this year."
Her whole family is musical. At one time, the adults in the family, including Beth's husband, who sings and plays trumpet, as well as her children-in-law, formed their own bluegrass band and performed until the grandchildren came along.
"We're planning to start it again now that our grandchildren are a little bit older," she said. "They'll be singers in it."
But for now, she is content to be able to work during the summer with her two grown children, Serah Haley and Seth Frack, at Camp Oonie Koonie Cha, a music camp for children ages 4½ to rising second-graders in Winston-Salem.
The camp is usually held in Winston-Salem, but this year because of COVID-19, it will be offered at Cornerstone Christian Church in Mocksville.
Serah is the administrator and a leader of singing and teaching classes at camp, and Seth primarily records CDs that feature songs for the children who attend camp.
"I absolutely love it," Beth, the camp's director, said of working with her daughter. "Serah is so fun as one of the five leaders of camp. We do jokes and silly stuff, and she is so good at acting, and she's a strong singer. She's just amazing to work with."
She praised Seth for all the work he does for the camp and calls him "the studio master."
"We tell him, 'Seth, we want this song to kind of sound like this. Could you do that?' And what he comes out with is amazing."
She said both her children are also astonishing musicians, who started taking piano classes at the age of 5.
"Both of them have far surpassed me," Beth said. "It just brings me such joy to see them use their talents in their ways. Now, they are fostering the love of music in their children."
The family
Beth, a native of Kenersville, and her family moved to Winston-Salem from Dublin, Ohio, in 1995.
Beth, 66, teaches music at Messiah Moravian Preschool in Winston-Salem and offers private piano and ukulele lessons in the afternoon.
She and four other women formed Camp Oonie Koonie Cha in Winston-Salem in 2000. One of the founders, Amy Haywood, moved to Boulder, Colo., and now is the director of a Camp Oonie Koonie Cha there.
Beth said she handles all the business for the camp in Winston-Salem, and Haywood handles the business for the Boulder camp.
"But we collaborate together on what's going to be done in camp," Beth said.
She previously taught pre-K through fourth grade music as Artist in Residence at Forsyth Country Day School and has worked as a music teacher at Annunciation Greek Orthodox Preschool, both in Winston-Salem. She worked for 20 years as the music teacher for Today's Child Learning Center at Forsyth Medical Center. Her husband is Kevin Frack, the pastor at Cornerstone Christian Church.
Beth has performed throughout the United States, Central America and Canada. During her career, she has recorded more than 100 children's songs and has developed lesson plans and conducted workshops designed to help educators use music to enhance learning.
"My vision in life is to give children a love for music," Beth said.
She has written six children's musicals. In 1993, she performed her original songs with a 2,000 voice children's choir for the Billy Graham Children's Crusade in Columbus, Ohio. She has her own recording studio called Frackadelic Studios.
"My first songs that I wrote were for Serah's kindergarten class in Dublin, Ohio," Beth said.
She said having children of her own made it easier for her to write songs for children, adding that she knew how children thought rather than how she might want them to think.
"And I could try out my songs on my children," she said. "If they weren't interested in them, I figured no other kids would be interested in them."
Her husband does a lot of the voices on her CDs.
"When we were in Columbus, one of the songs I wrote was "The Day of the Groundhog," Beth said. "We took Kevin in and said, 'Pretend like you're a groundhog and do these parts in there.' We laughed so hard. He is very funny."
Seth, 40, has a bachelor's and master's degree in trombone performance from the University of North Carolina School of the Arts. He works for a software company in Winston-Salem and plays trombone in several symphonies in North Carolina. He lives in Winston-Salem with his wife, Whitney Frack, and their two daughters, Jane and Anne.
Serah, 35, received a bachelor's degree in Spanish and psychology from UNC-Chapel Hill.
"Music was my side passion," Serah said. "I feel like it's the one true expression of people in general. To me, it captures emotion ... It captures everything that people have on the inside and gives us a way to get it out."
She has toured the country singing in Letters From Home and is a former teacher at Forsyth County Day School.
Serah and her husband, Mat Haley, are the owners of Haley European Motors in Winston-Salem. The couple lives in King and have three sons: Nate, Eli and Lucas.
Serah said she and her brother grew up with music in their family.
"We took lots of road trips together. We were traveling in the car for hours and hours, and we were always singing. We always grew up singing four-part harmony together."
She said her father gave her and her brother the silly side of music and "mom gave us that childlike innocence part of music because she does children's music."
The family has also sung a lot in church.
Praising mom
Seth said his mother has always been supportive of her children and encourages them to make music a part of their lives.
"My mother is very driven," Seth said. "She likes to take on big projects, and she does them extremely well."
He said his mother never got the recognition for her children's music that she deserves.
"I see the variety of educational topics that she explores through her music," Seth said. "There's something for everybody. And just the creativity and the quality of the lyrics is better than anything out there."
Serah said she loves working with her mother at the local camp.
"Sometimes there are those moments," Serah said. "We can get under each other's skin just because we know how each other ticks and all that, but at the end of the day, it's really fun. We think a lot alike, so it's easy to make decisions on our part for camp here."
She added that her mother "is so much of the heartbeat of what the camp is, even though she doesn't believe it," saying that Beth knows how to keep things fluid and running as they should.
Everything about her mother's children's music has children in mind and focuses on making music fun for children, Serah said.
"Because she comes at it from a place of humility ... children just come away loving music. That's where her focus is. It has never been on, 'Let me get notoriety for it.'"