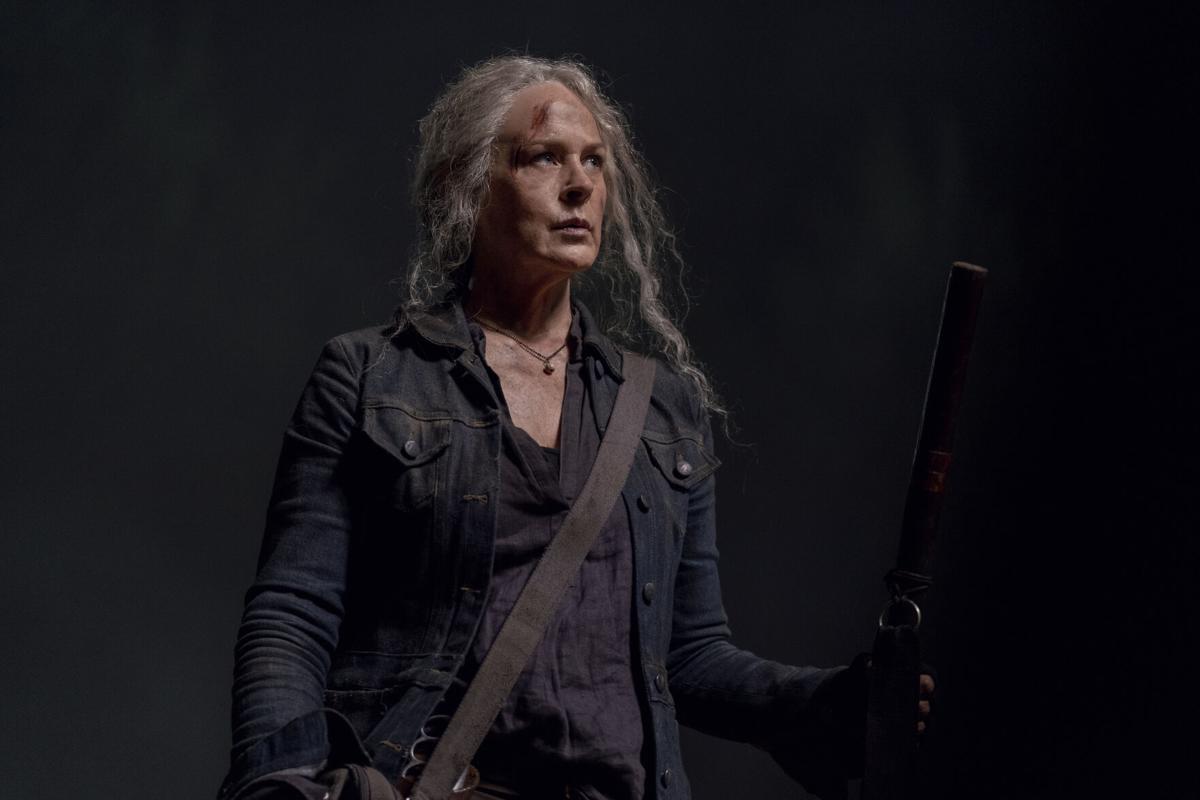 Melissa McBride, a former Winston-Salem resident and Reynolds High School alumna, will be the star of one of several new "Walking Dead" shows in development, following AMC's announcement that the long-running original series will come to an end after next season.
McBride plays Carol Peletier, a breakout character on "The Walking Dead" who has gone from being a withdrawn, abused housewife when the show began to one of the most popular, butt-kicking survivors on the show. The spinoff series will focus on Carol and Daryl, another breakout character who is played by Norman Reedus. Their flirtacious, supportive relationship has been popular with fans throughout the series.
"Working with Norman Reedus and Melissa McBride has been a highlight of my career," showrunner Angela Kang said in a statement. "I'm thrilled that we get to keep telling  stories together." She will also be the showrunner of the as-yet-untitled spinoff, which will begin in 2023.
The original "Walking Dead" will continue for several more years, with six more episodes added to the current 10th-season run and an expanded 11th season that will run for 24 episodes, spread across 2021 and 2022. There is also a feature film in the works focusing on Rick Grimes, the show's original lead, played by Andrew Lincoln. There is currently one spinoff, "Fear the Walking Dead," and another is scheduled to start next month. That show, "The Walking Dead: The World Beyond" will focus on young characters who have grown up in the aftermath of the zombie apocalypse and don't remember the world before it was overrun by the undead.
"The Walking Dead" is based on a comic book series, but has taken the story in vastly different directions than the original source material. The character of Carol was killed off fairly early in the comics run, during a part of the storyline that was set in a prison, and Daryl is a character who was not in the comics but created for the TV show.
In a statement, McBride said she is looking forward to continuing the role, explaining that "I've always enjoyed working so closely with Norman throughout these many seasons. In playing Carol, and as a viewer of the show, I've also long been intrigued with 'Daryl and Carol,' and by what so early on between them, even then, felt somehow bound.
"Their shared history is long, and each's own personal fight to survive, even longer – the more obvious aspect of what has kept them close and loyal. But there is also a rather mysterious aspect to their fondness for one another that I enjoy, and their playfulness when the world permits. I'm very curious! Angela has a way of shaking things up in great and unexpected ways."
Reedus added that "Daryl's relationship with Carol has always been my favorite relationship on the show (sorry Rick). I love the way these characters interact and relate to each other on so many levels and can't wait to see where their ride goes from here."
In addition to the Carol and Daryl series, AMC also announced "Tales of the Walking Dead," an episodic anthology series that will flesh out the back story of the series and may include origin stories for characters who are already dead in the current story line.
The FXX animated comedy "Archer" starts a new season at 10 p.m. Wednesday, Sept. 16, with back-to-back episodes that bring the show back to its roots after several seasons that went off on wild tangents.
The series started as a spy spoof, following a swaggering superspy Sterling Archer (voice of H. Jon Benjamin) and his dysfunctional coworkers, including nerdy comptroller Cyril Figgis, played by UNC School of the Arts alumnus Chris Parnell. Archer fell into a coma in a story line, and for the past few seasons, the show has shifted its setting as he dreamed alternate lives: as a film noir gumshoe, a 1930s South Sea Islands adventurer, and a crew member on a starship.
But now he wakes up back in the real world, which has not only gone on without him but has seemingly thrived. Cyril, for instance, has taken his place as one of the lead spies and now has washboard abs and newfound confidence, and the other coworkers have gotten more competent at their jobs as well. Archer isn't too thrilled with everyone's character evolution, and sets about trying to get things back to "normal."
At least one later episode this season, on Sept. 30, will feature the return of Bionic Barry, Archer's nemesis, a spoof of the Six Million Dollar Man whose voice is provided by Dave Willis, a Wake Forest alumnus.
336-727-7371
​@tclodfelterWSJ 
Stay up-to-date on what's happening
Receive the latest in local entertainment news in your inbox weekly!