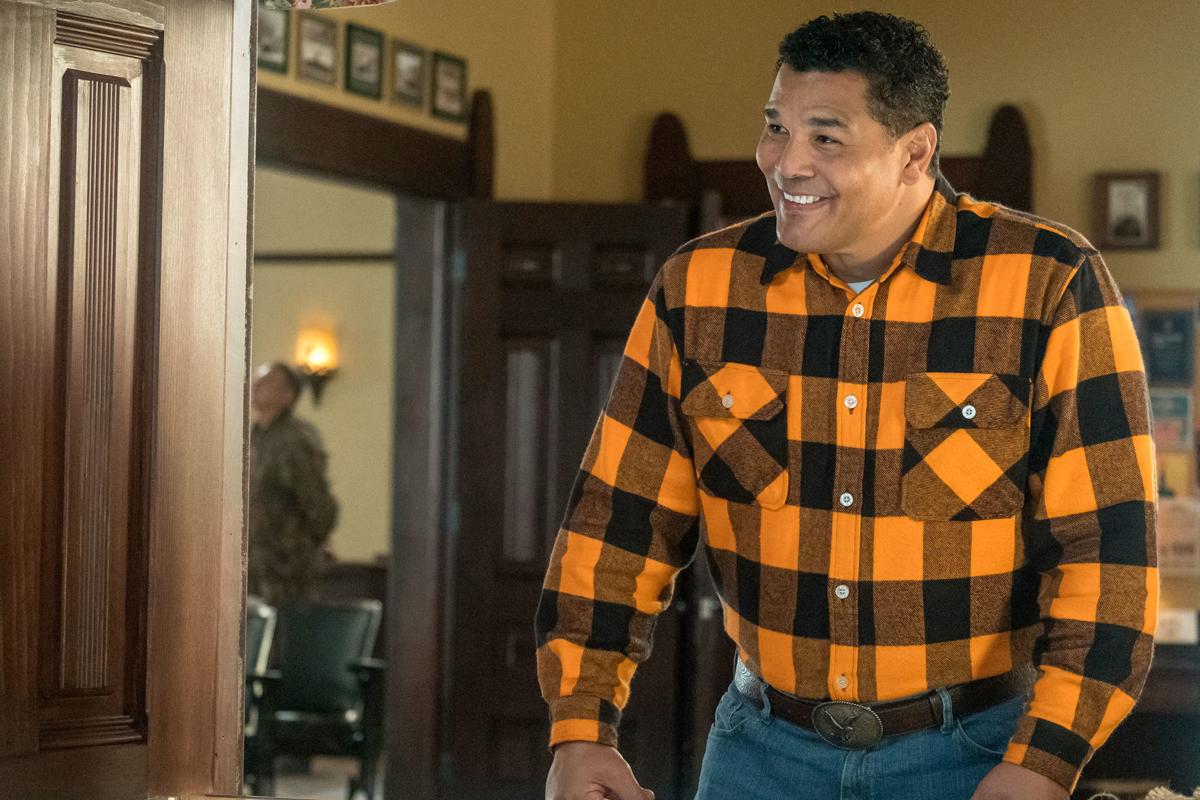 When Geno Segers was 12, he recalls startling his mother Sandra one morning when his voice changed, when he came to down to breakfast and asked for Froot Loops.
"I woke up and scared Mama to death," he said with a deep, hearty laugh, adding that it sounded like a grown man had come into the room behind her.
The Winston-Salem native's deep bass voice is prominently displayed in "Perfect Harmony," an NBC sitcom about a small-town Southern gospel choir. He plays Dwayne, a gentle giant who is part of the choir. Muscular and 6-foot, 3-inch, Dwayne is a sweet-natured soul who prefers hunting truffles to deer, has a crush on Ginny, on the pretty lead singer in the choir — played by Anna Camp, an alumna of the UNC School of the Arts — and wouldn't hurt a fly.
Tonight's episode, airing at 8:30 p.m. on WXII NBC-12, opens with the choir going door-to-door singing Halloween twists on Christmas carols. From there, one of the story lines in tonight's episode involves Dwayne's friendship with Wayne (Will Greenberg), a good ol' boy who has had a longstanding tradition of escalating Halloween pranks between the two.
"For Dwayne and Wayne, the pranks don't stop until someone calls 911, so that's extreme," Segers said. The story involves Dwayne's budding romance with Georgia, a woman Ginny set him up with, a new relationship that threatens to disrupt the old prank tradition.
This is the sixth of 13 episodes in the show's first season. He describes the experience of being on the show as "a really fun roller coaster, and it has been very telling in terms of my character and who he is and what he wants."
He appreciates that the characters evolve and change over the course of the show, and enjoys collaborating with the writers about what direction Dwayne will take. "A lot of Dwayne's little nuances actually come from me, and they felt that would be a better fit for the character if I'm close to home, so to speak, close to who I am."
That includes making the character a vegetarian — Segers is vegan in real life, also avoiding dairy and cheese. "Now I don't have to eat a steak on camera, which is kind of cool."
Segers was back in Winston-Salem last week taking care of some family business and going to Western Carolina's homecoming (he played football there), but had an interruption in his schedule that required a lot of travel; he had to head back to L.A. last Thursday to shoot scenes that had been delayed by wildfires in California, then fly back here the next day for homecoming.
His deep voice helps him get roles, including voiceovers in video games, though generally as a villain or a rival to the main character. He played Mufasa in an Australian stage production of "The Lion King" after his voice drew attention while he was in New Zealand playing professional rugby. He went on to other acting roles, including the 2010-13 Disney XD series "Pair of Kings" and roles in such shows as "Banshee," "Teen Wolf" and "Longmire." He was also co-host of the competition show "Fort Boyard: Ultimate Challenge."
He's glad to get a chance to use his singing voice again, which he says is "easily my favorite part of working on 'Perfect Harmony.' And more so that I don't have to sing eight shows a week."
He was used to the schedule of singing for a stage production, so when the producers approached him about certain songs, he initially declined, saying the notes were too high. They disagreed and asked him to try it out, "and it works."
"My voice is bass baritone — we'll call it basso profundo (a singer with a deep, heavy bass voice and an exceptionally low range), but I can do baritone. But I really believed I can't sing it because I can't sing it eight shows a week. I can sing it once. I can you a great rendition of it one time, but to do it eight shows a week, I'm not going to be able to do it. But I wasn't thinking like that....
"My high note is F, that's it. You know, I'm not going to G, I'm staying at F. But it's only once, so it's great. It's allowing me to explore things I wasn't willing to explore ... it's really one of my favorite aspects of the show."
336-727-7371
@tclodfelterWSJ