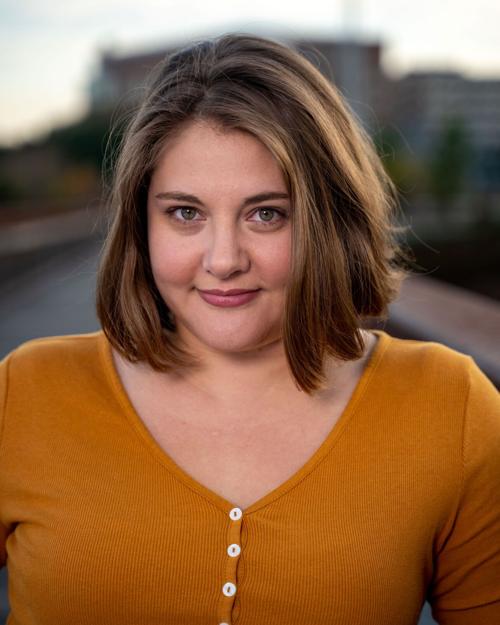 Spirit Gum Theatre Company will enter the new world of virtual theater presentation when it premieres Emily Emerson's new play, "Ten Days," on Friday, Jan. 22.
For nearly 10 months, area live theater companies have faced health-based regulations that have made indoor presentations of stage plays nearly impossible.
With tight control of audience sizes and social-distancing rules in force, creating a show indoors brings overwhelming challenges, not the least of which is measuring the cost of a production versus the income it might produce.
Spirit Gum, still a relative newcomer in Winston-Salem — though October would have marked the start of its eighth season — lost the final show of its last season and two so far in this season.
But similar to other theater companies, Spirit Gum is experimenting with producing a play online, combining Emerson's brand-new script with a fundraiser.
"I was inspired to write 'Ten Days' after I heard that Spirit Gum had to cancel their fall production of 'Need to Know,'" Emerson said. "I wanted to write something for them that could be performed virtually, as well as serving as a fundraiser for the company."
An actor and playwright with an Masters of Fine Arts from UNCG, Emerson's earlier play "The Field" premiered off-Broadway in 2018 at the Broadway Bound Theatre Festival. A Minnesota native, Emerson and her husband live in Massachusetts after 14 years in the Triad.
"I've never written anything that was designed to be virtual, so it's been an incredible challenge," Emerson said. "But I've had the most wonderful time working with Spirit Gum in creating this play."
Spirit Gum company member Jonathan Furr also noted special requirements that came with online directing. Furr was scheduled to direct for the first time with the canceled fall play. Instead, he took on the company's first virtual creation.
"This has definitely been an interesting challenge, creatively," Furr said. "It also came with that extra bit of anxiety."
As work proceeded, though, Furr discovered that "directing a show in this format has its benefits. You don't need to worry about sight lines and lighting changes."
Unlike the live nature of onstage theater, "we also had the benefit of doing multiple takes while recording if something didn't look quite right or a line was flubbed. I found myself paying much more attention to actors' facial expressions in quiet moments because things that small are so much more noticeable in this format than they would be if they were performing onstage."
Adjusting the volume level of actors' voices also added flexibility, Furr noted.
"Onstage, projection is so important, but for us, we could utilize a wider range of inflections and volumes, which made for some nice moments."
Spirit Gum has gone virtual from the start, with auditions via Zoom and rehearsals using Facebook.
"Towards the end, we held rehearsals in StreamYard (live streaming software), which we also used for recording. Eric Dowdy, our technical advisor, has been indispensable," Furr said.
"Ten Days" is kept in tight focus in part by its small cast, which includes Elyse Rodriguez (Marin), Trevor Ketterling (Andrew), Lara Ianni (Ellie) and Caleb Cabiness (Ted).
"Marin and Andrew are a fairly new couple," Emerson said, "and Ellie and Ted have been dating for a while. Both couples are long-distance for a period of 10 days, and we see how the relationships are tested when people who love each other are far apart."
"Marin has been highly focused on her job, much to the dismay of her boyfriend, Andrew," Emerson said. "Meanwhile, Ellie wants more excitement and spontaneity in her relationship with Ted." Over about 40 minutes, viewers will see how those potential conflicts play out.
"Physical distance has a way of revealing hidden truths, especially in relationships," Furr said. "We at Spirit Gum were excited about this script from its first draft. We read it at our planning retreat and knew immediately it was something we wanted to do."
The company liked the script's focus on an online "setting." Furr also liked that "Ten Days" does not mention the current pandemic.