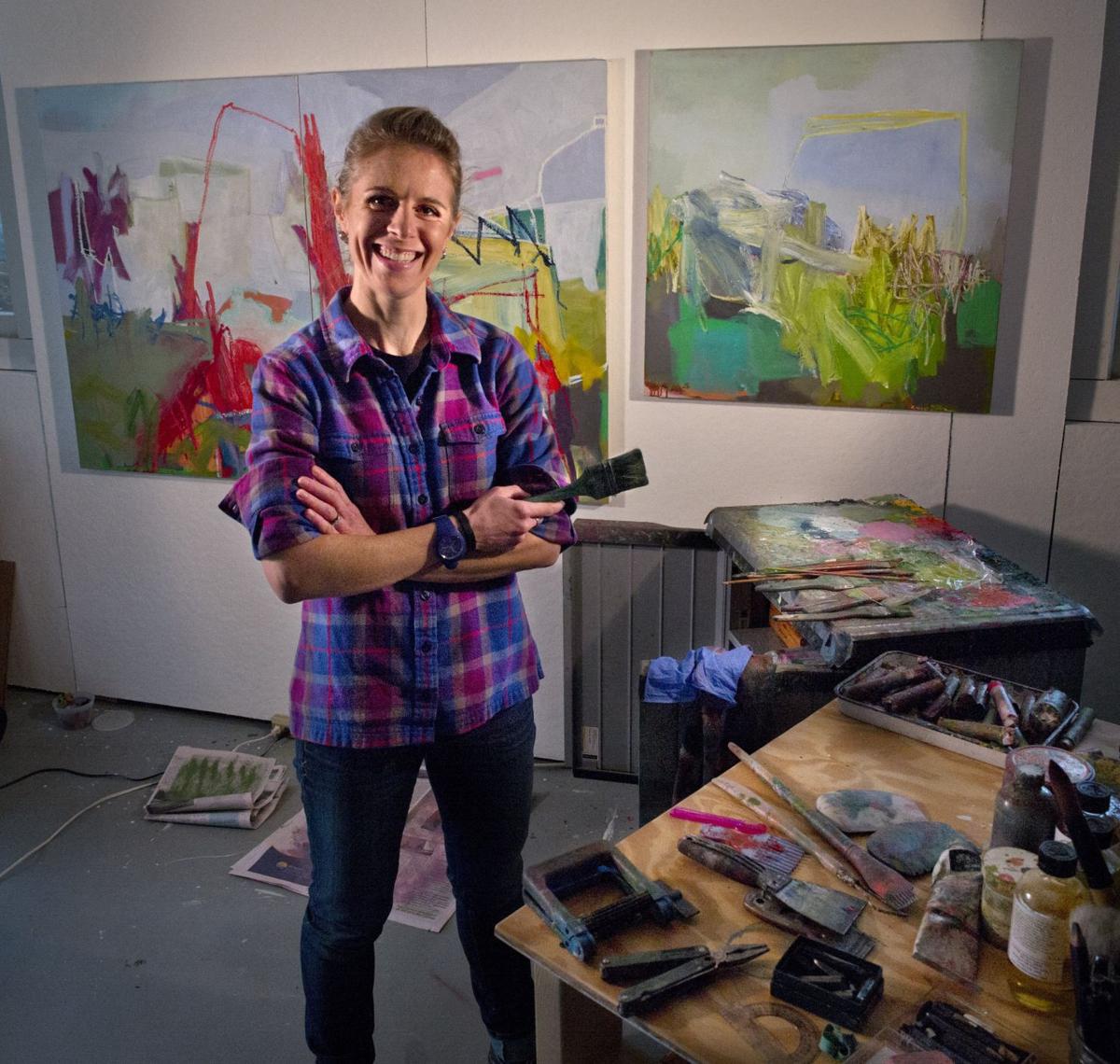 Shortly after giving birth to her son five years ago, artist Jessica Singerman had a revelation.
"I realized I was losing my sense of self," said Singerman, 37. "The most obvious way to get it back was to start making art every single day rather than sporadically. I regained my sense of self, and I wanted to show my son, as he grew up, that I was hardworking."
It's doubtful anyone would question Singerman's work ethic. For years, she worked for an outdoors adventure group, leading bicycle trips through Europe. She has scaled that back to about one trip a year, with the birth of her son, but still designs trips for the group. This semester, she is also working as interim director of Diggs Gallery at Winston-Salem State University.
Once her son goes to bed, she retreats to her home studio around 8:30 p.m., to paint for about three hours.
"At this point, I've been trying to figure out how to be a professional artist, how to make a living as a fine artist," said Singerman, who grew up in Davidson and France.
She and her husband, Tim Bowman, who is a staff member of the UNC School of Arts' film department, moved to Winston-Salem about two years ago.
Q: How would you describe your art?
Answer: My paintings are abstract with references to nature: mountains, forests, fields and big skies are conjured through layers of shape and line in vivid color. For my large pieces on canvas and panel, I use oil and acrylic paint. With smaller works on paper, I use a variety of media: watercolor, graphite, ink and collage for example. My work is inspired by the poetry of nature: color and light in the landscape, seasons and the passing of time.
Q: How have you evolved as an artist?
Answer: My working habits have changed as I have gotten older. I now understand that art comes from working regularly rather than waiting for inspiration to strike. It's about showing up every day, making mistakes, exploring, plugging away at paintings and drawings until the good stuff happens — the magic. I trust my process. If I set out to work on a large painting, I know it will go through a variety of stages before it is complete. Some of these stages are pretty awful-looking and some have interesting things happening. A finished painting strikes a balance between refinement, roughness, drama, romance and awkwardness — this is what makes it beautiful and human.
Q: Who has influenced your art?
Answer: The artists whose work I study most often are Richard Diebenkorn and the Bay Area Figurative Artists of the 1950s and '60s, Amy Sillman and Cy Twombly. Mary Oliver's poetry is an influence. My parents have been steadfast supporters of my work as an artist — and have influenced my work ethic. They are both hard-working people who have always and still work — day in and day out — without complaining. They are positive and forward thinking about their work, even when it's difficult or doesn't go the way they planned.
Q: What is your biggest challenge?
Answer: I imagine it's the same challenge most working parents deal with. I'd like to spend more time with my son. I work two day jobs in addition to painting and running the business side of art making, which is a small business in itself. On the one hand, I want to demonstrate a hard work ethic for my son and keep growing my art career. On the other hand, I'd like to spend more time with him.
Q: What does art do for you?
Answer: Painting connects me to the world. When I paint, I am a part of something bigger than myself, a whole lineage of painters and artists and the current community of artists who explored and continue to explore what it means to be human through their work.
When I am working, I am drawn into a realm that transcends me. I am reminded about what is real and what matters most. It is through painting that I can quiet my mind, make sense of life, and explore spirituality. Making art is my voice.
Q: Any advice for other artists?
Answer: Show up. Don't wait for inspiration. If you have to get a day job, get one that leaves you with enough mental energy to still do your artwork. Get in the studio even when you're tired. Work your ass off. Prioritize your time in the studio. Have your work space always ready so you can get to work quickly. If you don't have a dedicated work space, pack a kit with your supplies that you can easily move around as needed. Stay consistent. Keep chipping away at your work. Even 15 or 30 minutes of work a day can add up to something big if you do it religiously.
Be nice to people. The art world is small.
Lisa O'Donnell writes about artists — visual, musical, literary and more — weekly in relish. Send your story ideas to lodonnell@wsjournal.com or call 336-727-7420.