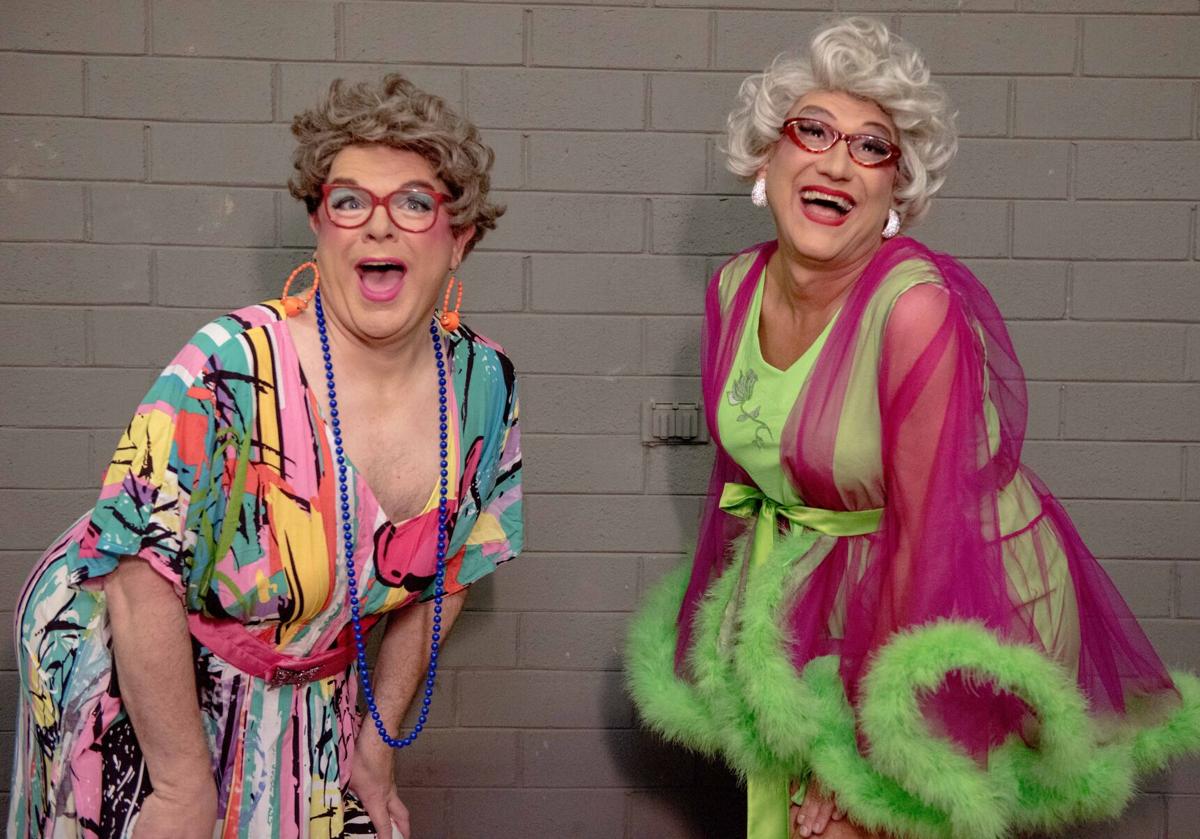 "A wacky tribute to low-grade 1950s sci-fi films," one online critic said about "Devil Boys from Beyond" when it premiered at the New York International Fringe Festival in 2009. The play moved to Off-Broadway for a longer run in November 2010.
Written by Buddy Thomas and Kenneth Elliott, the play is set in 1957 in the small Florida town of Lizard Lick. Mixing fears of alien invasions, cross-dressing, the Red threat and real journalism versus gossip columnists, "Devil Boys" spreads its comedy across a compact 75 minutes and one song.
The cast of Winston-Salem Theatre Alliance's outdoor production, which opens on Oct. 22, includes Gray Smith, Stephen Robinson, James Crowe, John C. Wilson, Clint Cedillo, Robert Evans and Stephen Melaga.
In the play's story, Lucinda Marsh (Cedillo) claims to be the "queen of the blacklist." The gossip columnist threatens to destroy the journalism careers of Mattie (Wilson) and Gregory (Crowe), while she also plans to label their editor, Gil (Robinson) as a communist.
What happens in the town when all the men have been replaced with gorgeous, muscle-laden hunks is the basis of what is described as "not only a hilarious diversion, but also an unexpected satire of the sexual rigidity of 1950s American society."
Theatre Alliance has programmed a Halloween-type show in October for some time, such as "The Rocky Horror Show," "Carrie: The Musical," and "Evil Dead: The Musical." Lawson wanted to keep the tradition alive.
"I was looking for something with a 'Rocky Horror' feel for Halloween that was a play," Jamie Lawson, Theatre Alliance artistic director, said. "In these times, plays are lower cost to produce, and generally have smaller casts.
"'Devil Boys from Beyond' has a lot of those 'Rocky' qualities: campy humor, men in drag, racy language and situations, sci-fi, ridiculous plot," Lawson said. "It seemed a natural selection. The show is so absurd, paying homage to the equally outrageous science-fiction horror films of the '50s, the jokes so out of this world (pun intended), that you have to laugh."
Lawson also assumed that everyone could use a good laugh about now.
"I wanted something fun for the holiday, something with levity to distract people for 75 minutes. With fast-paced scenes and fun costumes, I hope people find it a completely bizarre trip," he said.
John C. Wilson plays Mattie Van Buren, girl reporter. Having done several outdoor productions already during the pandemic, he understands the challenges compared to the controlled environment of indoor theater.
"Performing outdoors is a different beast altogether," he said. "Shows indoors are performed rain or shine, but when it's outside, you truly are at the mercy of Mother Nature. If it rains or snows, the show cannot go on. Conversely, if it's nearly 100 degrees outside, you perform drenched in sweat. But hey, at least we're performing."
Compact stages and pandemic protocols also play a role.
"We have to think about a lot of things in putting on a show," Wilson said, "including restaging certain elements of the show that we can't comfortably do during the pandemic. For instance, my character, Mattie, and James Crowe's character, Gregory, are supposed to share several passionate kisses, but since we can't do that, we have to let the audience suspend their disbelief even further and fill in the gaps. It's certainly interesting. There's no denying that."
Wilson feels that the humor the cast is finding will carry over to audiences.
"This show is a hysterical send up of '50s B horror movies, and half the cast is in drag," he said. "What could be better? We are having a blast rehearsing each night. We have laughed at the material and each other throughout this process, and I certainly hope that feeling carries over into the performances and that the audiences feel it."
It may be a little cooler in late October for an outdoor program, but Lawson feels like the escape will be worth it.
"Leave the kids at home for this one," he suggested, "and have a lovely fall evening at our outdoor venue. Some folks may be reticent to want to sit outdoors in October, but I compare it to a football game or a haunted trail. Just dress in layers, if you are cold-natured. We will warm you up with laughs!"
Stay up-to-date on what's happening
Receive the latest in local entertainment news in your inbox weekly!