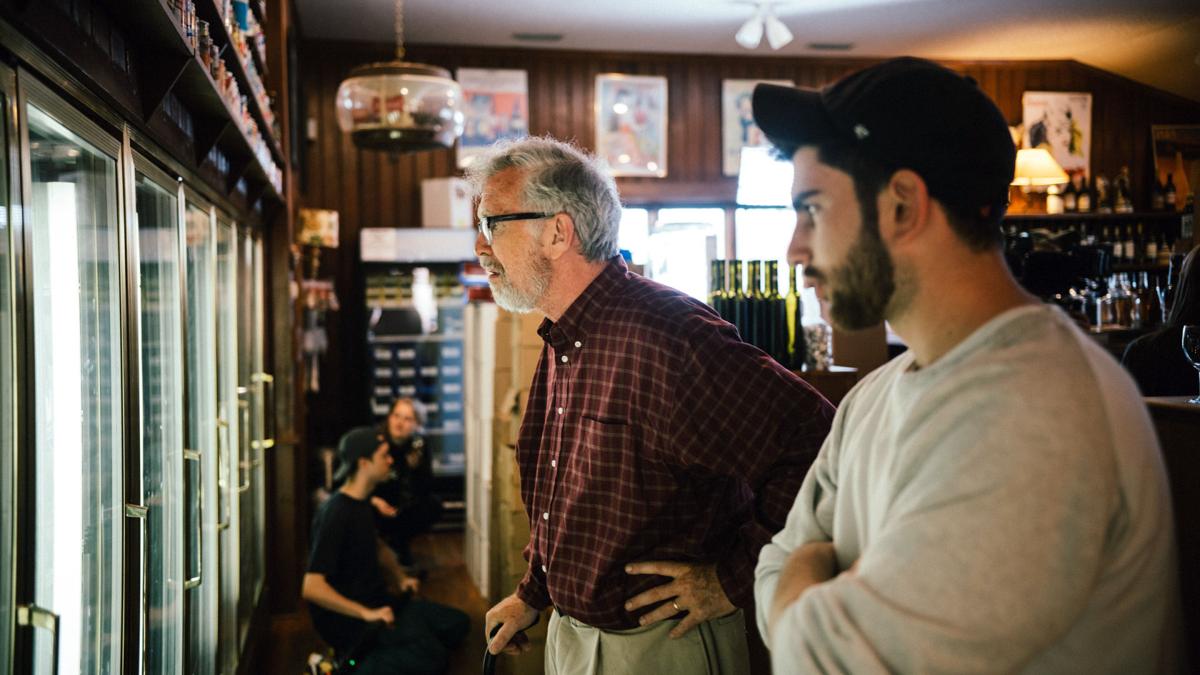 A short film that showcases the talent of students currently attending the UNC School of the Arts — and starring an alumnus who has become a prolific character actor — is now available for free viewing on Vimeo, after having played at film festivals.
"The Old Man," starring Steve Coulter, was written and directed by Devin Peluso, a rising senior at UNCSA.
The film played at various film festivals, including the Carrboro Film Festival and the Greenwich International Film Festival. It was an official selection at the Summer in the South festival in Atlanta and the New York City Independent Film Festival. Now, it has completed its festival run, and Peluso and co-producer Joseph Kaiser have put it on Vimeo, looking to "get as many eyes on it as possible."
The 16-minute short is a poignant character study about Alan, a stubborn, foul-mouthed widower who is in declining health after a recent heart attack but prideful and reluctant to move into an assisted living facility despite his daughter's concerns.
The supporting cast features students from the School of Drama, including Kate Pittard as Naomi, a neighbor who befriends Alan, and other local actors. The crew is composed entirely of UNCSA students — 20 to 25 of them total, Peluso said, including students from the film film school and the school of design and production.
The movie, which is rated "Mature" for dialogue, can be viewed by seeing this story on JournalNow.com.
"Most of the crew, myself included, are still students of UNCSA, while some have graduated in the past year or two," Peluso said. "I am currently going into my senior year in the producing discipline."
The story behind "The Old Man" was inspired by Peluso's experience moving his grandfather into assisted living.
"At the same time, I wanted to make a film about change because I was going through so much of it at the time, being a college student and being away from home for so long," he said. "It really scared me, and I was unsure of what my future was going to hold or who I was going to become.
"So, in taking something personal — a loose adaptation of my grandfather — from my life and then adding a theme to it that I wanted to address, Alan was created — in a weird way, the character was kind of a blend of my grandfather and myself."
Coulter, 60, is perhaps best known for his role as Father Gordon in the "Conjuring" film franchise, and has also appeared in movies including this year's controversial "The Hunt," which was directed by fellow UNCSA alumnus Craig Zobel, as well as such movies as "First Man," "Paterno," "The Birth of a Nation" and many more. He has appeared in such TV shows as "Watchmen," "The Walking Dead," "Yellowstone," "House of Cards," "Brockmire" and "The Purge," as well as the 2018 TV-movie "Harry & Meghan: A Royal Romance," in which he got to try out a British accent as Prince Charles.
Coulter said that working on "The Old Man" was "a delightful experience."
"I think Devin had seen Angus (MacLachlan)'s film 'Abundant Acreage Available,' and called me up to see if I'd like to do the short he was working on," Coulter said.
Peluso confirmed that movie, which was filmed in the Triad, was indeed what inspired him to approach Coulter for the role.
"I thought he was great in that film," Peluso said, "And having known some of his previous work, I was really interested in trying to get him to play Alan."
"After reading the script and talking to Devin, I signed on," Coulter said. "I was extremely impressed with how well-prepared he and his producer and fellow student, Joey Kaiser, were. The guys were going to shoot 'The Old Man' on their own time, with their own money, in addition to managing a full load of school work. These NCSA students — sophomores at the time — were running things more professionally than some major film shoots I'd been on.
"Devin has a keen eye, as a writer and director, for someone so young. ... The entire crew on the shoot was extremely professional. I look forward to seeing what Devin and Co. do in the coming years. Definitely a fellow to keep your eye on."
And they plan to work together again soon, on Peluso's first feature fim, which he has been developing for the past year, aiming for a winter 2022 shoot.
In addition to his role in "The Old Man," Coulter is enjoying his latest recurring role, in "P-Valley," an edgy, critically acclaimed drama on the Starz cable channel. The series was written and created by New York playwright Katori Hall, based on her play about the staff of a strip club in the Mississippi Delta. It is, as Coulter put it, "filled with really original characters."
Coulter plays Sheriff Tommy Bailey, the local law enforcement in the show's fictional town of Chucalissa, Mississippi, who he says is "not your typical Southern sheriff — he has something of an odd father/son relationship with Mr. Clifford (the owner of the strip club), who is constantly trying his patience."
Coulter is in three episodes this season, including tonight's installment. He didn't want to spoil any surprises, but said that his character has "a bunch of juicy stuff" in tonight's episode. He praised Hall's scripts. "Her dialogue is so much fun to work on," he said. "A lot of obscure slang and rhythms, unlike any writing I've worked on before."
The show has already been renewed for a second season.
Hulu has canceled "High Fidelity" after a single season. The series, based on the 1995 Nick Hornby book and the 2000 film starring John Cusack, featured Zoe Kravitz as an iconoclastic record store owner with a troubled love life. Jake Lacy, an alumnus of UNCSA, played her romantic interest.
Discovery's Shark Week is later than usual, but it finally starts tonight with a week of specials devoted to the finny predators. To see a schedule go to www. discovery.com/shark-week.
336-727-7371
Twitter: @tclodfelterwsj
Facebook: /tclodfelterwsj
Stay up-to-date on what's happening
Receive the latest in local entertainment news in your inbox weekly!