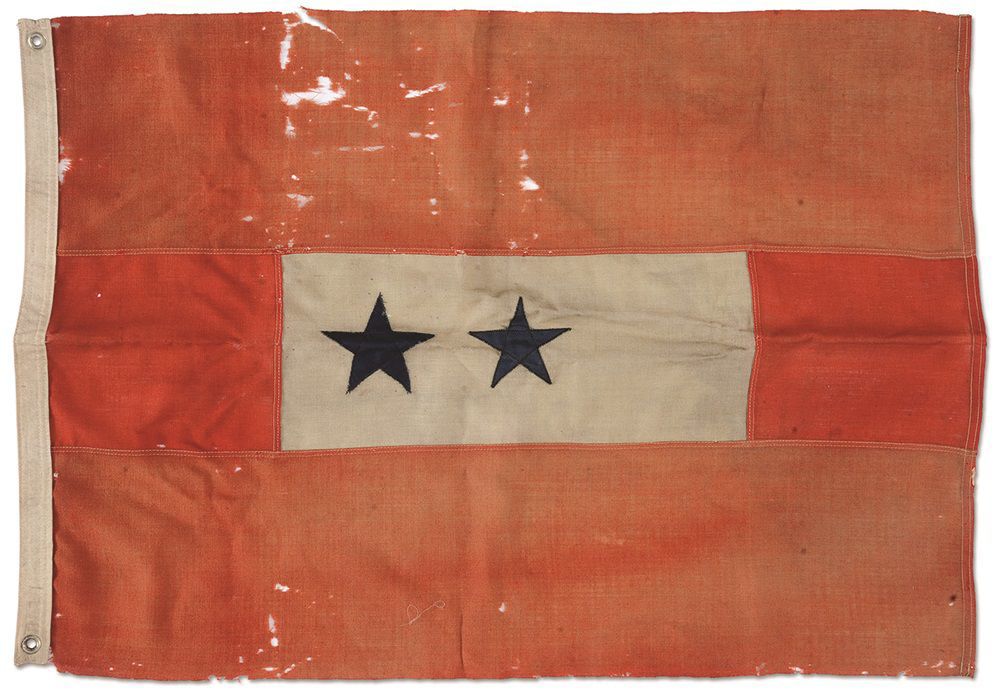 A reader asked, "What country uses a little flag with just a red border and a big blue star in the center?" It is a service flag designed in 1917 that identified a family that had someone in service during the war. It was entered into the Congressional Record in September 1917, and it can be used only according to strict guidelines. The idea expanded to a Gold Star flag for a family that lost a son or daughter during any United States war, including World War II, the Gulf War and the Vietnam War. The flag size must be in the ratio of 10 to 19 like the United States flag, and it must be smaller and flown below, never above, the Stars and Stripes. In 2010, the Silver Star honoring those wounded in the wars was approved by the House of Representatives. The Gold- and Blue-Star mothers, wives and families have special clubs, lapel buttons, ribbons and meetings. In 1936, the last Sunday in September was declared Gold-Star Mother's Day. There are new flags flying in windows now, and the old ones are being saved and collected as interesting war memorabilia.
Q: I have an Erphila teapot. Porcelain floral design. The mark reads "Est. 1886, Erphila, Czecho-Slovakia." The word "Portland" is printed below the mark. Any suggestions on finding the year it was made?
Answer: Erphila is a mark used on items imported by Ebeling & Reuss of Philadelphia, a giftware firm that was founded in 1866 and out of business sometime after 2002. The mark is a combination of the letters "E" and "R" (Ebeling & Reuss) and the first letters of the city, Phila(delphia). The mark with the country name spelled with a hyphen in the middle was used from 1918 to 1921. Portland is the name of a chintz pattern.
Current prices
Current prices are recorded from antiques shows, flea markets, sales and auctions throughout the United States. Prices vary in different locations because of local economic conditions.
Vase, applied yellow flowers, ruffled rim, pink to white, Stevens & Williams, 9½ x 4½ inches, $60.
Jewelry box, coffin shape, walnut, high relief game birds, leaves, pokerwork ground, 8¼ x 14 inches, $375.
Wooden panel, storyboard, fishing, poi farming, domestic life, fruit tree, waterfall, Hawaii, 14 x 19 inches, $1,560.
Asian porcelain, vase, hexagonal, enameled flowers, branches, oxblood over cream, 17¾ x 9 inches, $2,040.
Terry Kovel and Kim Kovel answer questions sent to the column. By sending a letter with a question and a picture, you give full permission for use in the column or any other Kovel forum. Names, addresses or email addresses will not be published. We cannot guarantee the return of photographs, but if a stamped envelope is included, we will try. The amount of mail makes personal answers or appraisals impossible. Write to Kovels, King Features Syndicate, 628 Virginia Dr., Orlando, Fla. 32803.