Cooler days and even colder nights are right around the corner, all surefire signs that peak apple-picking season is here.
But, when it comes to apple picking, there's a fine line between magnificent and mealy. With so many varieties, which one is the best choice for your needs? And how do you know if the apple you pick is nice and ripe — and not a mushy mess — before you take a bite?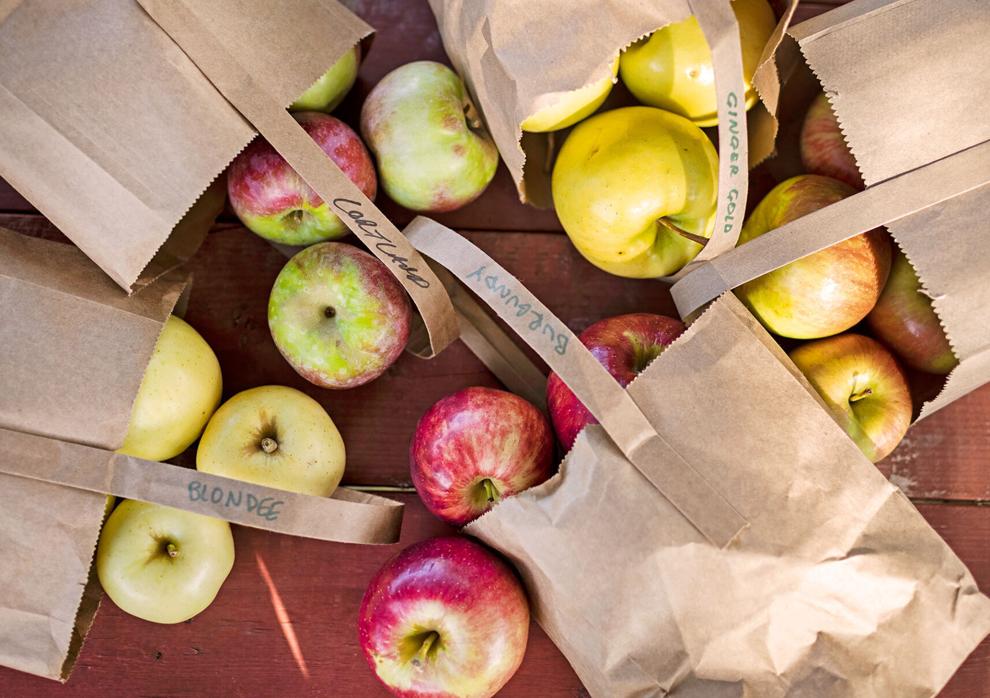 ---
Timing and color are key
There's a big difference in taste and texture depending on when an apple is picked. "And no one likes a mushy apple," says Paul Rasch, owner of Wilson's Orchard & Farm in Johnson County, Iowa.
If an apple is picked before it's ripe it can be rather underwhelming, advises Rasch. "But, when an apple is picked right at the cusp of ripeness — it's spectacular," he says.
When selecting an apple from your local grocer or orchard, look at the undertones, particularly in red varieties. As the apple starts to ripen, the background hues will start off as a strong, bright green becoming a duller green over time, and then yellow in color.
"You want to catch the apple during that light-green or just-yellow stage, before the color turns to a strong yellow," Rasch advises.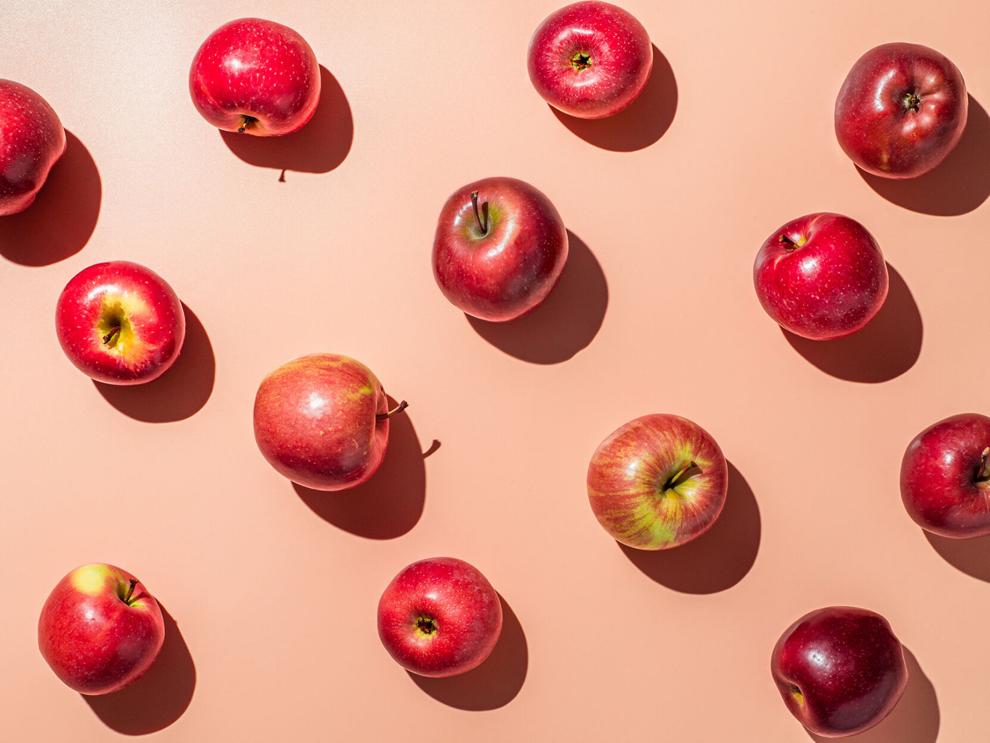 ---
Matching the right apple variety to your needs
Homemade applesauce, lunch box snack, salad or cider? Knowing how you'll ultimately use your apple can help guide you to an ideal pick.
For example, if you're hungry for a snacking apple, a strong balance of sweet and tart are essential, like in the flavors of a Braeburn or Fuji. For baking, you may want a firmer texture, in which case Jonagold is a good bet. And, when preparing a sauce or soup, a softer, velvety apple is perfect, making McIntosh a smart choice.
To figure out which apple matches your needs, check out our helpful rundown of popular grocery store and farm stand varieties.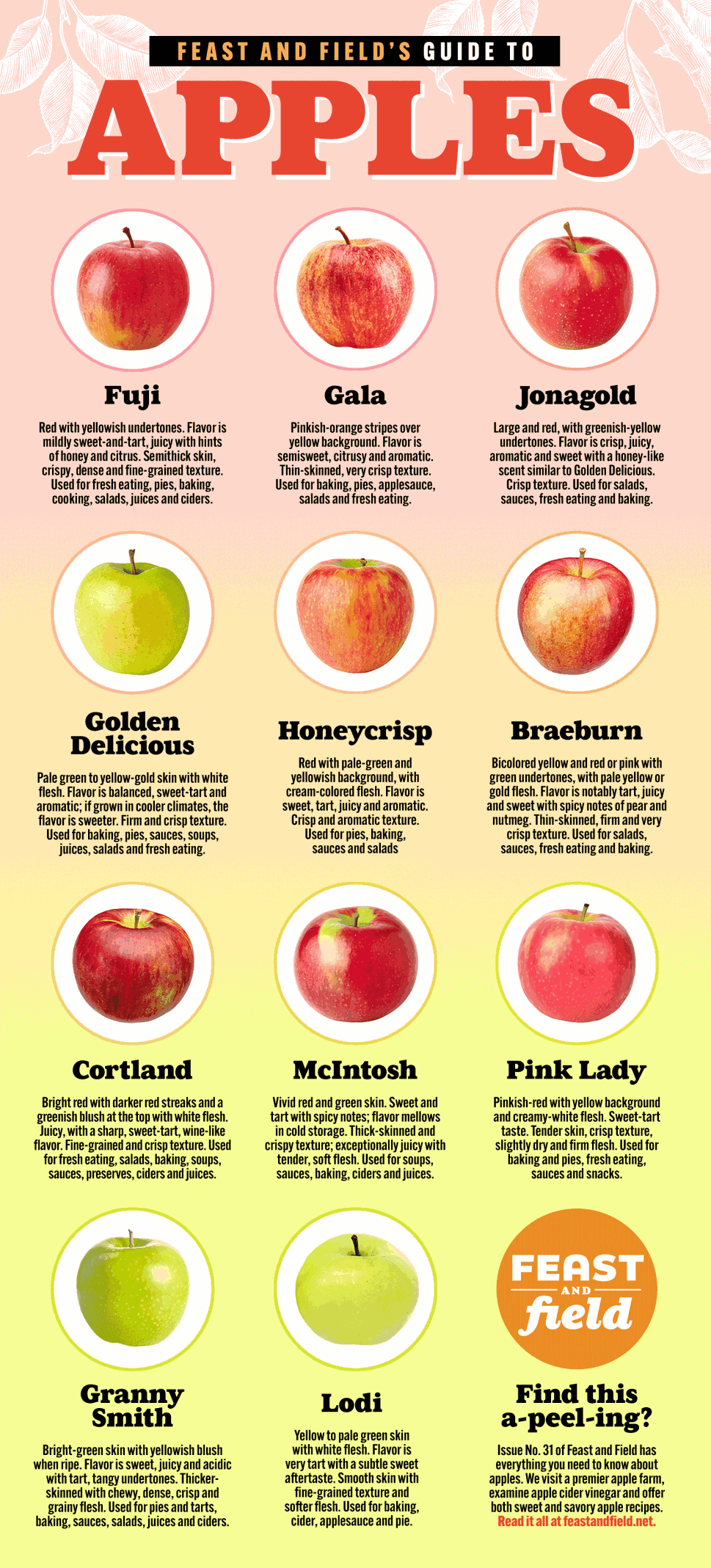 ---
Braeburn: A favorite with growers and grocers alike, Braeburn boasts a tart, complex flavor and makes an excellent all-purpose apple.
Cortland: An older American apple, Cortlands have been an integral variety to growers around the U.S., particularly in New York where it consistently ranks as one of the top 10 apples produced each year. Cortlands are slow to turn brown, making them perfect for charcuterie boards and salads.
Fuji: Named for Mount Fuji near the Japanese city where it originated, Fuji apples hit the U.S. market in the 1980s and quickly rose in popularity. It's an incredibly versatile variety and one of the top 10 best-selling apples on the market today, according to the U.S. Apple Association.
Gala: Gala recently dethroned the 50-year run set by Red Delicious as America's top-selling apple, according to the U.S. Apple Association. Its thinner skin and mild-sweet flavor make it a favored snacking apple.
Golden Delicious: Golden Delicious has remained a popular choice over its Red Delicious cousin for myriad reasons. Early supermarket apples were grown to be pretty, and growers played with ways to further improve the appearance of the apple. Mutations grew — and flavor waned in the red variety. But Golden Delicious retains a mellow and sweet flavor making this grocery staple a superb fit for everything from salads to baked desserts.
Granny Smith: As all-American as apple pie, Granny Smith's bright flavor and crisp bite have helped it retain a top 10 ranking in U.S. apple sales for several years.
Honeycrisp: A breakout star in the apple world, Honeycrisp is a super juicy and simultaneously crunchy apple. Noted as the first apple to shift the public's preference from appearance to taste, Honeycrisp was bred by the University of Minnesota in the 1970s and is now the fifth most-grown apple in the U.S.
Jonagold: Developed at Cornell University, Jonagold is a cross between a Jonathan and a Golden Delicious. Jonagold apples have a balanced, sweet-and-tart flavor. It's a great apple to eat right off the tree, and it's delicious in baked dishes, whirled into apple butter, and dried for apple chips. 
McIntosh: Originally produced in Canada, McIntosh has become a popular, multipurpose apple. It's easy to peel and nice for snacking and cooking. It's also a great dessert apple that blends well with other varieties in both sweet and savory recipes.
Pink Lady: One of the first apple varieties to be trademarked, Pink Lady apples are known for their distinctive flavor and color. It's a wonderful combination of sweet and tart, and highly versatile. Slow to brown, Pink Lady apples work well on charcuterie boards and in salads and slaws.
Lodi: An early-harvest apple, Lodi has a soft flesh and lovely tart flavor. Because of these soft and sour characteristics, it isn't a very good snacking apple.