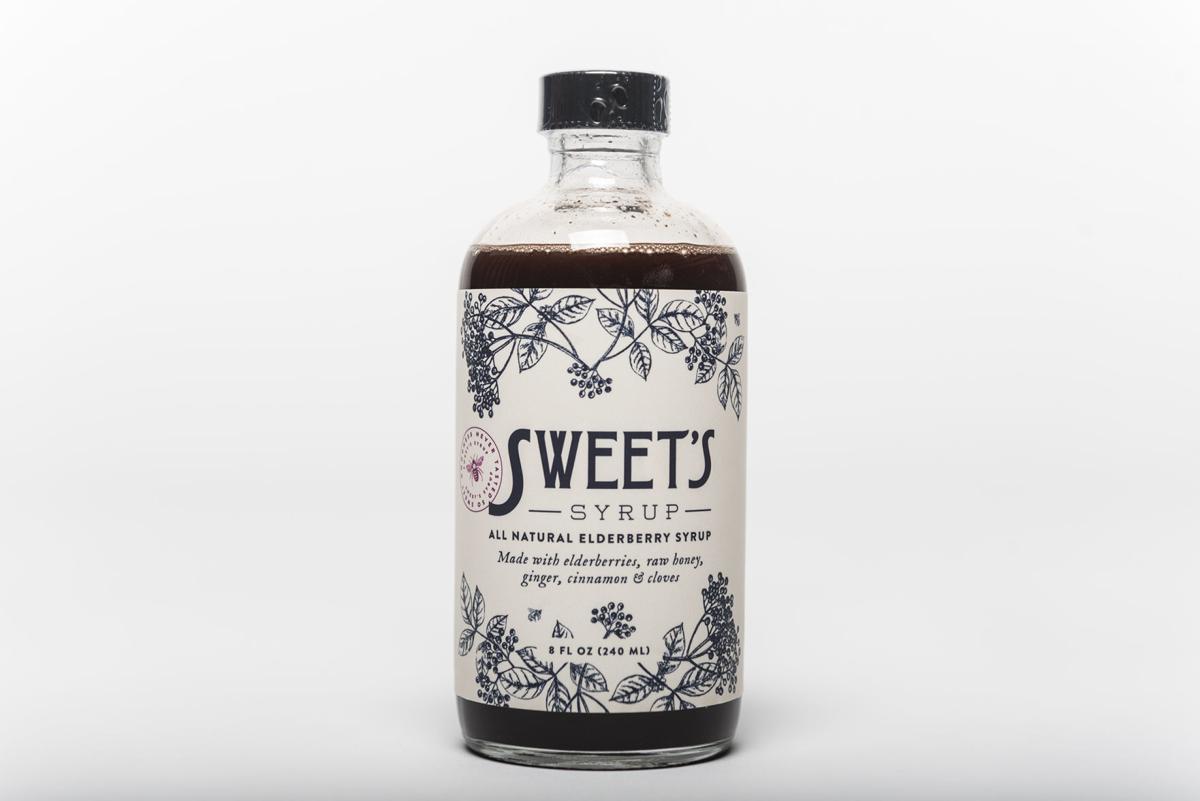 We've entered into peak season for the flu, and that means we're also in peak season for elderberry syrup.
Syrup and other concoctions made from elderberries are a popular home remedy for colds, flus and any situation where the immune system needs a boost.
When flu vaccines ran short last winter, some people said that their doctors told them to take elderberry syrup instead.
Though you can buy elderberry syrup online or even at such drugstore chains as CVS, locally made syrup is also available.
Stesha Warren has been making elderberry syrup for 18 years — long before its recent rise in popularity. "I was raised on it myself. My mother taught me to make it," said Warren, who now has two children of her own.
"This has been around for ages, but it's definitely becoming more mainstream."
Warren, who is also an herbalist and certified wild-mushroom forager specialist, sells elderberry syrup as part of her family's farm business, Eliana's Garden (www.elianasgarden.com), based in Stoneville.
She started selling the syrup about a year ago, and estimates that she sells 100 or more bottles a month, up to 200 a month this time of year. This year, she plans to sell the bushes to people who would like to grow their own elderberries.
She sells two kinds of elderberry syrup, plain and "plus," at the Fairgrounds Farmers Market, along with heritage pork and other foods.
Her plain syrup is simply distilled water, organic elderberries and organic cane sugar. The plus has rosehips, cinnamon and other added ingredients. "I do two types because some people don't like cinnamon or have an allergy to it," she said.
A 4-ounce jar of plain syrup costs $10; the "plus" costs $13.
Elderberry comes from the European elder tree, which is different from the American elder, dwarf elder or elderflower.
Though it is best-known as a natural medicine that helps boost the immune system, people have taken it for a wide variety of conditions, including cancer, hay fever, constipation, high cholesterol, sinus pain, heart disease and more, according to WebMD.
Though there is insufficient evidence for most people's anecdotal claims about elderberries, there does seem to be a wide belief that they help with the flu.
"Taking a product that contains elderberry juice and echinacea also seems to relieve symptoms and reduce the length of time flu lasts," WebMD says on its website. "It seems to work similar to the prescription drug oseltamivir (Tamiflu)."
Still, elderberry supplements have not been approved by the Food and Drug Administration for the treatment or prevention of any medical condition.
Warren points out that the seeds of elderberries are actually toxic, and the berries must be properly cooked and strained to remove toxins. The flowers also are used and can be eaten raw.
Elderberries are high in Vitamin C, dietary fiber and antioxidants.
Another local source of elderberry syrup is Sweet's Syrup (www.sweetssyrup.com), based in Charlotte. Stephanie Rickenbaker founded Sweet's in 2016 after turning to natural medicines to help her husband deal with leukemia and the toxic drugs for it that damaged his liver.
"When he started taking these toxic drugs, I started learning about all kinds of alternative medicines," she said.
Though she initially tried it to help her husband, she now gives it to her 6-year-old daughter and 4-year-old son. "They never get sick. They never have the snotty noses like other kids do. It just keeps us healthy," she said.
Rickenbaker's business has grown rapidly. "I've probably sold 40,000 bottles since I started," she said. "And we're probably doing three or four times what we sold last year."
She sells in many stores, and not just in Charlotte. Locally, Sweet's is sold at Colony Urban Farm and Let It Grow Produce in Winston-Salem and at Lizzie's Herb Shop in Kernersville. It's also sold online through etsy.com. Rickenbaker makes hers with organic berries, raw honey, cinnamon, ginger, cloves and Vitamin C. An 8-ounce bottle sells for about $20; a 16-ounce bottle typically sells for $30 to $35.
Fortunately, you don't need a lot of it. A suggested daily dose is 1 teaspoon for children and 1 tablespoon for adults. Though some people take it year-round, many take it only when they feel susceptible to a cold or the flu. To reduce the duration of a cold or the flu, some people will take a dose every three hours when they are sick.
There also are culinary uses. Both Warren and Rickenbaker said it makes a great mixer for cocktails. "An elderberry martini is delicious," Warren said. "I also put a teaspoon or two in water for my kids and it's their 'juice.'"
"It's really good in plain yogurt," Rickenbaker said. "You can also can put it in smoothies."
Warren hopes to make a diluted, less-expensive table syrup at some point, because so many people like the taste. Elderberry juice is too tart to use unsweetened, so it's almost always sold sweetened with sugar or honey. "I just love the flavor," Warren said. "It's definitely appealing to all age groups."