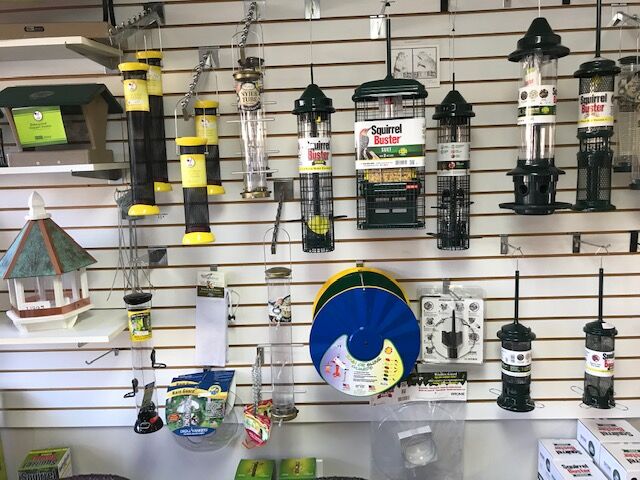 The holiday shopping season is upon us, and as you begin to draft your gift list, don't forget the birds. Since winter officially arrives just days before Christmas, gifts that help birds survive cold weather are good choices.
The birds in your neighborhood will be well satisfied with the usual array of seeds, whether they be sunflower seeds, sunflower chips, millet, safflower seeds, peanuts or a mixture of seeds.
Even if you're buying for someone who's a long-standing feeder of birds, you can't go wrong by adding another feeder to their array or a fresh bag of bird seed.
Suet offers the fat that birds need to get through winter's cold, and shops that offer birdseed and other bird products carry many variations on this theme, as well as items to hold the suet, which are usually in the form of cakes.
In this era of COVID-19, online shopping is even more popular, as it not only enables you to shop conveniently but allows you to do so without risking exposure to the virus.
Check out www.brecksgifts.com, which offers bird food in a festive holiday arrangement with seeds in the form of wreathes and Christmas ornaments.
While you're shopping for neighborhood birds, be sure to shop for your favorite bird-lover, too.
You can find bird-themed T-shirts at www.bigpockets.com/gifts-for-birders, as well as my favorite stocking stuffer — a binocular-shaped zipper-pull — for just $4. Or, how about an irresistible penguin plush toy for your younger grandkids.
Online shopping has its advantages, but its advent has taken a toll on local businesses, and even franchises, and many of these shopkeepers have learned to be creative in how they court their clientele.
Wright's Birding Center at 3906 Country Club Road, Winston-Salem, is owned and operated by Sarah and Nathan Gatto. You can shop their extensive variety of bird products at their website, www.wrightsbirdingcenter.com and pick them up in the store, or get them delivered free for orders of $25 or more within 15 miles of the shop. Drive-up service is available or you can shop the traditional way — in the store. Just wear a mask, please.
Forgot to bring a mask? Wrights will sell you one — bird-themed, of course. They even have bird-themed socks — perfect stocking stuffers.
Jigsaw puzzles with bird art can be a great way for parents and kids or grandparents and grandkids to enjoy each other's company during the holidays. Wright's carries these as well as America's Favorite Birds adult coloring books, another way to enjoy intergenerational time together.
Heidi Bublitz at Wild Birds Unlimited, 568 Hanes Mall Blvd., says that the store's cranberry wreath is a hot seller. Maybe that's because it contains red peppers to repel squirrels. WBU also carries seed critters in the shapes of raccoons, squirrels and owls.
And let's not forget our feline friends. They deserve to be rewarded for giving up roaming freely in the neighborhood where they invariably feast on birds, and instead, staying inside — where they're safer anyway. WBU has bird-shaped cat toys for indoor cats.
Placing a bird feeder close to a window, within 1 to 3 feet, will give your indoor cat endless hours of entertainment.
If you're the handy type, do-it-yourself bird seed feeders and bird houses provide opportunities for Christmas gifts with a personal touch. There are lots of plans online for these easy projects.
And for the person who has everything, how about an Audubon membership? The gift of a membership to either National Audubon or Forsyth Audubon automatically includes membership in both. Forsyth Audubon offers a full array of bird walks, programs, conservation projects, advocacy for environmental causes and more. Go to http://forsythaudubon.org/join.
If you have a birding question or story idea, write to Bird's-Eye View in care of Features, Winston-Salem Journal, 418 N. Marshall St., Winston-Salem, N.C. 27101, or send an email to birding@wsjournal.com. Please type "birds" in the subject line.