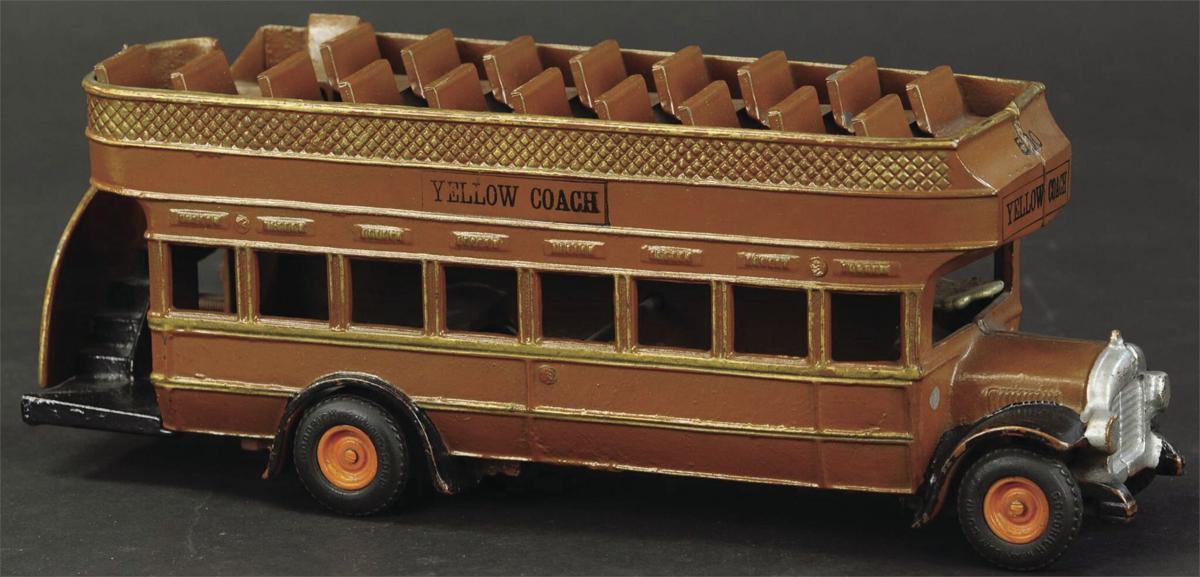 Scherenschnitte is a paper cutting art form. It was known to the ancient Chinese and others, and it became popular again in the early 1800s, especially in the Pennsylvania area.
A group of the pictures were sold at folk art auctions in New England about 2011 to 2019. They often pictured a spread-wing eagle with lacy trim. Each was signed "G.B. French." They were described as the work of an artist working in the early 1800s. Other folk art theorems and watercolors were part of his signed work. Most were mounted in frames about 15 inches by 22 inches with painted corner blocks.
We were surprised to learn that the scherenschnitte was made in the 20th century. The earliest we have heard about was sold in 2013. There are contemporary artists making and selling pieces that are made of plain paper or are cut paper pictures with added paint. But we have not learned who G.B. French was. The old schnerenschnitte pictures sell for about $500 to $800, but the piece pictured here and identified as 20th century brought only $40 at a Hess Auction Group sale.
Q: When did Oneida make Debonair silver plate? I have a cream soup spoon in this pattern and would like to know how old it is.
Answer: Silver plate flatware in the Debonair pattern was made by Oneida beginning in 1938. Oneida started out as a utopian religious community founded in Oneida, New York, in 1848. The community began making tableware in 1877. Oneida Community Ltd. was incorporated in 1880. It became Oneida Ltd. in 1935. Silver plate, stainless steel flatware and silver-plated hollowware were made. Later, sterling silver was made. Oneida is still in business but stopped making silver flatware in 2005. Value of a Debonair cream soup spoon, about $10.
Q: We have an Extensole mahogany inlaid foldout table. Is it an antique?
Answer: Extensole tables were made in Sparta, Michigan, beginning in 1936. Michigan Art Craft Company advertised "The Extensole, A Table with a Purpose" in its 1939 catalog. The company was known for its console and drop-leaf extension tables. Extensole was sold to another Michigan company in 1978. Your table is not an antique, but if it's in good condition, it will sell as used furniture.
Q: I have a 45 rpm record by the Ink Spots that has been autographed by each member. Is it worth any money?
Answer: The Ink Spots, an American jazz singing group, started performing under that name in 1933. The group recorded for Decca Records from 1939 to 1953. The members of the quartet changed several times as one person left and another replaced him. After the group disbanded in 1954, many other groups used the name. Vinyl records are collected, and many collectors want autographed albums. Some autographed albums sell for a few hundred dollars and some for several thousand dollars. The value depends on the condition, desirability, rarity of the album, the singer's or group's fame, and authenticity of the signatures. Value may depend on which album you have or who the members were at that time. Check with a local store that sells used vinyl records to get an idea of rarity and value. The Ink Spots are in the Rock & Roll Hall of Fame, so the autographs add value, perhaps as much as $150.
Q: I'd like your estimate of the value of a magic lantern. It's marked "Made in Germany 1905, EP series 8" and is complete, including the metal chimney, canister with lenses, reflector, chimney, fuel canister and three hurricane shades. It also has 21 glass slides with various scenes.
Answer: Magic lanterns were invented in the 1650s. The lantern projects images that are painted, printed or photographically reproduced on glass plates onto a wall or screen. Traveling showmen used them in the 1700s to entertain crowds. By the 1800s, they were popular in homes as well as in theaters. Early lanterns were lit by candles or oil. By the 1800s, lanterns were lit by kerosene or gas, and later, by electric lights. Magic lanterns were made for children in the 1800s and early 1900s. Ernst Plank Company, a toy maker in Nuremberg, Germany, made your magic lantern. The company stopped making magic lanterns in the 1920s, but other companies continued making them. Tens of thousands of magic lanterns were sold each year during the height of their popularity. Price depends on condition, design and quality. Slides are priced by the value of the picture. A child's toy sells for as little as $50. An expensive machine used by adults sells for about $200 to $400.The Magic Lantern Society of the United States and Canada (MagicLanternSociety.org) is a group for collectors of magic lanterns.
Current prices
Current prices are recorded from antiques shows, flea markets, sales and auctions throughout the United States. Prices vary in different locations because of local economic conditions.
Toy, doll's quilt, flowers on blue ground, center patch with scene of rabbits outside house, rounded corners, 29-by-20½ inches, $60.
Stoneware, crock, cobalt blue spiral flower, round, narrow neck, handle, marked, F.T. Wright & Son, Taunton Mass., 19th century, 19½ inches, $110.
Furniture, washstand, walnut, marble top & backsplash, drawer, turned towel rails on sides, shelf, reeded legs, toupie feet, France, 1800s, 31-by-31-by-15 inches, $310.
Paperweight, Cartier, Panthere, sterling silver panther sitting on blue crystal ball, marked Cartier 925 Spain, 2¼-by-1⅛ inches, $400.
Doll, Madame Alexander, Ballerina, Margaret face, coiled blond braids, pink tulle tutu, flower trim, wrist tag, 1946, 14 inches, $600.
Mt. Washington, sugar shaker, cut glass, strawberry diamond, star, fan, ray cut base, silver cap, egg shape, 4¼ inches, $780.
Pewter, vase, woman in relief, in front of tree and flowers, design on both sides, flared neck, footed, two handles, glass insert, Art Nouveau, Germany, c.1905, 14-by-8 inches, $840.
Toy, dollhouse, cottage, wood, painted, window box with flowers, roof lifts off to expose rooms, Schoenhut, c.1920, 10-by-13 inches, $1,140.
Bottle, ink, teakettle shape, 8-sided, cobalt blue glass, domed top, cylindrical spout, brass ring and cap, 1875-1890, 2⅜ inches, $1,670.
Rug, braided, large coiled center circle, surrounded by 14 smaller circles, cloth, multicolored patterns, 103 inches, $3,190.
Terry Kovel and Kim Kovel answer questions sent to the column. By sending a letter with a question and a picture, you give full permission for use in the column or any other Kovel forum. Names, addresses or email addresses will not be published. We cannot guarantee the return of photographs, but if a stamped envelope is included, we will try. The amount of mail makes personal answers or appraisals impossible. Write to Kovels, King Features Syndicate, 628 Virginia Dr., Orlando, Fla. 32803.