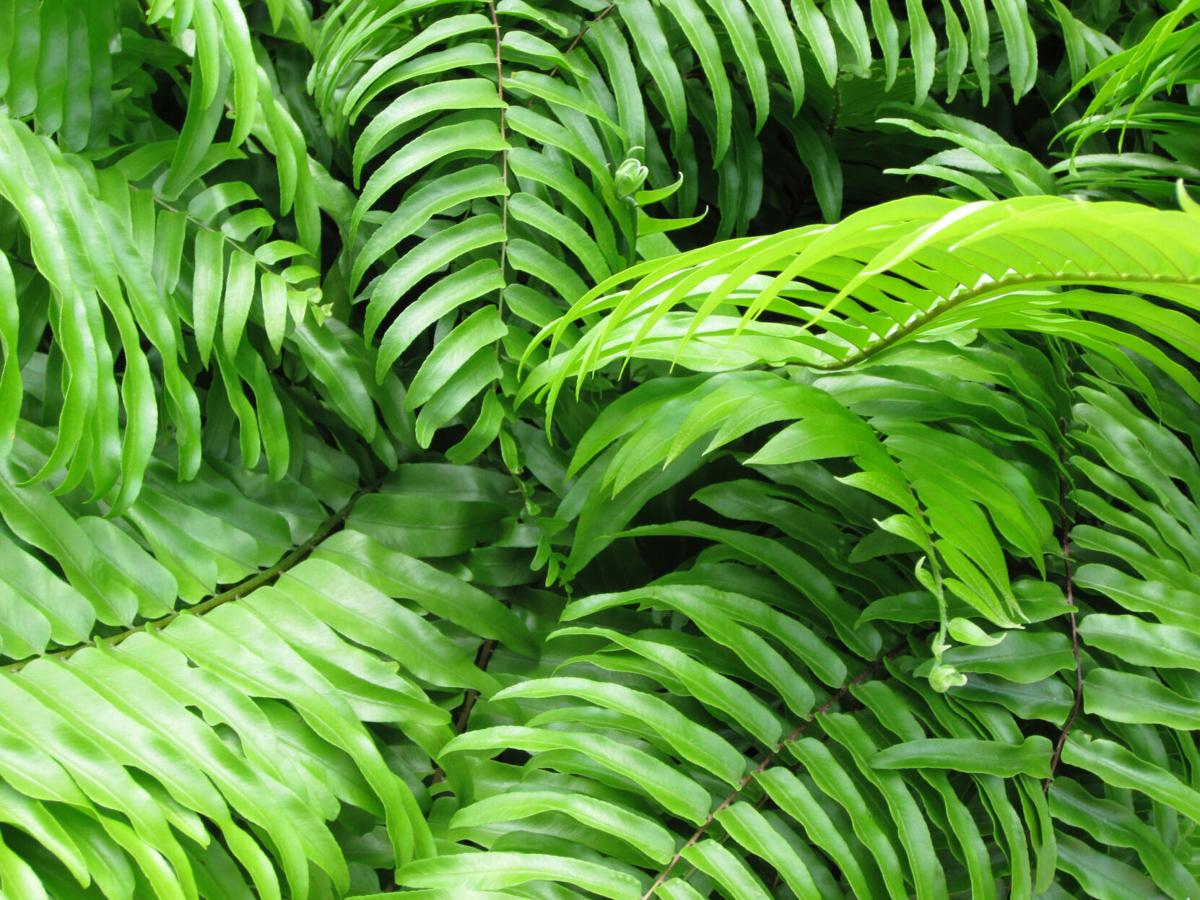 In the past two weeks, the massive willow oaks in my backyard have fully leafed out, raining a barrage of pollen ribbons onto the deck and patio. Aside from the dusty cleanup, I always look forward to this annual moment, as it allows me to see where the shadiest spots lie in my backyard garden.
As trees grow or come down, the dynamic of sun and shade can change in a garden. Structures built by neighbors or the construction of a new fence can create new pockets of shade, too. So as mid-spring's canopy unfurls, take a moment to reassess your shady nooks. You might just find there's opportunity for a new bed of shady perennials.
When it comes to shade loving plants, hostas aren't our only choice. A slew of fantastic plant choices for shade are available, many of which are native or native cultivars. Some spread by rhizomes, others are tidy clumpers. There is also a lot of diversity with shade perennials, so it's easy to play with textures, foliage and heights.
Ferns are a must for any shade garden, filling a space with a lush feel and soft texture. Many are evergreen, creating interest year-round. Some form tidy mounds, while others spread a little each season. Most all ferns will thrive in shade to part shade areas, especially ones that have rich, moist soil.
Native sensitive ferns and ostrich ferns tend to be a bit unruly, and can make their way around a garden if left unchecked. Christmas ferns and autumn ferns mind their manners very well, and stay exactly where you plant them. Play with heights when you choose ferns — some varieties will tower above everything and others that will hug the ground. Cinnamon ferns are a good tall, commanding choice, and maiden hair ferns stay low to the ground.
If you want to stay with native plants, look no further than local woodlands for inspiration. Spring ephemerals are all good choices for shade gardens, including trillium, bloodroot and Virginia bluebells. Once the canopy fills in, though, these ephemerals die back, re-emerging the following spring. For this reason, make sure to plant them where they won't be disturbed.
Our native columbine gives a whimsical pop of color to a shady spot with its orange-red blooms. This one reseeds in abundance, though, so it may become weedy overtime. Native tiarella cordifolia (foam flower) is much tidier, though, as its subtle mid-spring blooms soften up any shady area.
With their dramatic colors and specialty veined foliage, heuchera make a bold statement in a shade garden. Commonly known as coral bells, these plants are prized for their unique, ruffled foliage that create vivid contrasts in the garden. To achieve best color, plant heuchera in partial sun, making sure not to stick these plants in too deep shade.
Another advantage of planting heuchera is its tolerance of dry shade. Once established, other plants such as hosta, epimedium, hellebore and ajuga will do well in dry shade, too.
Epimedium has become a favorite shade plant of mine in recent years. A low- to medium-growing plant, this mounding perennial spreads just a little bit every season. Epimedium is also known as barren wort, horny goat weed or bishop's hat. Epimedium grandiflorum is perhaps the most commonly-planted species, but there are many interesting newer cultivars.
Of course, hellebore are among some of the toughest shade-loving plants out there. Its evergreen foliage softens up mulched or natural areas, and brings one of the first blooms to the garden. Hellebore start blooming in February, with their blooms persisting through spring.
Ajuga is an interesting shady groundcover, that spreads at a moderate rate. I have 'Burgundy Glow' ajuga in my home garden, which has green and white scalloped foliage, tinged with a crown of burgundy. It's in full glory right now, covered with cobalt blue blooms. What started five years ago as a couple of quart pots, now covers a 4-by-4-foot area. It spreads, but it spreads slowly.
I would be amiss if I failed to mention variegated Solomon's Seal. One of my favorite shade perennials, this plant is a rhizomatous spreader that is welcome anywhere in my garden. Although some might disagree, I delight seeing it pop up a couple of feet from where it was originally planted. It produces graceful flowers in late spring, which hang on for several weeks.
Other shade-loving perennials to consider include anemone, bleeding heart, astilbe, toad lily, sweet Kate and turtlehead.
So as this spring continues to deal us mild weather and impeccable blooms, take a few moments to watch the shady spots grow in your garden. Creating an area packed with these shade-loving, specialty plants can be a real treat, especially when we need a place to escape to in the heat of summer.
Amy Dixon is an assistant horticulturist at Reynolda Gardens of Wake Forest University. Gardening questions or story ideas can be sent to her at www.facebook.com/WSJAmyDixon or news@wsjournal.com, with "gardening" in the subject line. Or write to Amy Dixon in care of Features, Winston-Salem Journal, 418 N. Marshall St., Winston-Salem, NC 27101.