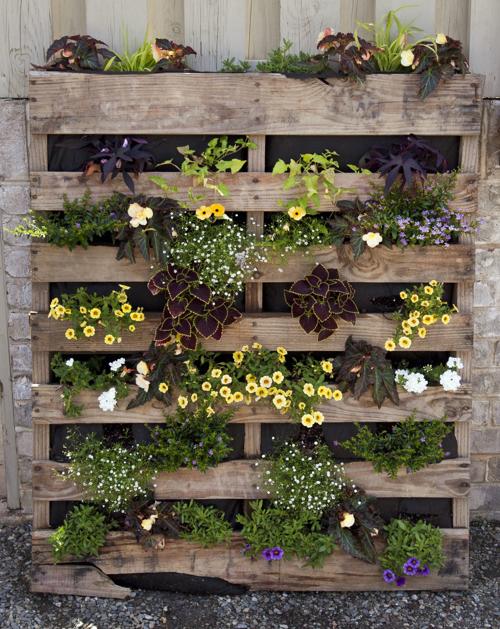 One of my life goals is to be as creative as those who can tastefully re-purpose and up-cycle disposable materials. I'm a big fan of creating planters out of junk, as it adds a pop of personality to a garden. Besides, anything that's destined for the dump can stand to have a little dirt thrown on it, right?
There is probably no product more creatively reused than the simple shipping pallet. Strong and functional, pallets are the supportive vehicle for a countless array of consumer goods. One of the latest gardening trends is pallet gardening, where pallets are used as practical vessels for plants, creating the perfect planter for herbs, vegetables or flowers.
Pallet gardens give a new spin to the concept of raised beds. The concept is simple — line a pallet with fabric, fill with soil, and plant seeds, flowers, herbs or vegetables within the spaces between the wooden slats. The finished product can be laid flat upon the ground, hung or leaned vertically on a wall, connected to other pallets to make a living fence, or even suspended from building rafters or strong tree limbs. Once the plants fill in, a profusion of annual color, aromatic herbs or tasty vegetables are the reward.
There is a multitude of really good reasons to try your hand at pallet gardening. Gardeners are most often drawn to pallet gardening because it saves space. Pallet gardening allows those with patios, balconies or impermeable spaces the freedom to grow more with a lot less.
"If you live in a small space with a patio backyard, I've seen (pallet) walls separating a patio from the next apartment or condo's patio," said Ray Mims, a Guilford County Extension Master Gardener. "They're screwed together and used as a wall. That's what I always thought was neat — you could get so much in a small area with them."
Given the right neighborhood or appropriate housing complex, neighbors could work together to create a living wall between their outdoor spaces. A pallet planted with colorful annuals can add a dramatic pop to an otherwise stodgy wall. A small vegetable garden can be planted in a three-foot-square space, providing a plethora of spring, summer and fall produce. The diversity of the pallet gardening seems to be what has attracted a wide range of gardeners to the method.
If growing vegetables is your goal, laying the pallet horizontally flat on the ground is probably your best bet. Whether you place the pallet on a gravel driveway, a patio or within your established vegetable garden, you should find that it's easy to maximize yields. Consider using several pallets — each pallet growing one crop. Or if space is really tight, each row within a pallet could host a different crop.
Strawberries are a good crop for horizontal pallets, as they like to be up off of the ground. Pallet gardens are said to be almost weed free, because the wooden slats cut down on the available space for weeds to find a home.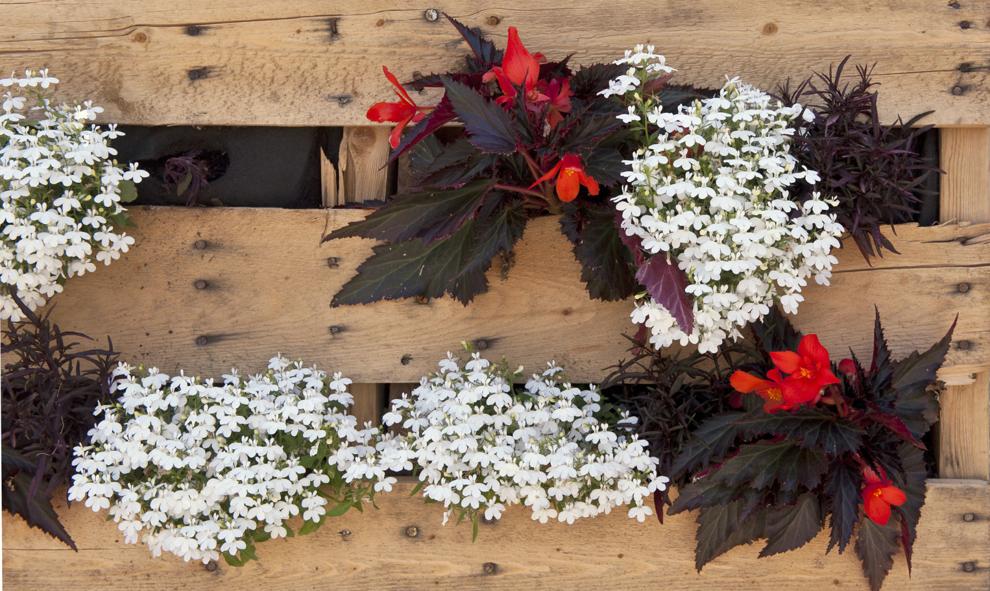 "When you plant in the ground, you've got all kinds of weed seed blowing in there, weeds popping up and Bermuda grass," Mims said. "They (pallets) are so much easier to maintain. It's just a lot easier when you've got some containment around like these provide."
Mims has been interested in pallet gardening for some time, as the style is unusual and beneficial in many different ways. Mims advised the gardeners at Kernersville's Paul J. Ciener Botanical Garden on constructing a pallet garden and how to choose appropriate materials. Gardeners Adrienne Roethling and Josh Williams built and planted three pallets, which they have displayed along a brick and wooden wall within a courtyard. Their pallets are pine and are planted with an array of annual flowers.
It's important to understand the materials and process of building a pallet garden. Mims has recommendations for both, but also suggested looking online at various methods and step-by-step instructions. Because pallet gardening is relatively new and versatile, there are many ways to accomplish and perfect the style.
Mims and Roethling recommend using ground cloth for holding soil within a pallet garden. Similar to weed barrier, ground cloth or landscape fabric is just a little tougher. Ground cloth tends to be fuzzy on both sides and thicker — whereas weed barrier might be thinner, fuzzy on one side and slick on the other side. You can staple ground cloth over the bottom and back side of a pallet to hold in soil. Or you can cut the cloth and work into the pallets to create pockets. Horizontal pallet gardens work best with lining the backside; vertical pallet gardens work best with lined planting pockets.
"Ground cloth lasts a long time. It's mainly to keep moisture in for the plants and not rot the wood," Mims said. "You want to use oak pallets, preferably. Pine doesn't last as long. If you have an oak pallet that's aged, though, the wood is extremely hard and you have to drill holes to put your nail or screws in."
Mims said that oak pallets can last for years. He also advised that you inspect your pallets before choosing them, as some have been treated with chemicals (Think pressure-treated lumber.) Most pallets will have a stamp on the side, indicating where it originated and if it is treated with chemicals. "HT" is the safest stamp for gardening purposes, meaning "heat treated." For a more comprehensive listing of pallet stamps and symbols, visit the website www.1001pallets.com.
The PJCBG pallet gardens are a mixture of annual baby's breath, coleus, million bells, black-eyed-Susan vine, begonias, millet and sweet-potato vine. By early to mid-summer, these pallets will be blazing blocks of color, creating visual interest on what was once a simple wall.
Mims has had good luck with his herb pallet, and been impressed by a vertical pallet of sweet-potato vines, which he described as looking like a waterfall of color. He recommends the top of a vertical pallet for upright, taller plants.
"Of the ones I've put together, the best-looking one was the herbs, because their size was appropriate. I used different colors to give it some variety — oregano on top, onions, all kinds of red lettuce, things that grow in small clusters."
Used pallets are pretty easy to find, if you look in the right places. Garden centers, hardware stores, box stores and even some grocery stores may have some for free or for purchase. It's best to contact the store manager to find out their policy. It's usually a win-win for the gardener and the store, as it serves as a way for material to get reused.
"Pallets are normally thrown away, and they contribute to the landfill," Mims said. "If you can re-purpose them as garden apparatus, then that's great."
If you have a gardening question or story idea, write to Amy Dixon in care of Features, Winston-Salem Journal, 418 N. Marshall St., Winston-Salem, NC 27101or send an email to her attention to gardening @wsjournal.com. Put gardening in the subject line. Find Amy Dixon on Facebook at www.facebook.com/WSJAmyDixon.