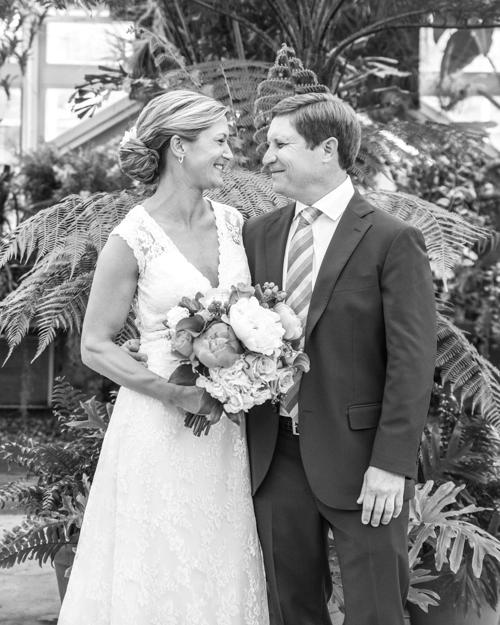 Jane Stewart Smith of Winston-Salem and Alexander Harry Okulski II of Odessa, FL, were married at 5:30 p.m. on May 11, 2019 in an indoor ceremony at The Barn at Reynolda Village in Winston-Salem. The Rev. Callie E. Swanlund officiated.
The bride is the daughter of Mr. and Mrs. Eugene Gray Smith III of Winston-Salem. Her maternal grandparents are Jane Strelitz Taylor of Raleigh and the late Zachary Albert Taylor Jr. Her paternal grandparents are the late Mr. and Mrs. Eugene Gray Smith Jr.
The bride graduated from the University of North Carolina at Chapel Hill with a degree in psychology. She is a financial advisor for Oppenheimer & Co. Inc. in Chapel Hill.
She was a member of UNC's Varsity Women's Soccer team and Kappa Delta Sorority.
The groom is the son of Dr. Elizabeth Grange Coachman and Mr. Michael Robert Coachman of Brooksville, FL and Dr. Thomas Alexander Okulski and Mrs. Brenda Sanchez Okulski of Odessa, FL. His maternal grandparents are the late Mr.
and Mrs. Cecil William Grange.
His paternal grandparents
are the late Mr. and Mrs.
The groom graduated from Davidson College with a degree in political science and received an MBA from Kenan Flagler Business School at UNC-Chapel Hill. He is a senior managing director at Newmark Knight Frank in Chapel Hill.
He served as captain of the Davidson Varsity Men's Tennis team and was a member of Kappa Alpha Fraternity.
A rehearsal dinner was held May 10, 2019 at The Graylyn Estate, hosted by the groom and his parents.
The bride was escorted by her father. The maid of honor was Sophia Flynn
Okulski of Chapel Hill, the groom's daughter.
The wedding director was the bride's friend from childhood, Catherine Davis Hornaday, of Winston-Salem, and the program attendants were Brittney Forrister of Nashville, TN and Kelsie Johnson of Raleigh.
The flowers were designed by Kelly Odom Flowers of Raleigh.
Regi's Originals of Winston-Salem provided the wedding cake.
Following the wedding ceremony, a reception was held at Old Town Club.
The couple resides in Chapel Hill.
Erin Comerford Photography
Be the first to know
Get local news delivered to your inbox!