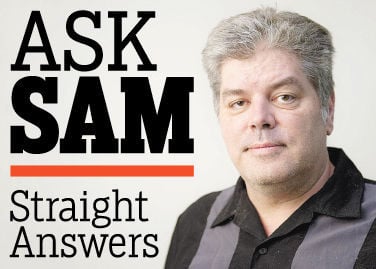 Q: I have a friend who is vegetarian and said she would not eat Krispy Kreme doughnuts because they are fried in animal fat. Is that true?
Answer: No. "Krispy Kreme does NOT fry their doughnuts in any sort of animal fat," said Caleb Fernandez, a spokesman for the company. "The only animal by-products used in Krispy Kreme doughnuts are eggs and milk."
Q: What will happen to the animals at Kaleideum North when it moves to the concrete jungle downtown? It's a terrible place to have live animals of any type, and something it appears they never bothered to consider in the rush to expand and move.
Answer: "Throughout this merger and planning process for the new Kaleideum location on Third Street, our staff has given a great deal of thought about the best ways to incorporate animals within the exhibits," said Leigh Ann Woodruff, a spokeswoman for Kaleideum. "Most of the animals are rescue animals that have come from rehabilitation facilities and are not able to live in the wild. While we have not yet identified every single animal that will be moved to the new location, we know that it is likely that many indoor animals will come with us, and many outdoor animals, which belong to local farmers, will be returned to their original owners."
For others, she said, they will work to find appropriate new homes in which they will be well cared for.
"The animals that move with us will live in state-of-the-art systems that meet USDA standards," she said. "In addition, they will receive the same kinds of daily enrichment activities and special care that they are currently receiving. Kaleideum always welcomes any questions about our animals, so feel free to ask for our animal care staff when you are visiting."
Both the current downtown and the Kaleideum North locations will remain open until they move to their new location, which is currently planned for fall 2020.
Q: For about a month, workers have been tearing up long strips of pavement and repaving for miles on Frye Bridge Road. The road seemed pretty smooth before, but it is now rough and it must be expensive. Why is this work being done?
Q: Our N.C. Department of Transportation recently ground out several unnecessary areas on Styers Ferry Road between the U.S. 421 Clemmons exit and Country Club Road to "spot pave." This road was in better condition before this mess was made. Will they come back and repave before we all have to purchase front end alignments?
Answer: "NC DOT Maintenance crews are out patching and repairing any weak and failing areas in the roadway in preparation of upcoming contract resurfacing operations," said John Rhyne, division maintenance engineer for Division 9. "Unfortunately, when we repair small areas it is much harder to get them as smooth as when a larger area is resurfaced. Once the road is overlaid completely, the smooth ride should be restored."
He said that Styers Ferry Road contract was signed in spring 2017 and resurfacing will be finished in October 2018; Frye Bridge Road will be contracted out next spring.