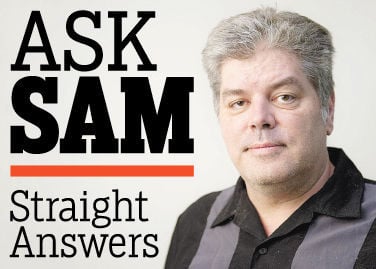 Q. Fall is here and thoughts are turning to stink bugs. I hate them. Can you give any advice on how to get rid of them? Do pesticides work?
Answer: The annual stink bug invasion is indeed underway, and SAM's fierce little predator kitten Dora has been catching them in recent days. The invasion will increase as the days get shorter and the little stinkers move out of orchards and seek refuge for the winter.
In an agricultural or forested area, that would typically mean they will crawl under rocks or in back crevices, said Mike Waldvogel, an entomologist at N.C. State University.
In a residential setting, though, your house "makes for an attractive place to spend the winter with you," Waldvogel said.
Your best strategy is to keep them from getting into your home in the first place.
"Cracks around windows, doors, siding, utility pipes, behind chimneys and underneath the wood fascia and other openings should be sealed with good quality silicone or silicone-latex caulk," according to a report from the Penn State Cooperative Extension Service.
"Damaged screens on doors and windows should be repaired or replaced. Exterior applications of insecticides may offer some minor relief from infestations where the task of completely sealing the exterior is difficult or impossible," the report says.
If the creatures do get inside, "both live and dead stink bugs can be removed from interior areas with the aid of a vacuum cleaner — however, the vacuum may acquire the smell of stink bugs for a period of time," Penn State advises. One common tactic is to use an old pair of pantyhose or knee-high stockings and sticking it down the tube, keeping it in place with a rubber band.
Experts do not recommend using insecticides, and Waldvogel pointed out that one of the biggest problems would be covering critical areas of the house when the stink bugs are most active, and having the chemical last long enough to work. Also, spraying too much indoors can adversely affect your own health, he said.
Waldvogel said there is "still no magic bullet" for getting rid of stink bugs and commercially available traps "may produce disappointing results to users .... It's not like trying to protect a fruit tree or plants in your garden."
"Remind folks that if they use a Shop-Vac and just suck them up, they need to clean it out, " he said. Otherwise, you'll soon find out where stink bugs get their name.
On a related note, pet owners shouldn't be too concerned if their pets try to nibble on a stink bug. As veterinarian Marty Becker, chief veterinary correspondent for the American Humane Association, explains on his pet advice website, "Stink bugs, for instance, may exude a nasty-tasting liquid when bitten. (We know this because humans have reported accidentally biting into them.) It's not necessarily poisonous, but it can cause drooling or vomiting or irritate your cat's digestive tract." So they probably won't try it again.