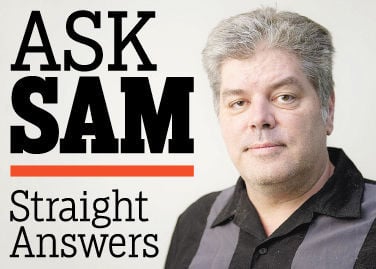 Q: I live near Shattalon Drive in Winston-Salem. The fire department sounds their sirens at all hours of the night. Are there regulations about this noise problem in a residential area? It's quite nerve-wracking and difficult to sleep. My goodness, think of the children.
Answer: There are various reasons why using the siren is often necessary, according to Harry L. Brown Jr., assistant chief with the Winston-Salem Fire Department.
"Motor vehicle crashes account for about one-quarter of annual firefighter line-of-duty deaths," Brown said. "Fire apparatus utilize visual and audible warning devices to request the right-of-way, and to ensure the safety of both fire crews and civilian motorists.
"For the services a fire department provides, seconds truly count, and it is important for fire crews to arrive at an emergency as quickly as is safely possible. Brain damage begins in a cardiac arrest victim in three minutes, and conditions in a house fire become untenable in about three-and-a-half minutes.
"Modern automobiles are better insulated against exterior noises, and are likely to be equipped with high-output climate control and sophisticated stereo systems. Couple these with a navigation application, texting, and children in the car, and the result can be a civilian driver whose attention is hard to get. Warning lights and sirens help ensure safe passage of fire apparatus and allow firefighters to begin crisis intervention as quickly as possible.
"With that being said, the city of Winston-Salem Fire Department makes every effort to be a good neighbor. Warning devices should be used judiciously during times where there is no traffic, during wee hours, traveling in subdivisions, etc."
Brown said that if a citizen has a complaint about excessive noise from fire apparatus, he or she is encouraged to call 336-773-7900 and speak to an administrative chief officer. "The caller should be prepared to provide the date, approximate time, and exact location of the offending apparatus," he said.
Q: Leaving Thruway Shopping Center and making a right onto Knollwood, there is a right arrow signal. Am I correct in understanding that then a traffic signal shows a red arrow, I should not be making a right-hand turn even if there is no visible oncoming traffic? I have taken to avoiding that exit due to the number of people who honk at me wanting to make the turn when the arrow is red. Can the city place a "no turn on red" sign above the arrow to remind people of this traffic rule?
Answer: You are correct. "Per NC General Statute 20-158, it is illegal to turn right on a red arrow," said Laura Whitaker, a spokeswoman for the Winston-Salem Department of Transportation. She said that staff would investigate adding a sign at that intersection.