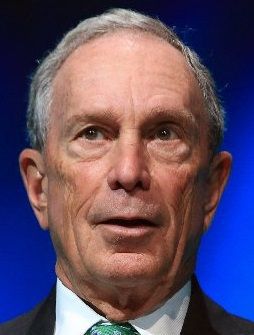 For all the hot smoke and bluster pouring forth from television screens lately — particularly political advertisements — the bright, airy downtown office rented by Mike Bloomberg 2020 sure was quiet.
A cadre of office workers cast nary a glance as they sauntered past. Neither did the nice lady grinding out a living a half-block away selling hot dogs from her cart. Taco Tuesday is a real thing, y'all.
Across the way at the Clark Campbell Transportation Center, bus riders looking for that next transfer didn't know or didn't care about the candidate or his new office. "Mike, who?" one man asked.
Inside the office at Fifth and Liberty, an earnest young man wearing a white campaign T-shirt over the standard polo and khakis, looked startled when I walked in bearing questions. "I'll have to run that up to regional," he said, helpfully. "We're not supposed to talk to the media."
Mike's millions — billions, actually — have landed in little old Winston-Salem, and the state's political landscape shifted with them.
New races, old faces
The change has been coming for some time now, but most of us have been too preoccupied with day jobs and reckoning with holiday bills to notice.
The first tremor came in the form of a court-enforced shake-up dropped conveniently three weeks before Christmas.
News that the courts had approved redrawn state congressional districts stood no chance to dent the bacchanalia and crass commercialism — consumer spending, the economists call it — that for many is truly the reason for the season.
Forsyth County had been cleaved into two parts. Democrats in Winston-Salem long accustomed to being ignored by Rep. Virginia Foxx, R-5th, got shoved into a new 6th District to be outnumbered by like-minded folks over in Guilford.
Republicans of mostly suburban Forsyth County extraction found themselves crammed into the new 10th District, which is represented by Rep. Patrick McHenry, a mostly harmless eight-term incumbent who most certainly didn't say "Give Me Liberty or Give Me Death." That would be Patrick Henry, hold the Mc.
So what hath all that wrought? Different races, but several of the same faces.
Most prominent among them is Kathy Manning, a TV-famous Democrat who has once again opened wide the wallet.
Unlike last time, when Manning ran uphill in the Republican-leaning 13th District against Rep. Ted Budd, the seat in the new 6th is within arm's reach. About the same distance away as her checkbook.
Data from the Center for Responsive Politics tells us this is so. Manning spent $4.1 million, give or take, to get beaten by Budd. By contrast, Budd dropped but $2.25 million. Outside (and outsized) groups, super PACs and various other interest groups, pumped in millions more.
This rodeo, so far, looks a relative bargain for Manning. As of New Year's Eve, the most recent reporting required, she had close to $500,000 cash on hand.
Rhonda Foxx, the next closest Democratic challenger, reported having some $71,000 in cash.
Derwin Montgomery, erstwhile member of Winston-Salem City Council and current state rep, reported close to $34,000. Ed Hanes, also formerly of state House, has joined the fray.
Two Republicans, presumably with nothing better to do, filed to run in a GOP primary.
Against Manning's millions, they'd be better off paying down mortgages or upgrading their rides. Most of the voters in the new 6th live in Guilford County, where Manning has been grooming Democratic goodwill for years.
As to the 10th, well, we have Republicans McHenry, Ralf Walters of Winston-Salem and David Johnson of Statesville and a lone Democrat wearing a "Kick Me" sign.
McHenry, according to the Center, was sitting at year's end on $1.6 million.
Good luck to Mr. Walters, but Forsyth's share of that district is a pittance at just 14 percent of the total population. Iredell and Catawba counties, at 21.5 percent and 19-ish, count for more.
So how does this tie in with Mayor Mike's spiffy and mostly empty office space at the corner of Fifth and Liberty?
The Bloomberg effect
The national media have taken to calling this phenomenon the "Bloomberg Effect."
Estimates of his spending since entering the presidential race in late November — and focusing on Super Tuesday states such as North Carolina, which hold primaries March 3 — put his number in the stratosphere, some $304 million on advertising alone.
That's Powerball money for most of us.
In North Carolina, according to an outfit called Advertising Analytics that studies campaign ad buys, Bloomberg is in for some $7.7 million so far, a number sure to climb.
LaToya Evans, a Bloomberg rep based in Charlotte who is authorized to speak to the media, said Mike 2020 has offices in Charlotte, Raleigh, Fayetteville, Chapel Hill and Greensboro as well as here.
And 120 paid, full-time employees, many of whom will work through the November election regardless of whether Bloomberg is the Democratic nominee.
So what's the practical effect? The televised carpet bombing we've seen so far is really going to ramp up.
Down ballot candidates with competitive primaries such as District Attorney Jim O'Neill of Forsyth County who's running for state attorney general, will be drowned out and are going to have to cough up more dough for less air time.
Meanwhile, Manning seems to be following the Bloomberg playbook, a female Mini Mike as it were, with her numerous spots featuring a heavy dose of unflattering video clips of President Trump.
Early voting opens next week, on Feb. 13, and Friday is the last day to submit a voter registration form. Super Tuesday is less a month from now and, lest you've forgotten, the Republican National Convention is slated for summer time just down the (toll) road in Charlotte.
Tune in or zone out; it's only going to get worse. But one thing remains as true as it ever was: Money talks, and the rest walks.
336-727-7481
@scottsextonwsj