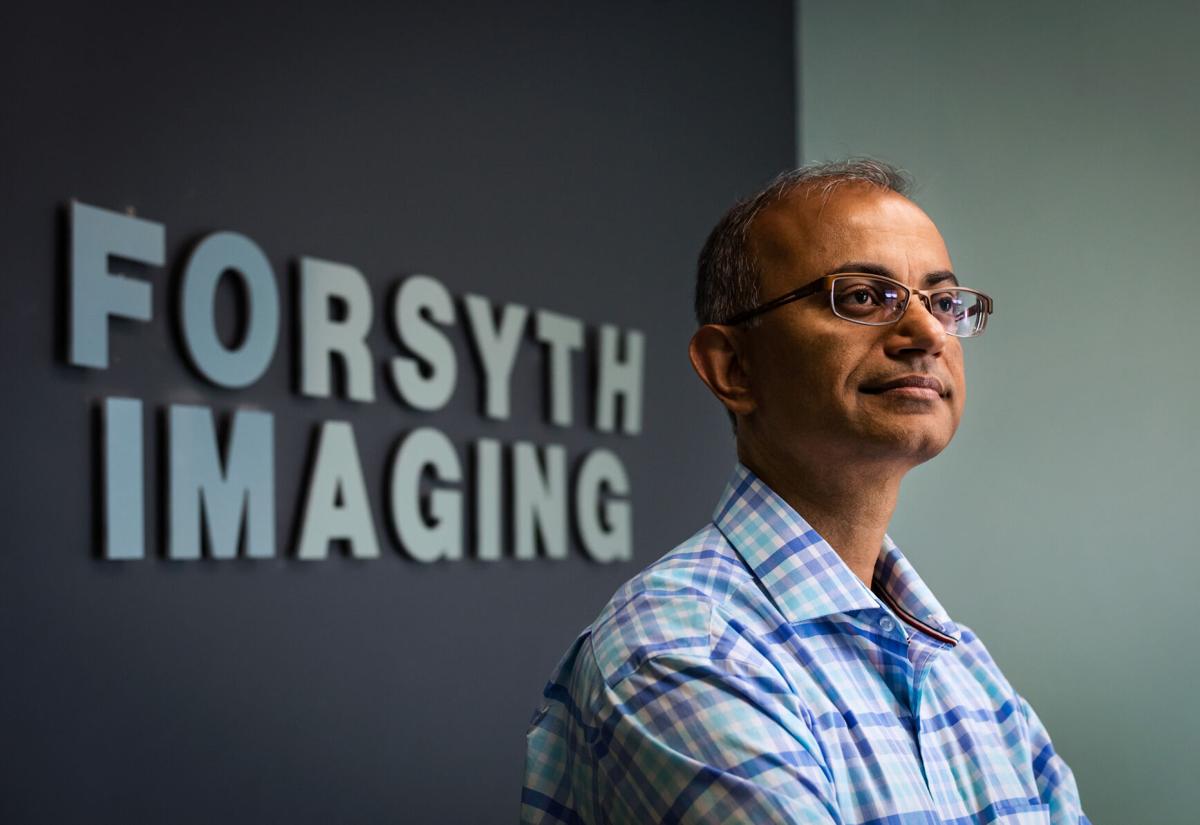 From the street, the desk that Dr. Gajendra Singh was trying to squeeze through the front door to his office Friday morning looked as if it would be too large to fit.
But with a little help, some finesse and turning it to just the right angle, it slid through with no scraped knuckles or pinched fingers — a fitting metaphor for the high-stakes, David v. Goliath lawsuit he filed against the state.
Singh, a surgeon and the owner of Forsyth Imaging and Forsyth Surgical Associates, sued the N.C. Department of Health and Human Services and the North Carolina Health Association — just for the right to buy his own MRI machine.
So what's the deal? Big picture, the suit represented an attack on an arcane state-run system that knee-caps open markets for health care that promoted monopolies by big hospitals.
Naturally, Singh made enemies. And that played a role in his decision to close his practice — and the need to move that giant desk.
"The lawsuit ended when the imaging center closed," Singh said. "It was disappointing. But it's hard to fight big corporations."
A different way
To the surprise of absolutely no one, Singh's business practices caused ripples in the health-care pond nearly as soon as he posted his prices for an array of surgeries and tests he offered on a large banner right out in front of his office.
$199 for an ultrasound … $400-$600 for a CT scan … $70 for an x-ray.
Knowing up front the price of a service; what an interesting concept.
The problem, put as simply as possible, was that due to certificate of need law, Singh was not allowed to buy certain medical equipment such as an MRI machine without demonstrating annually that there is a need in a particular geographic area.
The working theory, 40-plus years ago when the CON law passed, was that it would spread out availability of medical services, prevent overlap in densely populated urban areas.
In practice, particularly in recent years as technology improved and became more affordable, that meant big hospital systems could squeeze out smaller competitors and charge more without fear of competition — or even telling patients up front what it might cost.
Still, Singh loaded up his slingshot and tried operating his practice in accordance with the principles of the free market.
Beginning when he opened his practice in 2017, he openly advertised his services and what they would cost. He could repair, say, a hernia for $2,500 instead of $25,000. "No hidden fees. No facility charges. No second charges," he said proudly.
Naturally cost-conscious patients began finding him and would drive from hours away. To regular folk — people not beholden to insurance companies or with a vested interest in giant health care — it seemed simple.
"If you can make a better pizza for less and want to open a pizza shop down the street from another one, you can," Singh told me in late fall 2019. "This is about competition. But because this is health care, you can't.
"It doesn't make any sense."
Take some time
Once ensconced, Singh took the next logical step: With the backing of the Institute for Justice, a libertarian public-interest think tank near D.C., he filed in July 2018 that suit challenging the constitutionality of the CON law.
To the doctor's way of thinking — an extension of the pizza comparison — the certificate of need is like having the state require mom-and-pop restaurants to get an expensive license and prove that there are enough hungry people willing to buy their $10 pie with twice the pepperoni before being allowed to compete with the big chains.
The first move by lawyers representing the state was to try and get the suit tossed before it began. But in fall 2018, a judge in Wake County ruled that the suit had merit and could proceed.
"This decision clears the way to litigate the question at the heart of this case: Can the state ban Dr. Singh from providing low-cost MRI services for patients who can least afford them just to protect established providers from competition," said Josh Windham, an attorney for the Institute for Justice, after the ruling.
The victory was short-lived, though.
A number of factors piled up. Singh still had to fight against large providers. Filing claims with insurance companies is thorny for any medical practice, too. COVID-19 put a hurting on many health-care providers as fear of the virus kept patients at home.
So Singh made last year a difficult decision to close the surgical end of his practice. Earlier this year, he followed by shutting the imaging center.
And with that, the lawsuit ended. No plaintiff and no monetary damage meant no case.
Other than spending more time with his children, who were helping move office furniture while on spring break Friday, he's not sure of his next move.
He could, in theory, sign on with a large health-care system. If-you-can't-beat'em-join'em doesn't seem his style, though. Or he could move elsewhere and try again.
"It was just a personal decision," he said Friday after getting that desk onto the sidewalk. "I'll just take some time to figure it out. It was disappointing for sure."