MOCKSVILLE — Six long months ago, through hundreds of phone calls, emails and in-person meetings, opponents of a long-distance gun range and paramilitary training center were trying to spread word that building the thing is far from a done deal.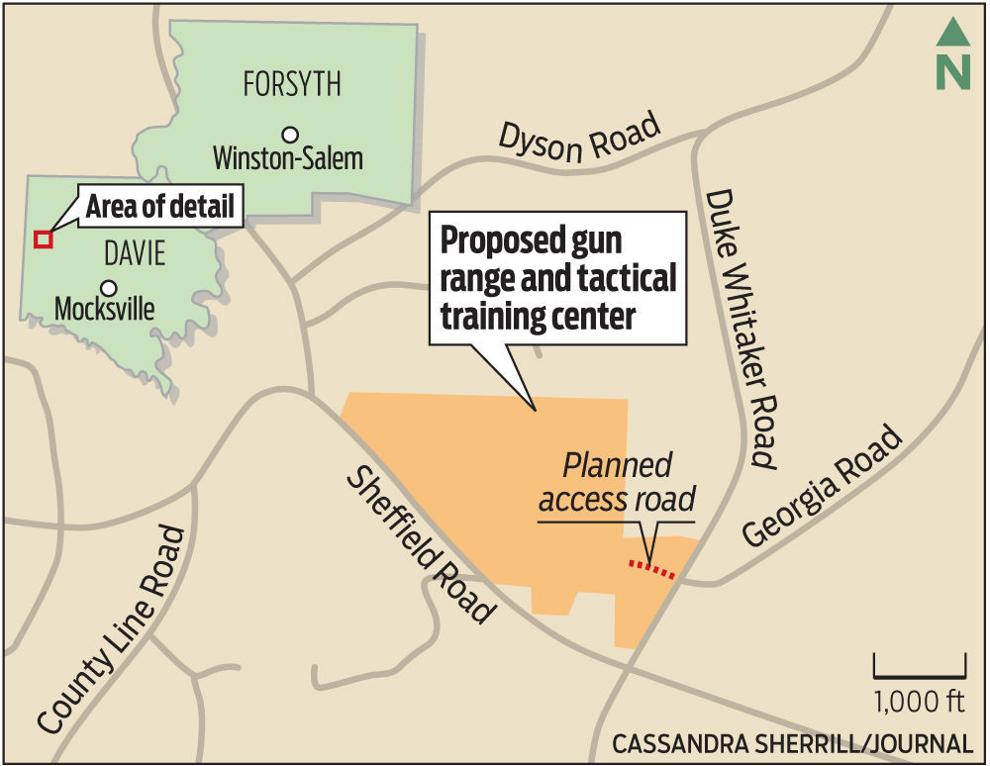 But it wasn't easy. "COVID restrictions have limited our ability to communicate as a group," Anita Allen wrote in an email last week. She's an opponent of a plan, dreamed up by an outfit called Recoil Management Group, for a 40-acre training center in Davie County.
In early March, that opposition added up to a petition with more than 430 signatures and a pair of in-person meetings with some 200 attendees — a crest of momentum before a public meeting of the county's Board of Adjustment to consider Recoil Management's plan.
Concern over the unknowns of a deadly virus outweighed everything — including neighbors worried about the impact of a large paramilitary training facility on a tranquil rural community.
And Tuesday night, the worry — and the waiting — is expected to culminate when the Board of Adjustment finally considers the question.
"This is about preserving our rural, agricultural heritage just like it says in the county's development plan," said Gwen Roye, a Davie County resident who plans to speak in opposition. "We are ready."
Something different entirely
In the spring, in family living rooms and church halls, regular folk who might not have had occasion to consider the intricacies of zoning and special-use permits were paying attention and making plans to be heard.
After all, the five-members of the Board of Adjustment were, in many cases, friends and neighbors wielding the power to disrupt unincorporated Cleary's Crossroad, a quiet rural community, and upend nearby property values.
"I'm for the stuff he's trying to do. I own an AR-15," Jody Blackwelder, a small-business owner, said at one such meeting in early March. "Just not here, not near a neighborhood. This is a fast-growing area."
Target shooting, small-game hunting, a father teaching his son (or daughter) safe gun handling, support for such things runs high in rural Davie County.
Many residents who live near the 136 acres owned by Recoil Management owners Kirk and Christina Peavy, have guns. Deer rifles, shotguns and pistols are as common as hammers, drills and saws.
But the plans the Peavys have put forward are something different entirely.
If their special-use permit is approved, Recoil Management expects to build a long-distance shooting range with elevated towers, classroom space and a helicopter pad on the property.
The official plan submitted to local authorities has emphasized family-friendly sport shooting geared toward education and safety. Online, however, Recoil Management Group projected a larger, more ambitious image: a big-time training facility for law enforcement, military groups and executive personal protection.
Perhaps more than anything else, that drew the attention of nearby residents and members of the Covenant Community Church, which maintains a white clapboard church built just after the Civil War on an adjacent lot.
A large paramilitary training center sounds more like war profiteering than a mom-and-pop, five-lane gun range.
"We're not talking about 20 rounds on a Sunday afternoon," Blackwelder said at a spring gathering. "We're talking about 20,000 a day."
Anticipating a crowd
The Peavys followed this playbook once before in 2018 in neighboring Yadkin County.
Recoil Management pitched a very similar plan to the Yadkin Board of Adjustment; its special-use application contained blueprints, favorable results of a noise-impact study it paid for and a plan to recycle lead and brass left by shooters.
The updated version filed in Davie also includes a one-sentence, hand-written addendum promising no shooting on Sundays — a bone for nearby churches. One other key difference is that the Peavys hadn't purchased the land in Yadkin County before the vote; they've owned the property in Davie County for at least a year and have leased most of it back to Recoil Management.
The Peavys haven't returned messages seeking comment since the plan was filed. Opponents have said not to expect a response, either; a lawyer and a consultant did most of their talking during the 2018 hearing before a packed house in Yadkinville.
At that meeting, after hearing 30-minute presentations from both sides, members of the Yadkin Board of Adjustment with no discussion voted 5-0 to deny the request.
"We're here to talk about the issues related to this request," said Richard Foster, the chairman of the Yadkin board before the public hearing. "We're not going to have a great deal of discussion about things out of our control."
Davie officials are expecting a large crowd, too. Tuesday's Board of Adjustment meeting, scheduled for 6 p.m., has been moved to the 480-seat auditorium in the Brock Performing Arts Center at 622 N. Main St. in Mocksville.
Social-distancing requirements, as well as the wearing of face-coverings, will be enforced.
Both sides, for and against, will speak. And officials in Davie County plan to give everyone their chance at the mic.
"We're not public speakers," said Roye, her voice breaking with emotion. "We're just passionate about the land we all share. That's what unites us."