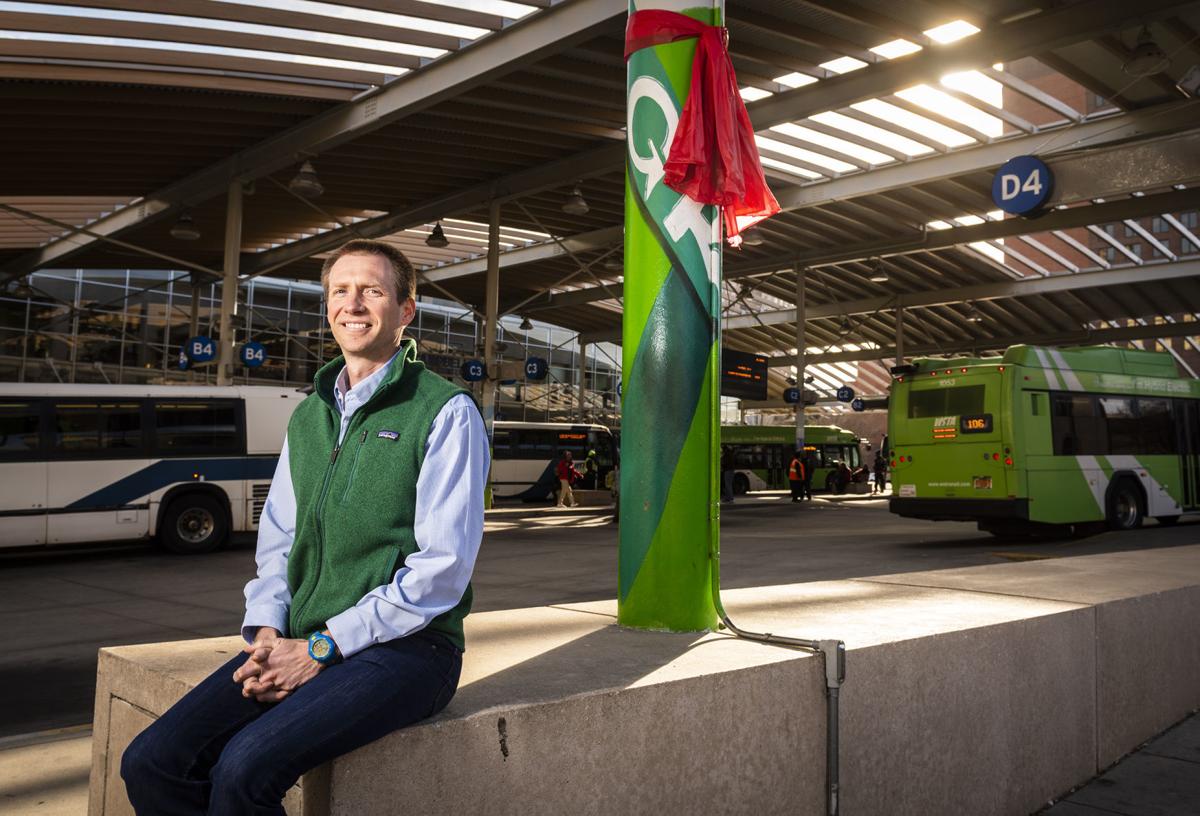 Phillip Summers heard the whispers.
Friends, family, even acquaintances, when they heard about his plans to swap a good-paying job — a career, really — as a public health specialist in a swell office in the Innovation Quarter to take a gig driving a city bus, couldn't help but wonder. Some even asked directly.
He's not, at least not in a clinical sense, but he is committed, and he's definitely not afraid to put his money where his heart is when it comes to advocating for the importance of reliable transportation to those whose lives depend on a bus showing up in a reasonable amount of time.
"I wanted to feel like what I was doing mattered," Summers said. "That I was helping to create a better social fabric.
"I wanted to be the friendliest bus driver in town."
A true leap of faith
Summers, a soon-to-be 41-year-old, is an interesting guy.
He's always been interested in transportation and mobility issues, particularly the many unspoken ways in which they impact public health.
It can be difficult being healthy in mind and body when the simplest of things — a trip to the doctor or a quick run to a grocery that sells a variety of fresh fruits and vegetables — might mean a 90-minute one-way trip and a couple transfers.
I first met Summers a couple years back through Salem Bicycle Works, a "side-yard ministry" that he ran out of his shed in the Waughtown neighborhood.
For eight years, he collected old, worn bicycles and refurbished them. He had help in the form of youthful volunteers, but he was a driving force. And when the bikes were safe and rideable, Summers distributed them to anyone in need. For free.
"I'm not working on hydraulic shocks," he said. "I'm just changing tires and replacing inner tubes."
Neighbors noticed and appreciated the effort. "It really is a beautiful ministry," said the Rev. Steve Angle. "And it's organic because it percolated out of his love for the neighborhood and his interest in cycling. God is connecting those dots."
Through that on-the-ground-level experience, more dots were connected in an expanding arc. Summers' natural interest, scientific and personal, in other forms of transportation and their impact on social connectivity and economic mobility increased.
And that led him to take a huge leap of faith when he decided in late 2018 to spend a year driving a bus for the Winston-Salem Transit Authority.
"I heard people. They'd say, 'Are you nuts? You have a nice office in Bailey Park,'" he said. "I prayed hard on it and got my wife's blessing, too."
So off he went. He applied for a job with Trans-Dev, the private company hired by the city to run the public transit system.
(It's a long and complicated story as to why the city has hired outside managers for a department fueled by tax dollars. A short, oversimplified theory is that it involves unions and, I suspect, saving money in terms of salaries and benefits.)
Anyhow, what Summers learned from late January through mid-December was eye-opening.
First, there's a mountain of data that Summers has carefully collected, analyzed and posted on his blog for anyone who cares to read it.
He is, after all, at heart a scientist, having earned a master's in public health from the University of North Carolina at Chapel Hill and an undergraduate degree from UNC-Wilmington.
He's devised a metric to examine ridership, the most popular routes and where extra service would have the most impact.
Summers can tell you, me and anybody else willing to listen that residents in low-income parts of town who fill buses running certain routes shouldn't have to wait an hour or more to catch a bus.
And making a tough situation worse, WSTA is about to lose tens of thousands in supplemental funding the state provided during the shutdown of Business 40.
Summers and other advocates of public transportation spoke during the public-comment period at Monday's meeting of the Winston-Salem City Council, and asked the city to do more for public transit here.
Speakers said buses run late too often. In advance of the meeting, Summers said frustration can take hold.
"There's the side of town that needs bus service and then a side of town that makes decisions," he said. "They see empty buses (on Country Club Road) and wonder why we spend money on buses."
The human element
For all his data, it's the human element — an all but impossible to quantify metric — that really motivates Summers to advocate for WSTA and his former riders.
"People on the bus are doing everything people are supposed to do. They're going to work, taking care of their families, trying to do right," he said. "They just don't have a convenient way to get there."
He can tell you, me and anyone willing to listen stories about individuals he came to know (and care about) while putting in 2,000 hours of driving over 47 weeks — an average of 43 hours per week for $26,000 a year.
(For a good view, check out a short film that he helped produce which is called "Bus Stop Jobs." It's linked on his blog, blindspot.city.)
"A passenger told me something once that really stuck," he said. "Riding a bus is like having a part-time job that doesn't pay."
In conversation, he ticks off the routes he drove by their number and uses it to illustrate his point about public health. "Eighty-three should have a 30-minute frequency," he said, meaning that Route 83, a major route that runs down Peters Creek Parkway should roll past twice an hour. "If that happens, you just added 30 minutes back in your day."
That was the message that Summers and other transportation advocates brought to the council on Monday.
"I'm trying to get other thought leaders to be radical and spend money (on transportation)," he explained earlier. "Being radical, to me, just means getting at the root of a problem rather than nibbling at the edges."
It won't be easy. Public transportation, WSTA and its cousin Trans-Aid make for easy targets during budget crunch time — as witnessed by the impending loss of state DOT money that supplemented bus service.
"The reopening of Salem Parkway came much earlier than expected," wrote Toneq' McCullough, the city's director of transportation, in an email response to a question about where cuts may come.
"As such, staff is working on a plan. Once we have approval of this plan, we can share the information with the public."
Summers left the bus-driving gig once he'd logged 2,000 hours, and started looking for other opportunities. In the short term, he's applied to be an enumerator for the U.S. Census and working part time at an overnight shelter for the homeless.
"I've got a family and a mortgage to pay," he said. But that doesn't mean he'll stop advocating for his riders.
"I wanted to try to humble myself. What can I do? What can I learn?" he said. "I felt like the Lord was calling me to love my neighbor and to help the community in a meaningful way."
In that context, a year spent wheeling those green 40-foot monsters around tight city turns doesn't sound nuts at all.
336-727-7481
@scottsextonwsj