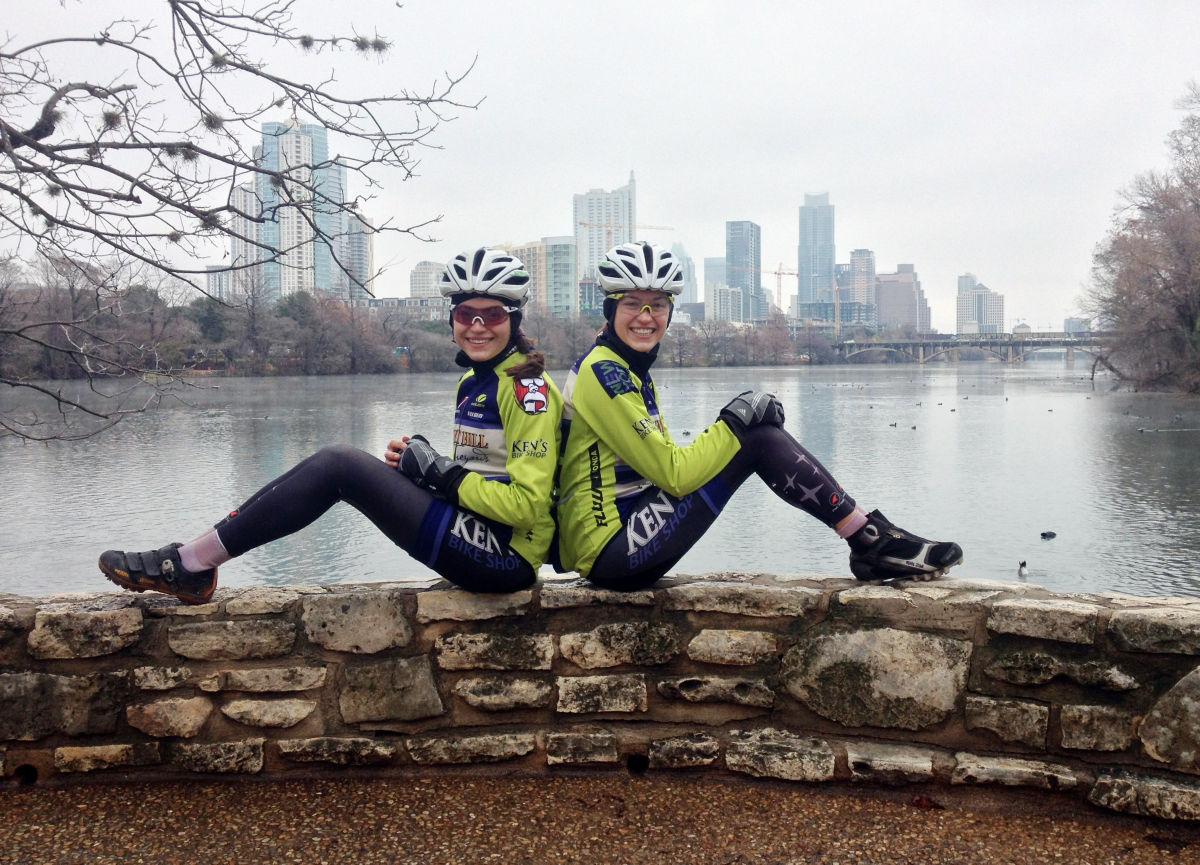 He'd filled an oversized van with gear and driven halfway across the country to watch his twin daughters compete for national championships in cyclocross bicycle racing.
To be sure, it's a niche sport followed mostly by the riders, their friends and families and hardcore spokeheads. The crowds that turned up to watch in a muddy city park in Austin, Texas last weekend wouldn't rival that found at an average high-school football game.
Still, for the Shieldses – and their beleaguered father — it was the culmination of 10 years of hard work, a rare shot at being the best in the country in a sport they love.
"It's been their goal for so long," Kerry Shields said. "How many people get the chance at wearing that jersey, a national championship jersey?"
For the Shieldses, the answer is two, twins born just 1 minute apart. And at the end of the day, one would win and the other would fall just short.
That the girls would line up to race for the Division I collegiate national championship doesn't come as a surprise. Their dad finished ninth in his age-group (60-64) in the 2013 UCI World Championships and their uncle, Randy Shields, won a silver medal in his group (55-59).
Emily and Katherine were good enough that they rode for Lees McRae College, a small school in Banner Elk that offers varsity sport funding and scholarships. They've seen quite a bit of the country from the back of that van often piloted by their dad.
Having a sister along for the ride helped – especially when the training got to be a grind.
"It's definitely nice traveling to always be traveling together," Katherine Shields said. "It's not hard to get to spend time together."
Cyclocross is a sort of hybrid between off-road mountain bike riding and the sleeker road bikes one might see in the Tour de France. The races typically last about 40 minutes, and are run on hilly courses made up of concrete, grass and dirt. And because the season runs from late autumn through the winter, the courses often turn into mud bowls.
That was the case last weekend in Texas where the skies opened up and turned a hard, fast track into a bog by the time 40 or so young women lined up to race for the collegiate championship.
When it ended 40 minutes later, Emily was the winner. Katherine finished sixth, a huge accomplishment in such a large field, but one spot out of standing on the victors' podium.
And that's where conflicting emotions clouded the picture. Identical twins, as close as any two people could possibly be, were thrilled and saddened all at the same moment.
"Yeah, I was super happy that I'd won," Emily said, "but at the same time it sucks because she didn't get fifth and barely missed the podium."
Katherine, too, felt the crazy tug of war inside.
"As soon as I crossed the finish line, I was more caught up with how I felt," she said. "It didn't last long, though, because she won. Neither of us thought that would happen. People were yelling it at me on the course 'Your sister is winning!' I kept thinking 'Oh my God. Really ?'"
At the finish, Kerry Shields was bursting with pride over the one and feeling disappointment for the other.
Because he's raced in the same sport at a high level, he understood more than most what had happened and exactly how much of a role fortune plays. A flat tire, a mechanical failure, a crash that happens directly in front of a rider, any number of things can derail years of training.
"The cycling gods were looking out for Emily," he said. "All the luck went her way and none of it went to Katherine. But that's the way it goes sometimes."
He knew without asking how his girls would feel after the race. Emily, he said, took deliberate steps not to celebrate too wildly in front of her twin. Likewise, Katherine's disappointment would be tempered by her sister's success.
"The hardest part was afterward when people would come up and say 'Congratulations on your win. Nice job,'" Katherine said with a laugh. "And me having to say, 'Uh, I'm Katherine, not Emily.'"
The finish line also provided a clear fork in the road for the twins. Emily, who graduated in December, moved to Colorado to live until she starts graduate school in fall. Katherine returned to Banner Elk to finish her degree and figure out where she'll go to grad school. One chapter closed and another started.
"I'm so proud of both of them," Kerry Shields said. "I just can't begin to tell you."