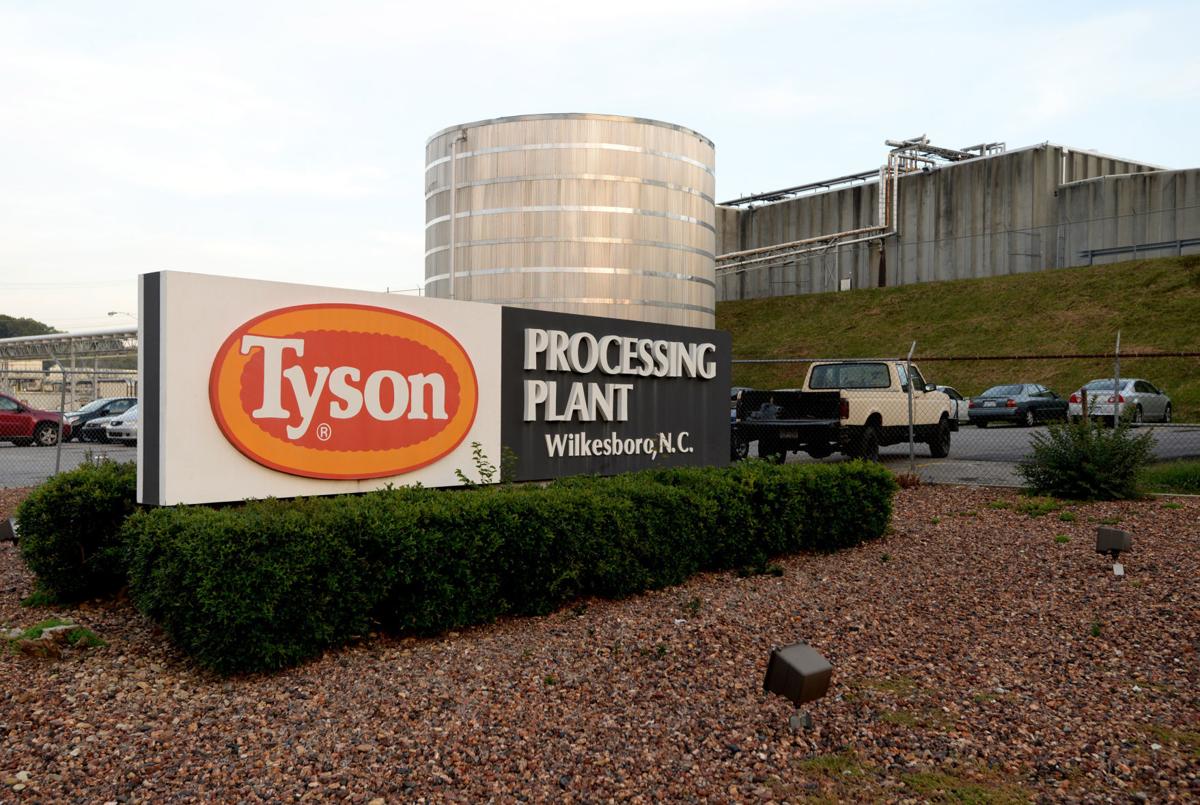 Wilkes County officials say several residents employed at the Tyson Foods plant in Wilkesboro have been confirmed to have COVID-19 and are isolating themselves at home.
Officials said the infected employees have been instructed not to return to work. People who have come into contact with the workers who tested positive are also being told to self-isolate, officials said.
The Tyson Foods plant remains open. Tyson has more than 1,000 employees in Wilkes County and is the county's largest employer, according to the N.C. Department of Commerce.
The county did not say how many employees had tested positive.
"Since this is an ever-changing situation, we're not sharing specific numbers," said Derek Burleson, speaking for Tyson. "If there is a confirmed case at one of our locations, we notify anyone who has been in close contact with the person. We also inform team members who have not been exposed and provide information to our supervisors so they can help answer questions."
Wilkes County officials said medical professionals on the Tyson Foods staff are performing additional contact tracing inside the plant, while the Wilkes County Health Department is tracing contacts the infected employees have had with people outside the plant.
Health officials in Wilkes said that they are "working to ensure that the plant can stay safely open," and point out that meat-processing plants are considered to be essential business operations.
Chad Martin, the poultry group president of Tyson Foods, said in a statement that the company formed a coronavirus task force in January, and has carried out a number of measures to protect workers.
"We've taken both of our responsibilities to continue feeding the nation and keeping our team members safe and healthy seriously," Martin said, adding that the company is also working with the local health department to carry out all recommended measures.
According to Tyson officials, prevention measures include taking workers' temperatures and installing walk-through temperature scanners.
The company requires face coverings to be worn by workers, and does "deep cleaning and sanitizing" in such places as break areas, cafeterias and restrooms.
Tyson has also installed workstation dividers, erected outdoor tents for break areas, and staggered starting schedules in an effort to carry out social distancing. The company said workers are encouraged to stay home if they are not feeling well, and that the waiting period for short-term disability has been eliminated so that workers can get paid while they are sick with the flu or COVID-19.
Officials said there is no evidence that food or food packaging is associated with the spread of the coronavirus.
The Wilkes County Health Department said it has made sure the plant gets all necessary guidance from the Centers for Disease Control and other federal agencies.
County health officials said that working with Tyson, they've developed protocols for dealing with any confirmed cases by having the employee self-isolate for seven days or 72 hours, whichever is longer. Those who are considered to be close contacts of the infected person are sent home with instructions to self-monitor and get medical help if symptoms develop.