A Winston-Salem teenager was fatally shot Wednesday in the 2600 block of North Cleveland Avenue, authorities said. Officers found Dacarius Dion Williams, 15, of Piedmont Circle lying in the street with an apparent gunshot wound or wounds, Winston-Salem police said.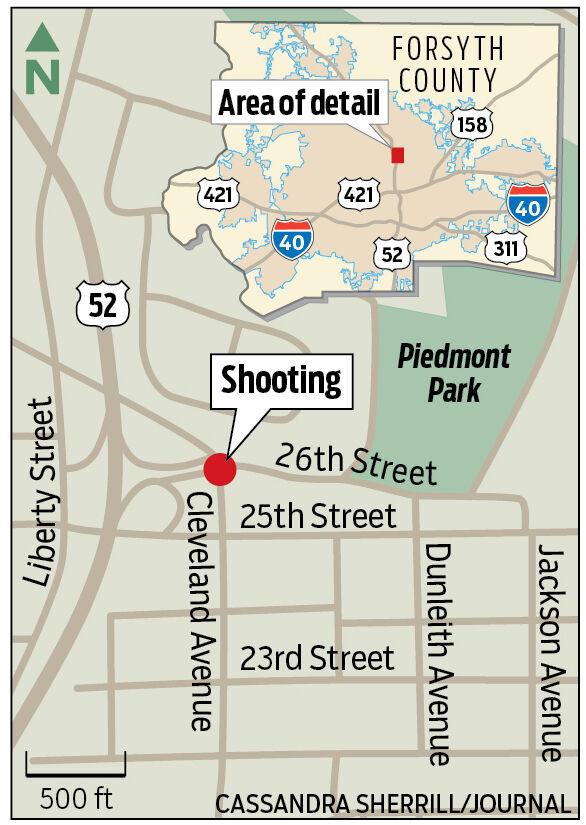 Williams was taken to Wake Forest Baptist Medical Center, where he died, police said.
Police were called to the area at 1:11 p.m., and they initially encountered a "large, frantic crowd" of people, police said.
Multiple callers contacted the Winston-Salem Police Department, reporting that two people had been shot in the 2600 block of North Cleveland Avenue, police said.
A witness said someone in a vehicle shot at a black SUV and hit a person who was between the two vehicles.
Williams was shot after he left a vehicle, police Lt. Gregory Dorn said. A black SUV at the scene had a shattered rear window on its driver's side.
Investigators couldn't find or identify a second shooting victim, police said. Detectives are following leads about a suspect, Dorn said.
A man in the area told the Journal that, before the shooting occurred, two men in a van stopped on North Dunleith Avenue and asked if his name was "Eo." He said the men had guns but didn't threaten him. He also said the van went southeast toward a street that intersects with North Cleveland Avenue.
"I thought that was peculiar," the man said. "They had a look on their face, but then they kept on rolling."
The man declined to give his name because police are still looking for the suspects in the shooting.
Bernice Evans, who lives in the area, said she was in her house when the shooting started but that she didn't hear anything.
"I feel safe," Evans said. "Nobody bothers me. I thank the Lord."
Michael Rogers, another neighbor, said he is concerned but not worried about the shooting. The neighborhood around North Cleveland Avenue and 26th Street has changed over the decades, Rogers said.
"You have young kids here and they think they are gangsters," Rogers said. "What are you going to do?"
Williams is the second person shot to death in Winston-Salem within the past three days. Police are also investigating the death of Stephon Lane Gore, 23, who was found about 9:20 p.m. Monday, lying in the 2600 block of North Claremont Avenue, police said.
Gore was taken to a local hospital where he died, police said.
Williams was shot Wednesday near the spot where Gore was found on Claremont Avenue.
Investigators haven't determined whether the two shootings are related, Dorn said.
Gore's death hasn't been ruled a homicide, Dorn said on Tuesday. Police are conducting a death investigation.
Williams' death is the city's 19th homicide so far this year in the city, as compared to 16 homicides for the same period in 2019, police said.
Williams is the 109th person shot this year in Winston-Salem, according to police statistics.
Anyone with information about Wednesday's shooting can call Winston-Salem police at 336-773-770 or Crime Stoppers at 336-727-2800. Crime Stoppers of Winston-Salem/Forsyth County is on Facebook.
(336) 727-7299
@jhintonWSJ