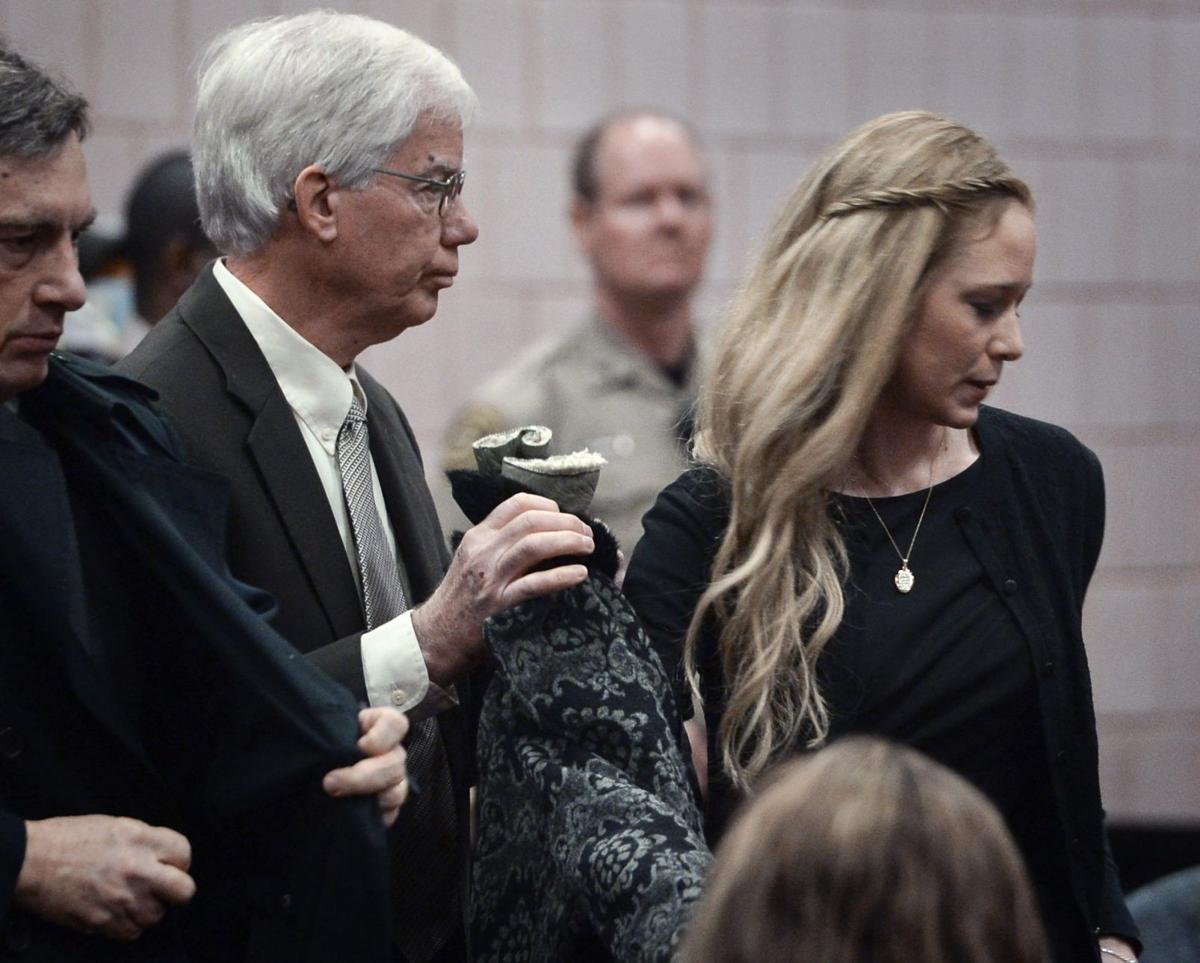 The children of an Irish businessman killed in August told social workers and a therapist that their father physically abused their stepmother, according to a motion filed last month in Davidson Superior Court.
Molly Corbett, 32, and her father, Thomas Martens, 66, are charged with second-degree murder and voluntary manslaughter in the death of Jason Corbett in the early morning hours of Aug. 2, 2015. Jason Corbett was found in the home he shared with Molly Corbett in a golfing community in Davidson County.
Molly Corbett was Jason's second wife and stepmother to his two children, Jack, 11, and Sarah, 9. Molly Corbett and Martens, a former FBI agent, are claiming self-defense, according to their attorneys and court papers. Jason Corbett, 39, died of blunt-force trauma to the head and multiple cuts and skull fractures, according to an autopsy report.
According to search warrants, Martens hit Corbett with a baseball bat and a paving stone. Martens told authorities that he struck Corbett because Corbett was choking Molly Corbett. Jason Corbett's family has denied he abused his wife, who never filed for a domestic-violence restraining order.
On June 23, David Freedman, Martens' attorney, and Walter Holton, Molly Corbett's attorney, filed a motion in Davidson Superior Court seeking to exclude a video interview with Jack. They said in the motion that the interview is hearsay and unreliable. The video interview took place on May 27 in Ireland, where the two children live with their aunt, Tracey Lynch, and her husband, David, who is the administrator of Jason Corbett's estate. They also said the interview contains inaccuracies.
Davidson County District Attorney Garry Frank said his office will file a responsive pleading to the filed motion but he does not want to comment further on the motion. Freedman declined to comment, saying the motion speaks for itself. Holton could not be reached for comment Friday.
Children's accusations
Freedman and Holton said the May 27 interview was an attempt to contradict prior statements Jack made about his father, accusing him of physically abusing Molly Corbett.
The motion said that after Molly Corbett and Martens gave statements to authorities, an investigating officer with the Davidson County Sheriff's Office "indicated that the circumstances of Mr. Corbett's death were the result of self-defense on the part of Molly Corbett and her father."
No criminal charges were filed in the case until December.
The day after Jason Corbett was found dead, Jack and Sarah were in Union County, where Molly Corbett's brother, Robert Martens, lives, according to the motion. Molly Corbett and her father were in Winston-Salem. An investigator with the Davidson County Sheriff's Office referred the case to the Davidson County Department of Social Services. The Union County Department of Social Services was contacted, and social workers there arranged to interview the children.
The children were interviewed separately.
"Each child reported similar incidents of verbal and physical abuse by Jason Corbett inflicted upon Molly Corbett," according to the motion.
The children were interviewed a second time on Aug. 6, the day of their father's funeral. Jack and Sarah went to Dragonfly House Children's Advocacy Center in Mocksville to attend a "child medical evaluation" that the Davidson County Sheriff's Office had arranged, according to the motion.
The director of Dragonfly House did a forensic interview with each child. Two detectives with the Davidson County Sheriff's Office and a Davidson County social worker watched the interviews through a two-way mirror.
Sarah said in her interview that she saw her father start fights for "ridiculous reasons" and he would "hurt her mom." According to the motion, Sarah said her father called Molly Corbett names on a daily basis and would call her on the phone frequently.
Jason Corbett also stepped on Molly Corbett's foot, pulled her hair, rolled over her foot with a car, called her worthless and hit her in the face, Sarah said in the interview, according to the motion.
Jack said he saw his father "punch, hit and push" Molly Corbett and saw him push her down one time because "he wanted to look through her phone."
"(His father) would cuss and scream at her; his mom would cry and try to block her ears," Jack said, according to the motion.
In the months before he died, Jason Corbett got angrier — "his mom would scream for him to stop but she would just ball up under the covers and block her ears," Jack said, according to the motion.
On Aug. 13, Davidson County DSS officials asked Union County social workers to interview Jack, Sarah and Molly Corbett, with the "questioning focusing on particular incidents allegedly occurring years ago in Ireland." The motion does not go into detail about those alleged incidents. Molly Corbett met Jason Corbett in Ireland when she was hired to care for his children after his first wife died from an asthma attack.
They eventually married and moved to the United States.
New interview
Freedman and Holton said in their motion that there's no indication that the children lied or were coerced during the interviews.
On Aug. 18, custody of the children was awarded to Tracey and David Lynch. Molly Corbett and her family were allowed to visit the children, and afterward, according to the motion, the children wrote notes in which they expressed their love for Molly Corbett.
"You are the greatest mom anyone can have," Jack wrote in his note, according to the motion. "Thank you for being a super mom. I love you past the universe and back."
A Davidson County grand jury handed down sealed indictments against Molly Corbett and Martens on Dec. 18, 2015. The indictments were unsealed Jan. 5.
Freedman and Holton allege that the May 27 videotaped interview with Jack violated a court order issued in April to "not make any statement nor engage in any conduct directed toward any person associated with this investigation and its prosecution, including defendant, her co-defendant, their family or potential witnesses, which is derisive, derogatory, threatening or harassing."
"The state procured the May 27 statement under coercive circumstances without any of the safeguards to insure (sic) trustworthiness or reliability," the motion said. "The circumstances are in sharp contrast to Jack's initial accounts immediately following the death of Mr. Corbett in August 2015."
Molly Corbett and Martens were each released on a $200,000 bond. They are scheduled to appear in Davidson Superior Court on Aug. 8. No trial date has been set.