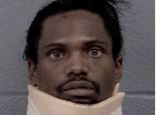 CHARLOTTE — A 24-year-old Charlotte man was charged with five counts of second-degree murder and other offenses in connection with a chain of wrecks on Interstate 485 that killed four Belmont family members and an Indian Trail man July 3.
Dakeia Charles is accused of driving 120 mph when he hit what troopers said was a truck on the I-485 Outer Loop near W.T. Harris Boulevard, sparking the series of wrecks, court records show.
Charles also faces charges of driving while impaired, driving while license revoked because of an impairment-related revocation, speeding, assault with a deadly weapon causing serious injury and reckless driving to endanger, Mecklenburg County jail records show.
Charles' license was revoked because of a 2017 DWI conviction in Lincoln County, according to court records. The judge also sentenced him to two years of probation and 24 hours of community service.
The series of crashes on I-485 last Friday night started by a driver speeding at over 100 mph, authorities have said.
Highway Patrol troopers arrested Charles late Thursday afternoon after he was released from the hospital. He was treated for injuries from the wreck that started the chain of collisions, according to the Highway Patrol.
He remained in jail Friday, according to jail records.
The wrecks killed Belmont residents Matthew and Andrea Obester and their daughters, Violet, 7, and Elizabeth, 12, in their SUV, and Mark Barlaan of Indian Trail in another car, according to the Highway Patrol.
Trooper injured
A car driver hit Trooper Adolfo Lopez-Alcedo Saturday morning as he helped shut down the highway again to further investigate the wreck.
He remained in critical condition in the intensive care unit at Carolinas Medical Center on Friday, according to the Highway Patrol.
Troy Edmiston, 57, of Troutman, was arrested Thursday on a felony charge of failure to move over, causing serious injury or death, according to jail records. He is free on $250,000 bail, records show.
A GoFundMe page to help with Lopez-Alcedo's medical costs had raised $19,822 by Friday afternoon.
The victims
Lynn Sherrill of Lake Wylie, the mother of Matt Obester, said the family was heading out of town to pick up a new custom wedding band for Andrea after 16 years together and to visit friends.
Matt Obester had just started a new construction job, and his wife operated Angel Ark animal rescue, Lynn Sherrill told the Observer.
Daughter Elizabeth, known as Sissy, was a rising sixth grader who was excited to ride the bus to school next year, Sherrill said. She had attended North Belmont Elementary, where her sister, Violet, was a rising third grader.
The girls loved horseback riding with their grandmother.
"It can't be real," Lynn Sherrill said a day after the wreck.
The Obesters' 14-year-old son was not on the trip, and is with a relative. A GoFundMe page for the teen had raised $30,265 by Friday morning.
I-485 enforcement crackdown
The deaths prompted the Highway Patrol to deploy a five-member enforcement team beginning July 20 to curtail speeding and other reckless driving on I-485's inner and outer loops.
The team will focus on non-rush hours each day when the most speeding occurs, Trooper Ray Pierce told the Observer.
Since Jan. 1, 2018, some 25 people have died in I-485 wrecks and 1,400 were hurt, Highway Patrol figures show.
Troopers cited 6,800 drivers for going at least 10 mph over the 70-mph posted speed limit, including 942 drivers clocked at 94 mph and above, according to the figures.
Be the first to know
Get local news delivered to your inbox!