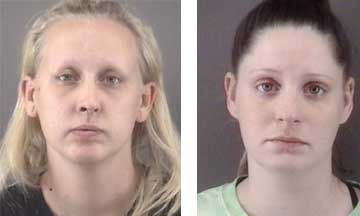 Amber Nicole Burch, girlfriend of the late avowed Satanist Pazuzu Algarad, was indicted on murder and robbery charges Monday by a Forsyth County grand jury.
Burch, 27, is charged with murder, armed robbery and accessory after the fact to murder. She is accused of shooting Tommy Dean Welch to death on Oct. 2, 2009, with a .22-caliber rifle and then robbing Welch of his "personal property, clothing, shoes and wallet," according to the indictments. The indictments also accuse her of helping Algarad bury the body of Joshua Fredrick Wetzler in July 2009. Burch had initially been charged with murder and accessory after the fact; the armed robbery charge is new.
Krystal Nicole Matlock, 30, was also indicted Monday on a charge of accessory after the fact to murder. She is accused of helping Burch and Algarad bury Wetzler's body.
Algarad had been facing murder and accessory charges in killing Wetzler and helping Burch bury Welch's body. On Oct. 28, 2015, Algarad, 36, committed suicide at Central Prison in Raleigh, where he had been held on a safekeeping order. An autopsy said he died from severe blood loss from a deep wound to a major blood vessel in his left arm.
Deputies with the Forsyth County Sheriff's Office found the skeletal remains of Welch and Wetzler on Oct. 5, 2014, at Algarad's now-demolished house at 2749 Knob Hill Drive in Clemmons. Welch's remains were found in a shallow grave under a fire pit in the backyard; Wetzler's remains were found in a shallow grave near the exterior basement stairs of the house.
According to autopsies, Welch was shot once in the back of the head and Wetzler was shot three times in the head and at least four times around the torso.
Julie Boyer, Burch's attorney, declined Monday to comment on the indictments. David Freedman, attorney for Matlock, said he hopes to resolve the matter shortly. He declined to elaborate further.
Forsyth County District Attorney Jim O'Neill said he could not comment on a pending criminal matter because of the rules of professional responsibility.
Both women had been scheduled to appear in Forsyth District Court on Feb. 9. Because of the indictments, a new court date will be scheduled in Forsyth Superior Court.
'Satanistic rituals'
Burch lived with Algarad and his mother, Cynthia James, at 2749 Knob Hill Drive.
They didn't always get along. Burch and Algarad were each convicted of assaulting James in separate incidents. According to a court document, James told authorities that she was afraid of her son but didn't want to prosecute.
According to court documents, Algarad regularly performed "Satanistic rituals" and animal sacrifices at the house. Algarad was born in San Francisco in 1978 and his birth name was John Alexander Lawson. He legally changed his name to Pazuzu Illah Algarad in 2002, saying in an affidavit that the name change was for religious reasons.
According to a psychiatric report connected to an unrelated criminal case, Algarad told psychiatrists at the now-closed Dorothea Dix Hospital in Raleigh that he had practiced a Sumerian religion that involved the monthly sacrifice of a small animal. He said he would have to perform the ritual during what he called the "black moon" and asked if he could get out of the hospital to perform it.
Burch graduated in 2008 from Rock Hill High School in Rock Hill, S.C. At some point, she moved to Winston-Salem and got romantically involved with Algarad. Friends said she changed for the worse after getting involved with Algarad, including filing her teeth and not showering.
A friend of Burch's told the Winston-Salem Journal in 2014 that she and Burch went to Bible study together when they lived in Rock Hill. All that changed after she met Algarad.
"She fell into his lifestyle and fell into his identity," Burch's friend said. The friend asked that her name not be used because of concerns about her safety.
When inspectors went into the house soon after the bodies were found, they discovered a mess. Debris and broken glass clogged the hallways and trash filled up several rooms. Pentagrams and other Satanic messages were scrawled on the walls. The house was eventually demolished in April 2015.
Missing since 2009
Welch and Wetzler were reported missing in 2009.
And investigators have not said publicly how they ended up at 2749 Knob Hill Drive.
Stacey Carter, Wetzler's former girlfriend and the mother of his son, has said Wetzler had no interest in Satanism or the occult and was never violent. He frequently went to music festivals. She last talked to him in July 2009 but didn't report him missing until six months later because Wetzler was known to hit the road for months at a time.
Tommy Welch loved cars and drank a little but never did drugs, Rusty Welch, his brother, told the Journal in 2014. Welch's family reported Welch missing Oct. 4, 2009, after he failed to show up at a family gathering at his brother's apartment, which is within walking distance from Tommy's apartment. The missing report was filed two days after Burch is alleged to have fatally shot Welch, according to the indictments.
Investigators and prosecutors have not said what led deputies to the house in October 2014. Judge David Hall of Forsyth Superior Court issued written orders sealing search warrants that were carried out at the house on Oct. 4 and Oct. 5, 2014. Hall said revealing details of the deaths could jeopardize the ongoing investigation.
Another search warrant was executed at the house and sealed on Feb. 26, 2010. About the same time, Carter said she had told police that she had heard a rumor that Wetzler was buried at the house.
All three search warrants remain sealed.
Burch is being held at the Forsyth County Jail with no bond allowed. Matlock is in the Forsyth County Jail on a $250,000 bond.