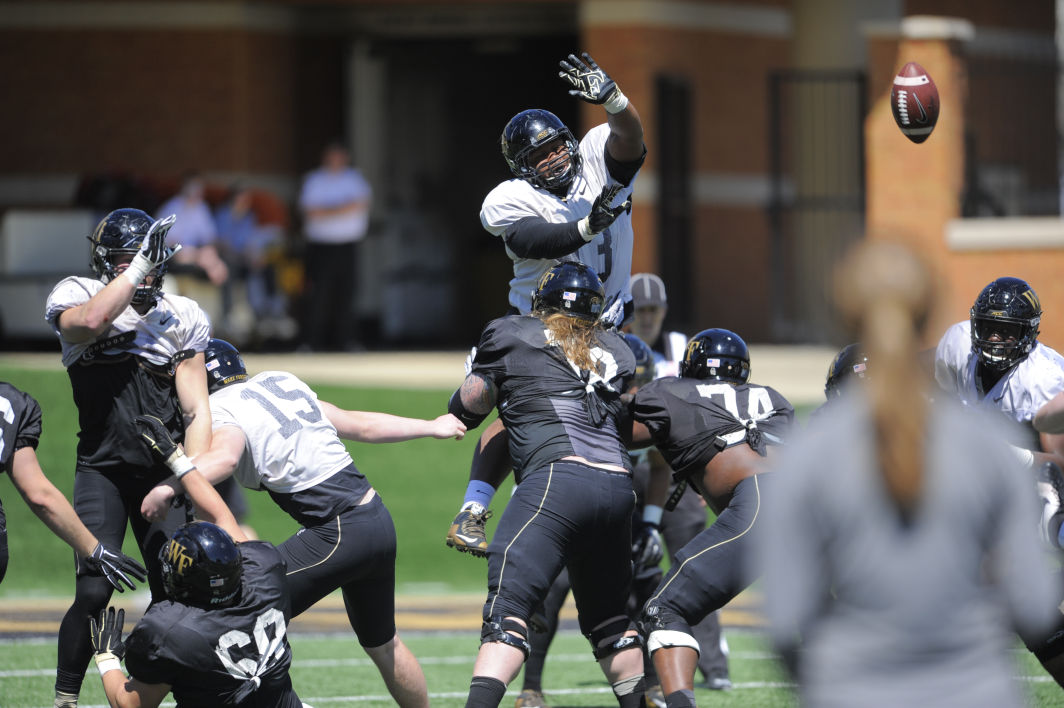 Coach Dave Clawson of Wake Forest hoped Zeek Rodney would be back in the fold for the 2017 season -- and had reason to believe that he would be.
But you never know until you know.
Rodney, a junior defensive tackle who took a leave of absence for personal reasons in 2016, was enrolled Monday in summer classes at Wake Forest. Clawson said Rodney is expected back on the field when the Deacons begin practice on July 27.
"It's not like I'm surprised or shocked,'' Clawson said Monday morning. "We certainly hoped this would happen and we laid out a plan for it to happen. But it's also encouraging when the player follows the plan and does the things they have to do so we can bring him back.
"Obviously he has a chance to be a huge contributor and a big part of our defense.''
Rodney's return became more important when Clawson announced at the end of spring practices in April that Chris Stewart, a defensive tackle who started 12 games last season as a redshirt sophomore, had been dismissed for a violation of team rules. With the loss of three-year starter Josh Banks to spent eligibility, Stewart's departure left Wake Forest both thin and inexperienced at defensive tackle.
The depth chart released at the end of spring practice listed Willie Yarbary and Elontae Bateman as first-team and Paris Black and Sulaiman Kamara as second-team. Yarbary, who will be a redshirt junior in 2017, has started two games. Bateman and Black played last season, but neither has yet to start.
Kamara redshirted as a freshman in 2016 to preserve his season of eligibility.
"Anytime you get a good player like Zeek Rodney back, it really, really helps,'' Clawson said. "But we certainly played last year without him. And then we lost Josh Banks and Chris Stewart.
"So it certainly helps us that he's back. But as coaches, those things happen and you have to adjust.''
Rodney's return gives Wake Forest more experience, depth and flexibility up front. Rodney started 12 games in 2015, recording 22 overall tackles and two tackles for loss. And at 6-1, 295-pounds, he provides the kind of size and bulk that should give Jay Sawvel, the Deacons; first-year defensive coordinator, more options.
Yarbary is 6-2, 280 pounds and Bateman, who will be a redshirt sophomore, is 6-2, 290 pounds. But Black, who will be a redshirt sophomore, is listed at 6-3, 255 pounds and Kamara is listed at 6-2, 275 pounds.
"If you play a guy like (Black) inside, you probably can't sit still as much,'' Clawson said. "You probably need to move him around a little and slant and angle. When you're smaller you do that. When you're bigger and you've got a 300-pounder like Zeek Rodney or a 285-pound guy like Josh Banks, you fit them in the gap a little bit more and make them take on double teams.
"We certainly had flexibility in our system before and we still have it with Coach Sawvel.''
Clawson, who declined to discuss what led to Rodney's leave of absence, said Rodney will have to adhere to team rules throughout the summer to be on the field when practice starts in late July. But the same can be said for the rest of the team.
"Now you just want this to have a really happy ending,'' Clawson said. "There's nothing more we would love than for Zeek Rodney to play two more years here and have a great career and get his degree. And from there – who knows what? Zeek will have a lot of opportunities in a lot of different ways.
"We're thrilled he's back.
Be the first to know
Get local news delivered to your inbox!