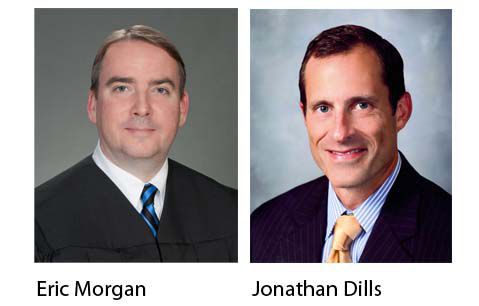 A Forsyth Superior Court judge appointed two years ago is facing a challenge from a Winston-Salem lawyer in a race to keep his seat.
Eric Morgan, 51, is running for his first full term as a Forsyth Superior Court judge after Gov. Pat McCrory appointed him in 2014 to take over the unexpired term of retiring Forsyth Superior Judge Ron Spivey.
Jonathan Dills, 50, who owns a law practice in downtown Winston-Salem and is a former member of the Forsyth County Board of Elections, is running against Morgan in Judicial District 21C.
Superior Court judges have eight-year terms and hear criminal felony cases and civil cases where the amount of claims is more than $25,000. Morgan is currently one of four Superior Court judges in Forsyth County. The other three are David Hall, Todd Burke and Richard Gottlieb. Burke is the court's senior resident superior court judge.
Superior Court judges not only preside over cases in Forsyth County but in other counties as well. Over the past two years, Morgan said he has presided over civil and criminal cases in 17 different counties.
"It's been fantastic," he said.
Morgan and Dills have both practiced law for the past 25 years and are Forsyth County natives. Morgan graduated from the University of Texas School of Law and was a partner at Wells Jenkins Lucas & Jenkins and an associate at Womble Carlyle Sandridge & Rice. While at Womble, he worked pro bono and prosecuted child sexual abuse cases at the Forsyth County District Attorney's Office.
In 1994, he opened a law practice in Kernersville, where he handled a variety of civil matters. He is married to Dawn Morgan, the mayor of Kernersville.
Dills received a business degree and a law degree from UNC Chapel Hill. He opened his law practice in 1996, specializing in catastrophic injury, wrongful death and complex commercial litigation. He also served as town attorney for Bethania, where he grew up, and served on the Forsyth County Board of Elections from 2011 to 2012.
The N.C. Bar Association recently released its Judicial Performance Evaluation Survey results, which measure judicial candidates across the state on integrity and impartiality, legal ability, professionalism, communication, administrative skills and overall performance. Morgan received a higher rating in every category than Dills.
Dills said his 25 years of litigation experience will make him a good judge. He sees becoming a superior court judge as an extension of his community service.
"My goal would be to be fair and balanced," Dills said. "Everyone deserves a fair trial."
He said he has not only handled civil litigation but has also done 13 criminal jury trials. Dills said he believes in the jury system. As a judge, he said it's important to ensure that everyone who comes into the courtroom is treated equally. It's also important for a judge to make sure that the public is safe from violent criminals, he said.
Morgan said his previous work as a lawyer prepared him to become a Superior Court judge.
He also pointed out that he is the highest-rated judge in the Judicial Performance Evaluation Survey in the state in a contested judicial race.
"I'm the only superior court judge to be endorsed by the Fraternal Order of Police in North Carolina," Morgan said. He also has been endorsed by the North Carolina Police Benevolent Association and the Winston-Salem/Forsyth County Fraternal Order of Police.
"Experience really matters and when you're picking a superior court judge, you're picking the person who is presiding over the murder case on the front page of the newspaper," he said.