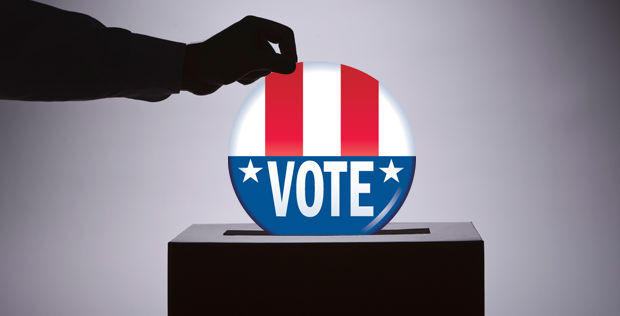 A conservative think tank has informed the State Board of Elections and six county election boards, including Watauga, that it has renewed pursuit of an expanded review of same-day registration policies.
Francis De Luca, president of Civitas Institute, said in a letter sent Dec. 22 that he and his group believe that the state board "has violated and continues to violate section VIII of the National Voter Registration Act" by not removing what it calls "substantial numbers of ineligible voters."
De Luca and Civitas are requesting "a thorough examination" of voter rolls and full compliance of section VIII, which includes documents on voter registration for the 2016 election and how the state board verified voters' addresses.
"Civitas will pursue every avenue necessary to ensure that every voter is verified," including another lawsuit, De Luca said.
De Luca filed his lawsuit against the state board Nov. 21. He wanted a federal judge in the Eastern District of North Carolina to issue a preliminary injunction that prevented the certification of results until it had verified the mailing addresses of more than 104,000 same-day registrants during the early voting period.
One way to measure the validity of same-day registration is whether mail to the registrant's listed mailing address is returned as undeliverable.
The state board said in its response to De Luca's lawsuit that "mail is not always reliable, and multiple mailings sent to the same address may yield different return rates, though it remains a legitimate tool in North Carolina's effort to verify registrations."
"No law requires that the mail verification process be completed before a qualified individual is permitted to vote."
De Luca claimed that as many as 3,000 ballots could have been at risk in the 2016 election given that past elections have had up to 3 percent of same-day registrations tossed for being invalid.
De Luca's lawsuit came 13 days after the Nov. 8 general election. At that time, Gov. Pat McCrory trailed Democratic challenger Roy Cooper by 4,987 votes before absentee and provisional ballots had been counted. It was not clear how much McCrory may have benefited from the Civitas lawsuit in terms of removing ballots.
After preliminary counting of absentee and provisional ballots showed McCrory trailing by more than 10,000 votes, removing his ability to request a statewide recount, McCrory conceded the governor's race Dec. 5.
De Luca voluntarily withdrew his lawsuit Dec. 5, with the case being dismissed formally on Dec. 21.
The state board said De Luca, in his lawsuit, "seeks to enlist this court in a broader effort to litigate an election after the fact."
The state board said more than 1 million properly registered voters were listed with a "status other than verified" in its database for the Nov. 8 election. The state board did not indicate how many of those properly registered voters actually voted. That figure "excludes any voter whose registration began using same-day registration."
"This lawsuit challenges a statutory registration process that has for eight years provided opportunities both to register and to vote at certain 'one-stop' early-voting sites in the weeks preceding Election Day," the state board said.
"Whatever the shortcomings of this 'same-day registration' process, violation of federal law is not among them."
Renewed accusations
With De Luca's letter, Civitas is renewing accusations of voter rolls "fraught with ineligible voters, unverified voters, active felons and voters who don't live in North Carolina."
The other county boards are in Buncombe, Bladen, Durham, Pasquotank and Wake.
Although De Luca told The News & Observer that the six counties were chosen in an effort to take a statewide approach to the review, the Bladen, Durham, Wake and Watauga boards all faced additional Republican challenges in the post-election period before McCrory's concession.
Allison Riggs, a senior attorney with advocacy group Southern Coalition for Social Justice, said Thursday that Civitas and other conservative groups have sent very similar NVRA notice letters. The common complaint, Riggs said, is the state isn't purging enough voters from its rolls.
"The state has always said that it complies with federal law when it comes to voter purges," Riggs said. "As voting rights experts, we are certain that the purging that Civitas would like to see done violates the NVRA and would result in eligible voters being removed from the rolls. We are equally certain that same-day registration serves as a critical fail-safe in ensuring that eligible voters are able to cast a ballot."
The De Luca lawsuit prompted a request by three voters to intervene in the case.
The prospective intervenors — Anthony Lobo, a junior at Appalachian State University; Michael Kuykendall, a junior at ASU; and Anna Jaquays of Blowing Rock — voted by same-day registration. The League of Women Voters of N.C. also requested to intervene.
The three said the initial attempt to verify their mailing address was unsuccessful due to processing errors by poll workers who assisted them with registering.
In the example of Lobo, a poll worker did not include the number of his off-campus apartment in the listing of his address. In Kuykendall's case, mail is not delivered to his dorm room, which was the address listed on his registration rather than his on-campus P.O. box.
After their ballots were protested by Republican supporters, the Republican-controlled Watauga board determined the three potential intervenors did live at the address they gave to the poll workers.